Exotic food in Bali teaches tastebuds how to love
Falling in love with the street food of Bali.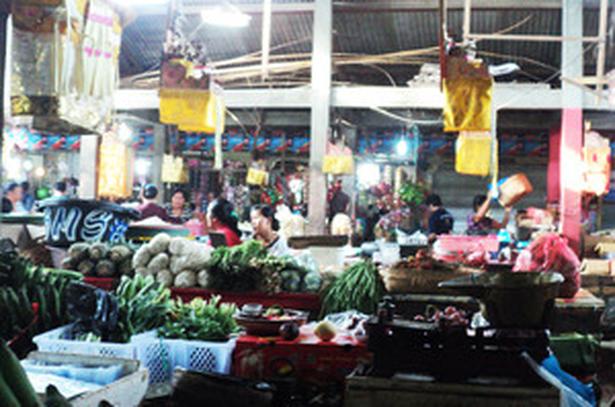 Wednesday April 11, 2012
Let me assure you, it is entirely possible to communicate using your taste buds instead of your words. Bali first taught me this. I was in my early 20s and I suppose it was my first real overseas adventure (Australia doesn't count).
I found myself in the gentle embrace of this Indonesian island, surrounded by a culture so vastly different from my own that I was immediately smitten. I had entered a lush world where terraced rice fields stretched out luminous in their greenness, where ornate stone temples lay beyond unobtrusive entrances - on nearly every street it seemed - where colourful processions of Hindu devotees seemed to be a daily occurrence and small leaf trays carrying offerings of flowers and rice littered the streets while smoking incense filled the air with a heady mix of spirituality, practical gratitude and sheer exoticism.
Since that first visit I've returned many times to Bali to enjoy its graceful rituals, friendly people and incredible coastline, but most of all, the fantastic food.
From the street vendors to the local restaurants, Bali provides for some of my most mouthwatering eating experiences.
On that first visit I was governed by both fiscal constraints and a burning desire to not be a tourist and to blend in with the locals. With my sun-bleached blond hair and an over-six foot boyfriend, that was never going to happen but what it did do, was drive me to where all the best food was at - to the warungs, the local eating houses, and the street hawkers, with their small roadside barbecues and mobile three-wheeled carts. We would eat alongside the locals and it was food like I'd never imagined - fresh, fragrant, filled with spice and ridiculously cheap.
Grilled fish and satay sticks, served hot off the coconut coals, rice wrapped in banana leaves, gado-gado with spicy peanut sauce, tangy nasi goreng and more. This first foray into the world of street food taught me that the best food is not always found in top-end restaurants, cooked by trained chefs with the help of a highly-equipped kitchen. These Balinese "kitchens" were often no more than a gas burner, mortar and pestle, a wok and a few beat-up aluminium pots, yet the food was exquisite.
An important aspect that governs Balinese cooking is the availability of fresh produce from the local markets. I was told by a Balinese cook that you should never promise a dish until you've first been to the market to see what is on offer. This is so different from the way we sometimes put together a meal, starting as we do with deciding on what we are going to cook, then straining and stressing as we race around town trying to fulfil our ingredient list!
A visit to a produce market in Bali is a culinary eye-opener. Great piles of chillies, fresh turmeric, coconuts, ginger root, lime leaves, tiny purple-tinged garlic and rust-brown shallots are some of the more familiar spices and ingredients you'll find but then there are all the weird and wonderful leafy greens, fruits and vegetables, sauces and spice pastes that are fascinating in their foreign-ness. Taking a cooking class in Bali is a great way to navigate and learn more about these ingredients and how to incorporate them, or find substitutes for them, in your kitchen back home. For example if you can't find tamarind pulp, the best substitute is cooked rhubarb stalks or dried apricots and, at a pinch, lemon peel and ginger will suffice in the absence of galangal. Good to know.
I adore the Balinese style of dining where rice is central to the meal and accompaniments of meats, vegetables and sambals complete the feast. One popular dish available throughout the day and night in warung throughout Bali is nasi campur, which loosely translates to "rice with a mix of side dishes". This may vary from one eatery to another but will include rice, served with spicy fish or chicken, perhaps in a soupy curry, some vegetables, maybe egg, and always sambal, that fiery chilli and shrimp paste condiment that is as essential as salt and pepper to any Balinese table.
It pains me when I see visitors to Bali shunning the local eateries and dishes in favour of more familiar "tourist-friendly" food. Presumably they are trying to err on the safe side but I can vouch for very few bad experiences in all of the eating out I have done in Bali (and around the world) just by following a few simple rules - look for places that are crowded with locals, eat anything that has been cooked over a flame or deep fried, as the heat is likely to have killed anything nasty and if you do get sick, take the meds immediately.
Whatever you do, don't be so safety conscious that you miss out on dazzling dishes like succulent roasted duck, nasi goreng with its crown of fried shallots, kare ayam (chicken curry) infused with the citrus fragrance of lemongrass, black rice pudding drizzled with cooling coconut cream and dada unti, those marvellous bright green crepes filled with coconut and palm sugar filling.
Just writing those words makes we want to book my next trip to the enchanting island that bursts with flavour.
What are your favourite Balinese street foods? Have you sampled street fare elsewhere worth raving about?
* Check out Viva's brand new Facebook page, the place to find out what's hot in fashion, beauty, food, wine and design.
Share this:
More Culture & Travel / > International