Must-Watch Fashion Documentaries
Our round up of the best fashion documentaries to watch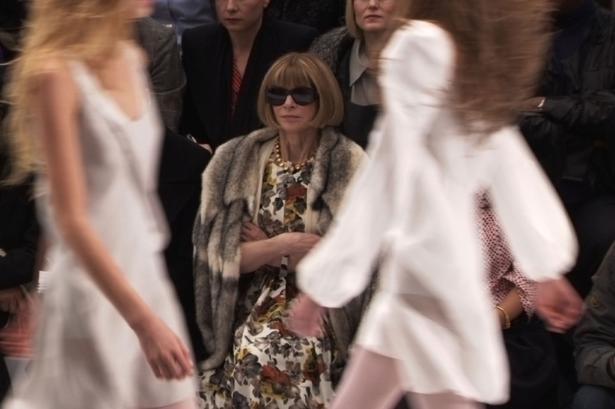 Tuesday Sept. 27, 2016
1. First Monday in May (2016)
The compelling documentary follows Costume Institute curator Andrew Bolton and Vogue editor Anna Wintour as they plan for the exhibition China: Through The Looking Glass. Offering a rare look into the inner workings of US Vogue, the film also goes behind-the-scenes at the Costume Institute, and examines the convergence of celebrity, art and fashion.
REVISIT: Our interview with the film's director, Andrew Rossi
2. The September Issue (2009)
Follow American Vogue editor in chief Anna Wintour as she and her team as they create the biggest and most important issue of the year. Everyone from Karl Lagerfeld to Oscar de la Renta, Sienna Miller and photographers Patrick Demarchelier and Mario Testino make an appearance.  
3. Bill Cunningham New York (2011)
This documentary observes legendary street style photographer Bill Cunningham, following him around the streets of New York and giving viewers a glimpse into the magic behind the man who had contributed to the of the New York Times for almost 40 years. There are interviews with Anna Wintour, Tom Wolfe and David Rockefeller.

READ: Celebrating Bill Cunningham's Legacy
4. Unzipped (1995)
An early fashion documentary - with the sassy tagline "unhooked, undressed and unhinged" - that follows designer Isaac Mizrahi as he plans his Fall 1994 show at Fashion Week. Known for his glamorous shows, the film goes backstage and meets the top supermodels of the time including Cindy Crawford, Naomi Campbell, Linda Evangelista and Kate Moss.
5. Dior and I (2014)
This documentary follows Raf Simons the newly appointed creative director at Christian Dior in 2012, as he embarks on creating his first couture collection for the celebrated fashion house. It offers a rare look inside the inner workings of what it takes to pull a collection together, film director Frederic Tcheng shadowed Raf over an intense eight week period - he has also directed other fashion films: Valentino: The Last Emperor and Diana Vreeland: The Eye Has to Travel. 
6. Valentino: The Last Emperor (2009)
In 1959 Italian fashion designer Valentino Garavani opened his first fashion house and in 2007 he announced his retirement. This documentary follows Valentino during the last two years of his time as a designer and as he prepares for his final show. 
7. Jeremy Scott: The People's Designer (2015)
Controversial designer Jeremy Scott gets the fashion film treatment in this documentary, which tracks his journey from growing up in small town Missouri to launching his own label in the 90s and heading up Moschino today. Expect cameos from the designer's fans and friends including everyone from Paris Hilton to Rihanna.
8. Hand Made with Love in France (2014)
French filmmaker Julie Georgia Bernard examines the history - and future - of some of the small Parisian haute couture ateliers behind garments from Dior, Chanel, Yves Saint Laurent and Balenciaga. She meets some of the experts - including a pleat maker, fabric flower expert and hat maker - hearing of the hardships they face with the rise of technology and the changing pace of fashion.
9. Advanced Style (2014)
Style has no age. This documentary explores the lives of some of New York City's most fashionable women over 60. Created by street style photographer Ari Seth Cohen behind popular blog Advanced Style and directed by Lina Plioplyte, together with their stars they prove age has no limits when it comes to fashion and flair. Meet some of the stars in the documentary here. 
10. Ellery in Paris (2014)
This documentary follows Australian designer Kym Ellery's as she embarks on a journey towards her first Paris Fashion Week show.
11. Mademoiselle C (2013)
This documentary is focused on former Vogue Paris editor-in-chief and fashion stylist Carine Roitfeld as she prepares to move from Paris to New York to launch her own magazine. 
READ: How to Dress French, According to Carine Roitfeld
12. Scatter My Ashes at Bergdorf's (2013)
Iconic New York department store Bergdorf Goodman opens its doors to director Matthew Miele, who celebrates its history and influence on fashion. Featuring interviews with everyone from Tom Ford to Vera Wang, look out for breakout star, Bergdorf's famous personal shopper Betty Halbreich.

13. Good Hair (2009)
The actor Chris Rock steps behind the camera for this insightful documentary, looking at the relationship that many African-American women have with their hair - and society's influence on that.
14. About Face: Supermodels Then and Now (2012)
This documentary explores beauty through the eyes of the original supermodels. Featuring Jerry Hall, Christy Turlington and more, they discuss the fashion industry, aging, their careers, plastic surgery, botox and how their perspective on beauty has evolved with age. 
15. Picture Me (2010)
A personal and raw video diary, which documents rising model Sara Ziff's rise from a fresh faced teen to one that has her face covering magazines and billboards. 
16. The True Cost (2015)
Director Andrew Morgan describes his hardhitting documentary as "an incredible journey around the world to see fashion at its best and worst". Partnering with environmental journalist Lucy Siegle and ethical fashion activist Livia Firth, the film offers a hardhitting look at the real impact of fashion and society's excessive clothing consumption on people and the planet.
17. Fresh Dressed (2015)
"Being fresh is more important than having money," pontificates Kanye West in Fresh Dressed, a documentary that celebrates the history and enduring influence of hip hop culture on style. Look out for other interviews with Pharrell Williams, Sean "Puffy" Combs, Nas, Andre Leon Talley and more.
Share this:
More Culture & Travel / Features & Profiles