Must-See Exhibition: Inspiring Beauty
Inspiring Beauty: 50 Years of Ebony Fashion Fair in Washington, D.C showcases when black models walking the runways was about more than just clothes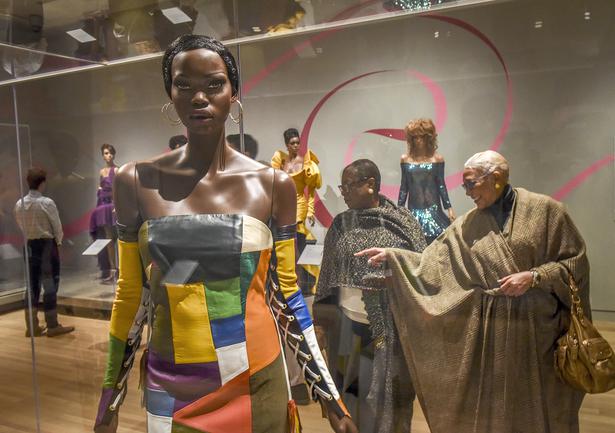 Saturday April 8, 2017
As you breeze through the patchwork of fur coats, crystal bedazzled evening gowns and sequined suits from the archives of the Ebony Fashion Fair, on display in Washington, DC's George Washington University Museum and the Textile Museum, don't expect to learn much about the careers of Stephen Burrows, Patrick Kelly, Marc Bohan or any of the other designers who contributed to the legendary fashion roadshow.
This is not a traditional fashion exhibition, in which the garments alone tell a story.
Inspiring Beauty: 50 Years of Ebony Fashion Fair isn't focused on a particular designer's work process or aesthetic; it doesn't explore a singular theme that connects fashion to an inflection point in history; and it's not a celebration of techniques or textiles.
And although some of the garments are dazzling, other frocks are, quite simply, odd. If you look only at the clothes, you may leave feeling confused about how they came to be in a museum at all.
But pause to read the exhibition text and listen to the accompanying videos, in which designers and regular folks reminisce about what it meant to attend Ebony Fashion Fair - the thrill of seeing so many African-American women and men parading into a theater or high school auditorium to bear witness to African-American beauty - then the heart of the show becomes plain.
Inspiring Beauty is not so much about the academics of clothes, but about the people who wore them - on the stage or in the audience of a Fashion Fair show, perhaps, but sometimes only in their dreams.
READ: Must-See Exhibition: House Style at Chatsworth Estate
Ebony Fashion Fair began in 1958, the brainchild of Eunice Johnson and her husband, John H. Johnson, the founders and publishers of the Chicago-based magazines Ebony and Jet. Like the magazines, the fashion show spoke directly to African-American consumers.
Black models walked the runway in flamboyant fashions from Milan, Paris and New York. During the show's heyday in the 1970s and '80s, it traveled an annual circuit throughout the United States, Canada and the Caribbean, making well over 100 stops a year. The work of black designers was showcased. And black audiences saw themselves in glossy, glamorous relief.
Eunice Johnson was the chief organiser of the show and regularly traveled to Europe in search of the most theatrical, entertaining and provocative clothes. She didn't borrow samples from the designers; she bought the clothes - but only after expending countless hours persuading recalcitrant fashion houses to sell them to a black woman. Over the years, she accumulated about 3,500 pieces, many of which were too well-worn to be exhibited.
The models were chosen from open auditions and, over the years, began to include plus-size women. The troupe of models, dressers and mistresses-of-ceremony crisscrossed the country by bus, navigating the Jim Crow South and serving as exemplars of black accomplishment. In each city, the show was hosted by a sorority or other community organization to raise money for charities, most notably the United Negro College Fund.
Each ticket also came with a subscription to Ebony or Jet. Ebony Fashion Fair was a perfectly circular marketing and fundraising tool. And as the wheels turned, it spoke to the social aspirations, dignity and self-confidence of a rising black middle class.
In making her purchases, Johnson noted fashion trends. The exhibition, for example, includes a fine example of Christian Lacroix's operatic flourishes. It's possible to see Bill Blass's menswear-influenced tailoring, Yves Saint Laurent's roving eye for Asian culture, Patrick Kelly's whimsical use of buttons and Burrows's splendid use of color.
But those revelations register as mere asides rather than the main event. The heart of Inspiring Beauty is the connection between fashion and a community of people. Johnson, for instance, would often select the model with the darkest skin tone to wear the boldest colors, to highlight blackness. It was her way of declaring it beautiful at a time when the broader society would not.
For Johnson, representation of black people in the realm of fashion was part of a political and social imperative. Elegant style and conscientious grooming were, in her eyes, social currency.
As the exhibition catalogue notes, the "responsibility to attend to one's appearance for the collective good of the race was particularly impressed upon women." They were asked to be emblematic of social mobility, grace and appropriateness. To that point, Inspiring Beauty showcases a dignified and reserved navy Pauline Trigère dress from 1972 pulled from Johnson's personal wardrobe.
READ: An Open Letter From the Colour Pink
But you're also left considering what a great burden it is to have one's physical presence imbued with so much meaning and possibility. The black models twirled with such grace and seeming effortlessness, at a time when they had to enter hotels through back doors, their opportunities for advancement limited, their very personhood devalued.
Inspiring Beauty was first exhibited at the Chicago History Museum, and that setting should tip you off to the social context that is crucial to grasping the relevance of Ebony Fashion Fair. The show was born in a city teeming with examples of blacks working in the visual arts and in architecture, and one closely chronicled by a lively black press. Eunice Johnson, who studied sociology and art at Talledega College in Alabama, wrapped social and economic striving in the soothing embrace of fashion.
Ebony Fashion Fair spoke profoundly to its audiences. No matter how bawdy the clothes, it was an achievement for black people simply to wear them. The exhibition makes the theatrics of the clothes clear. The reason all that mattered is harder to discern, but worth the effort.
- The Washington Post
Share this:
More Culture & Travel / Going Places