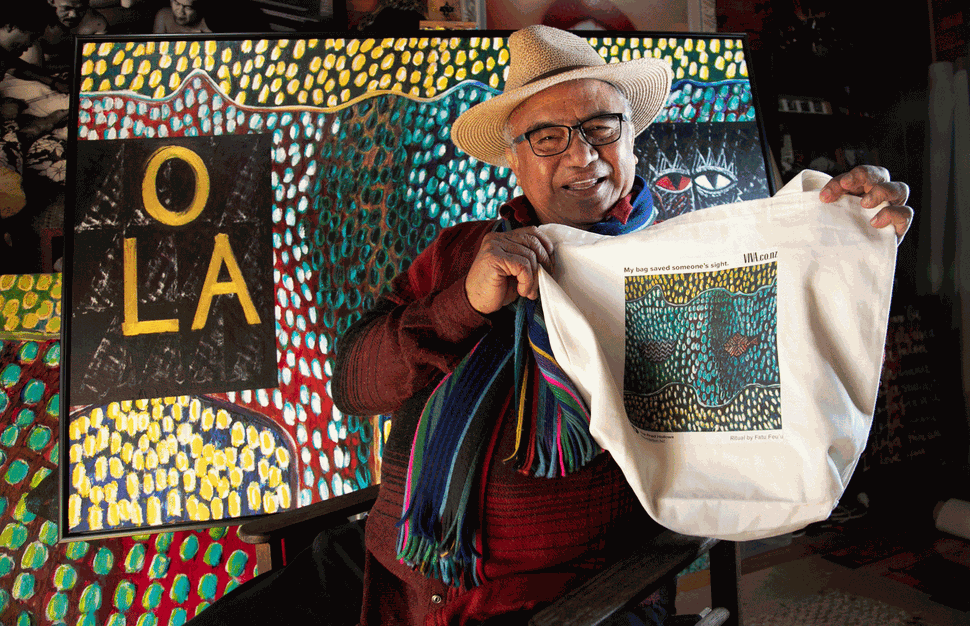 Prolific Artist Fatu Feu'u's Charitable Collaboration Aims To Save Lives
The award-winning Samoan-New Zealand artist teams up with Specsavers to raise much needed funds for the Fred Hollow's Foundation 'Gift of Sight' campaign
Thursday Nov. 5, 2020
A tote bag, an eyesight charity, an award-winning artist and his thought-provoking artwork all collide in a stunning collaborative effort to help restore the eyesight of thousands experiencing preventable and treatable eye-related diseases across the Pacific.
Viva is again proud to partner with The Fred Hollows Foundation to present to you its annual limited edition tote bag as part of the Give The Gift Of Sight campaign, this year in collaboration with Specsavers.
Renowned Samoan-New Zealand artist Fatu Feu'u lends his graphic artwork to Specsavers with a collection that highlights work from his Rainforest series - vivid colours that translate to frames (optical or prescription sunnies), a sunglass case and a cleaning cloth. $25 from the sale of each limited edition frame will be donated to The Foundation to help restore sight to those in need across the Pacific.
READ: Chef Michael Meredith's Soulful Christmas Meal In Samoa With The Fred Hollows Foundation
Aiming to raise $80,000 through the initiative, the limited edition range will be released exclusively online through Specsavers' website from tomorrow, and available in-store nationwide from November 12.
The glasses will be priced from $169 for two pairs single vision. To make a straight donation to the Gift of Sight campaign, visit Hollows.org.nz, where you'll receive our limited edition tote bag featuring Fatu's work "Ritual" - free with any $35 donation to The Foundation.
Speaking with Fatu from his art studio in Thames, the prolific artist and founding patron of Tautai Pacific Arts Trust shares his enthusiasm for his latest project.
Talofa Fatu and thank you for taking the time to talk about your fresh collaboration with The Fred Hollow's Foundation and Specsavers. How did this all come about?
I was contacted by the teams at The Fred Hollow's Foundation NZ and Specsavers to see if I'd be interested in the project. I thought it was a great idea to help as their teams have done so much good work around the Pacific!
Specsavers has done much to provide support for people who are unable to access quality eye care at an affordable price, and its creative collaborations are a unique way to spread the word. Talk us through the collaborative process and what you learned about working on this collection in particular.
This was actually a very difficult project in some ways due to COVID-19. Originally, we planned to attend an outreach in Samoa which would have been very exciting, getting to talk to people supported by The Foundation and Specsavers. The Specsavers team have been working hard to make it happen, but that did slow down the progress.
I have been working with Specsavers and The Foundation for almost two years to bring the limited edition range to life. It has been a very collaborative process and I have been involved every step of the way. It's been interesting to see my artwork translated onto glasses.
I've learned a lot, of course. It's an emotional journey to do this and connect with people who don't have their sight or have difficulty seeing. Sight is a gift and these people don't have the opportunity to look at and enjoy beautiful things, from the ocean to the greenery of the mountains, or their mum and dad. I thank god I was asked to be involved in this work. I am so pleased that $25 from the sale of each frame will be donated to The Foundation's Pacific outreach, especially in my home country.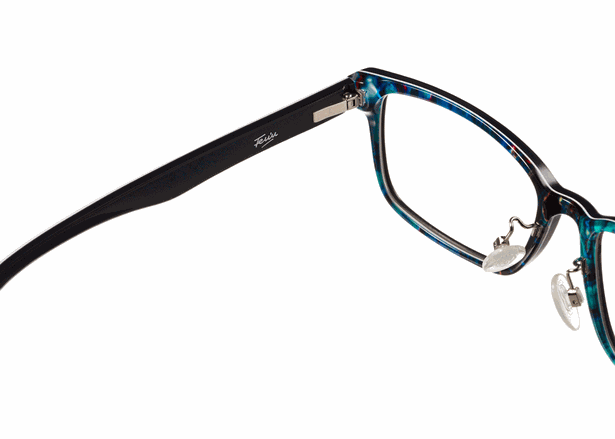 I spent some time at some of the outreach centers on Savaii in 2019 with Chef Michael Meredith, and was blown away by the work being done to help our people with their eyesight through the work of Fred Hollows. Why do you feel passionate about the Foundation?
Because I have seen all the good work the team does! The cost to do this is astronomical, and it's difficult for anyone government to help out. That's why it's great when the team asks creative people to get involved and assist. I haven't seen the work in Samoa specifically, but hopefully I will when travel opens up.
What personal story do you have around your experience with eyesight in relation to this project?
I can remember living in the village, the village where I was born and brought up. I saw uncles and aunties who had problems.
In Samoa, people go fishing without sunglasses and have no guard from the glare which can cause a cloudy eye. I didn't realise this can be fixed but now we have the technology and expertise to fix it. People who have lost sight from the sun now have the gift of sight to enjoy life.
What makes a successful collaboration between a brand and an artist in your opinion?
I think, from my experience, it's hard for one person to push ideas forward. You need more than one person and partnering with The Fred Hollows Foundation NZ and Specsavers adds weight to the story and puts it across into the community.
Talk us through the Pacific Rainforest series. What was the inspiration behind this collection?
I have always been interested in things to do with the environment and climate change. I have been travelling around the Pacific for twenty years, including Samoa, Tonga, New Caledonia, Rarotonga etc, and rainforests are being destroyed by a love of building, harvesting and not planting properly.
I talk to the locals about the importance of the rainforest, otherwise there is nothing for future generations. What we do now affects the younger generations. I have seen a lot of change in New Zealand and the Pacific.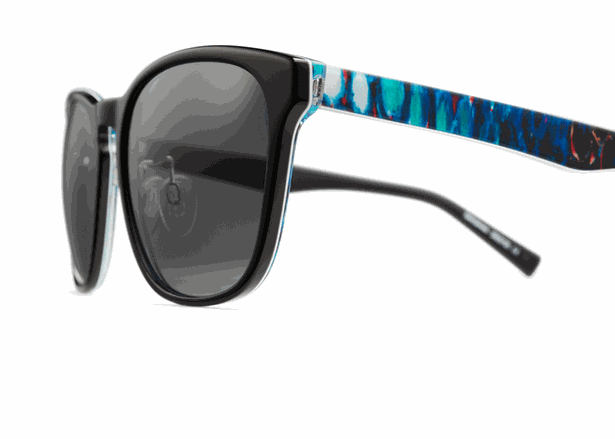 When was the last time you were in Samoa? What kind of connection do you have to it now as it experiences its own changes and challenges?
I was in Samoa 14 months ago now. Unfortunately, I missed a trip due to the measles outbreak, then early this year due to COVID-19. I have a big studio there and am hoping to visit soon.
Tell us about the artwork 'Ritual' – why was this particular work selected to be part of the Gift of Sight campaign?
In Polynesian culture everything is a ritual or ceremony. Everything from harvesting to fishing. It's a celebration of what we are receiving from nature and thanksgiving for the abundance of food. I looked at the motifs of fish used in the old days; Red Snapper is a very important presentation to a leader or family village. Life is one big ritual to show appreciation of abundance.
Margi and the amazing team from Fred Hollow's NZ recently visited your studio in Thames. What was that day like spending time with the team and talking about this project?
Amazing! They have a very good team. Margi and the Specsavers team have done a great job organising. I hear Margi's stories about how she travels to different parts of the Pacific and how it must be amazing to be with people after their operations. It was also exciting to learn that the funds raised through the sale of these limited edition frames will go towards eye health projects in Samoa.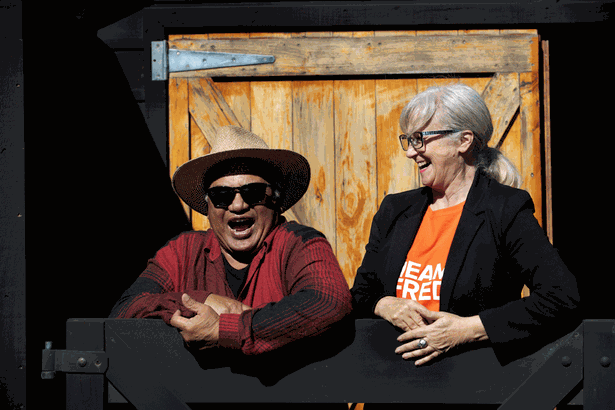 How many years have you been based there? What is the best thing about living and working in Thames?
Six years, but I don't live here full time. I'm usually away for six months of the year in the Pacific, including Rarotonga, New Caledonia and Samoa.
I like Thames as it is very green and close to Auckland. It is close to the Moana and a beautiful place to be.
I recently visited Connell's Bay sculpture Park in Waiheke Island and was so pleased to see your sculpture Guardian of the Planting. Jo Gow talked me through this process and it was amazing to see it age. To see your work outside of painting is amazing, and now on this new medium of glasses. What do you love about the tactile nature of art and sculpture in particular? What the main differences for you when it comes to painting and working on more 3D forms?
There is quite a contrast between the two. Painting is my first love and easier to do as I grow older – I'm 74 now. I used to do big sculptures but have slowed down. That one at Connell's Bay is my biggest wood sculpture!
When creating a sculpture, I think of the Polynesian people back at Easter Island, the stone heads. I am inspired by ancestry and appreciation of life, looking at the environment and looking after our planet for future use. That's how I feel about those sculptures. I am on this planet and need to be thankful for that.
You were recently there to see the opening of Tautai Gallery, which is a fantastic celebration of artists living and working in the Moana. As a founding patron, what is your vision for this space and what it means for a new generation of artist's working to bringing their stories to life?
This Trust started 37 years ago now, I can't believe the growth. It's about nurturing young people. There are a lot of young people with creative visions; photographers, painters, sculpturers.
The Trust is a way to have a creative collective voice to create art and contribute to society – there have been 200 people who the Trust has helped to turn professional. Having a space is great, a place to meet and exhibit.
How has it been for you working under lockdown this year?
It has affected me being able to create sculptures as my sculpture studio is around 45 minutes from Thames. Though I've had a lot of painting time at home.
What advice do you have for up and coming artists who look up to you?
My goodness! I think I have given out most of my advice! My usual advice for those out of art school is to look at using your talent wisely. Help the family put food on the table and make a contribution to society in a bigger way.
There are a lot of Pacific artist looking at issues, including fishing conservation all the way to Samoa. I am constantly talking and hearing from different artists on this issue.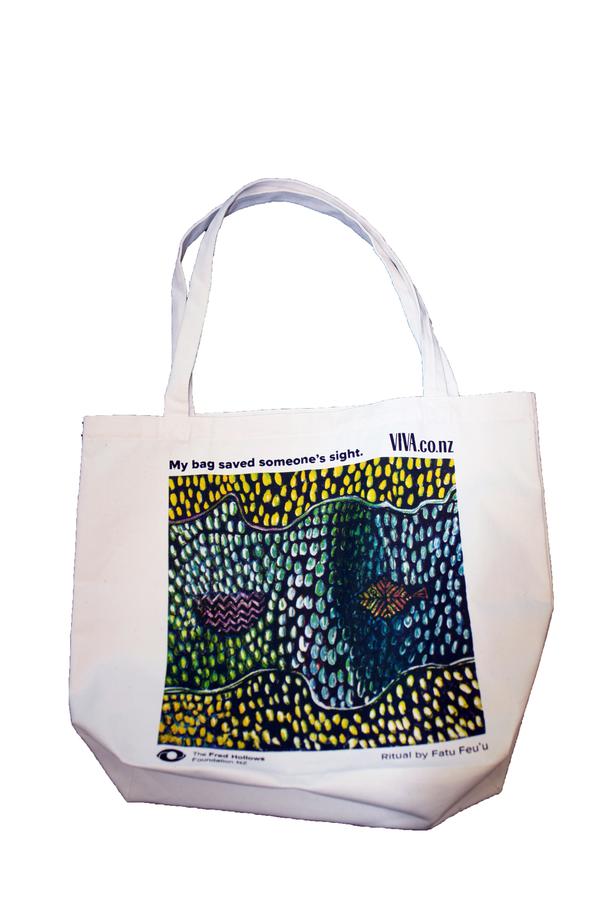 What has been the best advice that you've ever been given?
Sometimes I get emotional about this.
When my mother was alive she said if you ever become an artist, be responsible. Look around you. Us humans must be responsible, not just for families, but for things around us. It's good working with The Fred Hollows Foundation NZ as it's about caring for people around us.
In the last three years I have been working with artists focusing on the topic of suicide. It is a personal topic to me as it has affected my children.
There was a show in Picton which was recognised by an MP from Blenheim and shifted to Government House. It was an emotional show for me, it was the first time I had one in parliament, and the first time so many MPs came to say thank you. As a nation we have to do something about this issue.
View the full collection here
To donate and to learn more about the important work of The Fred Hollows Foundation, visit Hollows.org.nz
Share this: