Favourite Things: Artist Peata Larkin
Peata Larkin is inspired by the mana of wahine in her latest work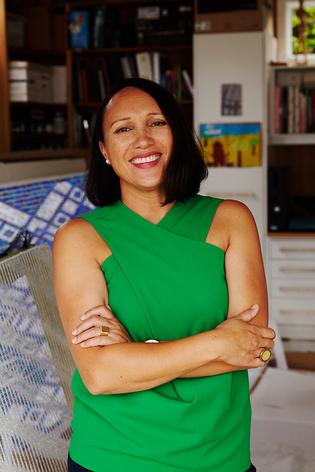 To celebrate the 125th anniversary of women's suffrage in Aotearoa this year, artist Peata Larkin is making a bold new series of works.
"It talks to the strength of women and what we can and have achieved," says Peata, who will be featured alongside several other female artists in an exhibition to be held at Silo Park in November. "New Zealand was the first country to allow women to vote. That speaks volumes about the type of women we are and the women we have come from."
The series of three works will focus on mana wahine: "the sense of strength and the power that Maori women possess", and will reference master Maori weaver Dame Rangimarie Hetet and suffragette Kate Sheppard. Peata hints at the use of a darker colour palette than usual, which may surprise a familiar audience.
"These new works do pack a punch, but they need to. They are standing up to heavy histories of gender and racial discrimination. I'm sure they won't be seen as 'visually pleasing' compared to my lightboxes and past paintings, but hopefully, they will provoke thought among the viewer."
READ: The Screen Queen: Rachel House
The Auckland-based artist typically references traditional Maori motifs and geometric forms in her work, and uses a unique method. Thick moulds of paint are pushed through small grids to create sculptural patterns. A collection of her work, called Tauhere, will be on display at Silo 6 as part of Auckland Arts Festival throughout March.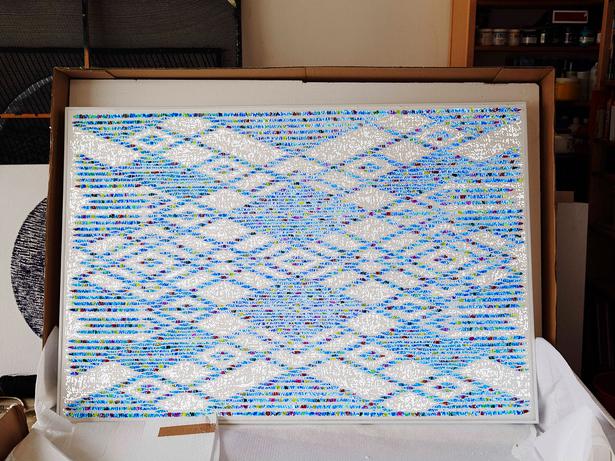 For Peata, who has studied at Elam and RMIT in Melbourne, art is a form of therapy, "to deal with stress, pain and the outlet to my thoughts and ideas", she says. And a connection to her culture. "The symbolism and history of raranga (Maori weaving) is a vital element of my practice and self-healing."
Growing up in Rotorua, she often struggled to identify with her heritage."My mother, who was Maori, left us at an early age so we were brought up by my English father. We didn't really know much about our heritage. I didn't grow up being proud to be Maori."
With the birth of her first child 19 years ago, Peata felt compelled to explore her Pakeha and Maori roots. "When I had my daughter, Alex, I wanted to learn more about who I was so I could pass on a sense of belonging to her, something I didn't have growing up. The more I learned, the more it crept into my practice because it became integral to who I am."
She hopes people sense the pride in her work. In particular the upcoming series for the women's suffrage, which has been an empowering process, she says.
"I made this series to heal, to own my past and to celebrate the present and future. I create because I am proud to be Maori and a female artist. It is apt that I am ready to share these new works for the anniversary of women's suffrage in New Zealand."
MY FAVOURITE THINGS
1. Painting by Regan Balzer 
Ironically, the artist Regan Balzer just recently dropped off this painting to me. I actually had a favourite book listed but as soon as I saw this, I knew it would always hold a special place in my heart. I instantly got the shivers when viewing it. There are artworks that tickle the eyes but this reaches well beyond that for me. The wairua (spirit) in this painting is so strong. I really love it.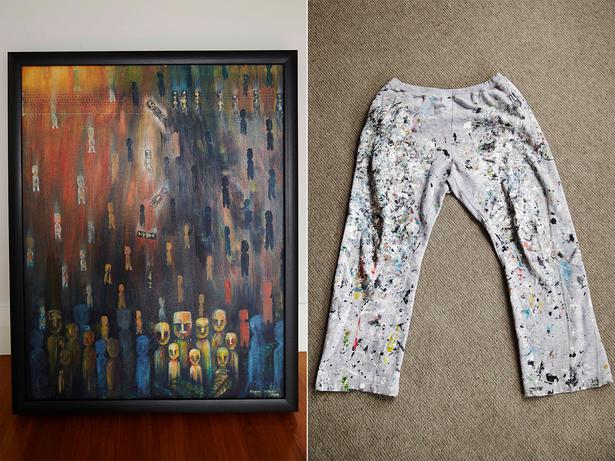 2. My painting pants
These pants have been through thick and thin with me (literally). I've had them for more than 20 years. They went through all three of my pregnancies and I wore them a lot during my time at Elam and RMIT. Sadly, I stretched the waistband during my last pregnancy but I couldn't bear to throw them out. I'll probably end up framing them as they really are a story in themselves with all the layers of paint caked on. Even my painting tops are a sight as I use the armpit to wipe my brushes clean.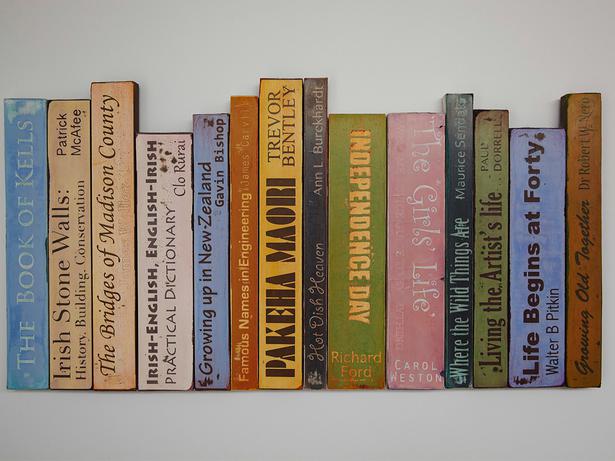 READ: The Changemaker: Dr Matire Harwood
3. A commissioned painting by Peter Gibson-Smith
I asked one of my favourite New Zealand artists, Peter Gibson-Smith, if he would create a painting as a combined present for my husband's 40th and our 14th wedding anniversary, which was six years ago. There are 14 book titles representing our 14 years of marriage. Needless to say, Nige and I were absolutely blown away when we saw it. Each book title is personal to Nige and I. I look at it every day and still get the warm fuzzies.
4. Dad's banjo
My father was an amazing musician. We grew up with him playing the guitar or banjo nearly every night. He had some fantastic ones but he also had decrepit ones that were in our garage. After he died, there were a couple of pretty simple, broken-up ones that I kept. My husband, Nigel, secretly took one to a musical instrument restorer in Onehunga, who did a great job. I love it a lot. It sits in my studio with me.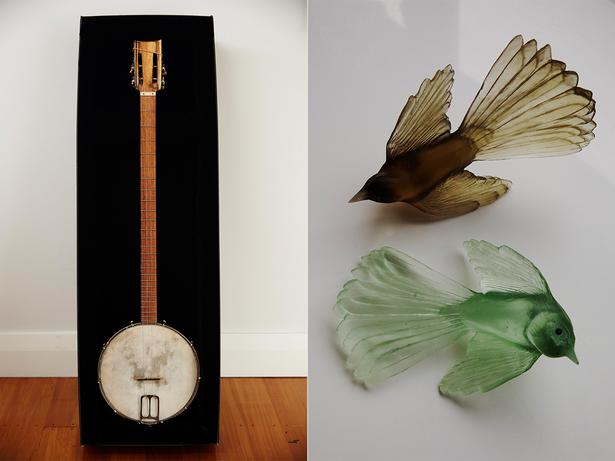 5. Glass fantails by Katherine Rutecki and Luke Jacomb
Last year Nige and I had a weekend away in Matakana to celebrate our 19th wedding anniversary. We went to the Brick Bay sculpture trail. I love how the fantails follow and flitter behind you as you walk. After lunch, Nige and I went into the shop and saw these beautiful glass fantails so we decided to buy one each for our anniversary presents.
Share this: