Favourite Things: Designer Clark Bardsley
The Auckland-based furniture and product designer is on a hot run of clever ideas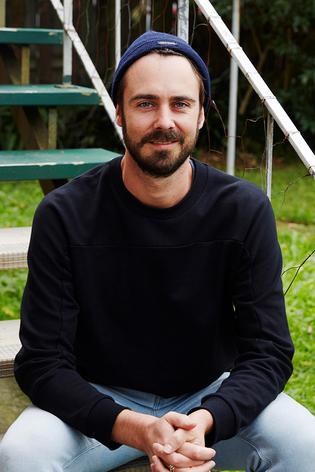 A line runs through Auckland-based furniture and product designer Clark Bardsley's work, and not just in a figurative sense.
Flick through his portfolio and you'll see it immediately: twisted into a knot-like apex in the Tangle bar stool, zig-zagging around the Wrinkle table, standing to attention with hundreds of others to form the Commensality table, and dancing like a thread blown in the wind in his installation for Swedish fashion brand COS.
"I'm always trying to find the line in something that makes an iconic shape. Even if it's a solid form, I look to see if there's a line in it that directs the way it works," he says, when asked if he sees a signature emerging in his work.
"What it comes down to is being brutally reductive, but without losing character or playfulness."
Clark is one of the quiet "ideas guys" of New Zealand design. He studied industrial design at Victoria University in Wellington, before becoming part of the team under the late Kent Sneddon that reinvigorated the bathroom-ware at New Zealand manufacturer Methven, winning several design awards.
Following his stint there, Clark left for London with his wife, working for the multidisciplinary furniture design studio PearsonLloyd on a range of projects, before returning to New Zealand five years ago.
READ: A Design Tour of Wellington
Since then he's been dividing his time between Auckland design studio ALT Group, private commissions, including interior design for Australia's Work Clubs, teaching industrial design at AUT and dreaming up his own concepts for new furniture and art pieces.
Although this last part makes up the smallest portion of his week, it's resulted in exciting projects. Last year, out of the blue, he received an email from one of the design team at COS, saying they'd spotted his Arm Chair online and asking if he could produce some concepts for a window installation at their London flagship store.
"At first, I was like, 'Is this spam?'", he says. "You get emails out of the blue like that all the time but at the end they usually say, 'If you give us $300 we'll put your ad in our magazine.' But it was real. I'm a fan of the brand and I know its currency in the design world is high, so it was a great opportunity."
It's little surprise that Clark's Arm Chair caught the eye of a clothing retailer, given it's not really a chair at all, but a clever take on a clothing rail. For the collaboration, Clark extended the original "doodle" into a flowing concept that was turned into steam-bent oak reality by a speciality shop-fitter.
READ: Design Files: Emma Fox Derwin
It was a treat to see his idea realised, he says, given that he's not a designer-maker.
"For furniture and industry design here, there's an expectation that you make the pieces too," he says. "That's not what I want to do. I'm not a furniture-maker, I'm not trained in cabinetry. My craft is design. That's more understood overseas than it is here. I do have an inherent interest in making, but as a design process, not as a manufacturer."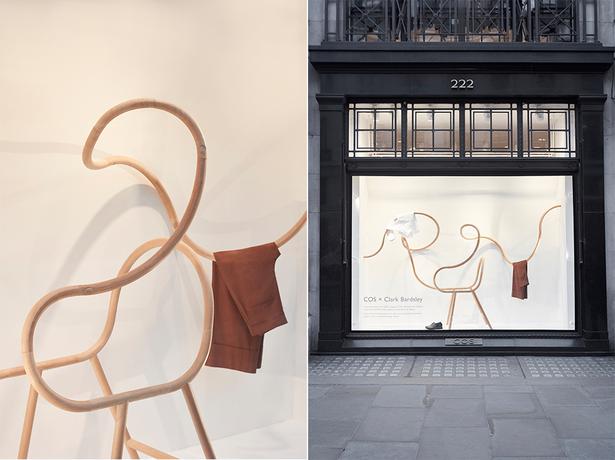 Clark's window installation at the COS London flagship store. Picture / Supplied

Being a designer-maker involves an extremely widespread skill-set, he says; not just coming up with ideas and producing them, but building supplier and manufacturer relationships, setting price points and marketing. "It's almost impossible."

Instead, he says, he's more interested in putting together a collection of ideas that demonstrate a methodology around his process and style. "I'm too impatient. I just want to create something and put the ideas out there, and if someone wants to pick them up, that's cool. For me . . . it's about creating a brand."

READ: Best Boutique Stores To (Modestly) Update Your Home

Although most of the product concepts he has designed recently, including a stackable set of furniture for small-space living, and a children's bedroom set, are furniture, he's keen to try his hand again at product design. "Furniture is a really fascinating area to work in, and I wouldn't want to give it up but I'm trained as an industrial designer. It would be fun to do a technology object."

Clark's focus on ideas rather than products leads him to follow along possibilities to see how they unravel. Recently he travelled to Hong Kong, where his Arm chair installation had been shipped, to participate in a panel discussion with a ceramicist, architect, chef and textiles designer around reinvention and originality.

Reinvention is part of the life of a designer, Clark says: "You're always continuously finding out who you are as a designer, and over time you become more confident to let that inner voice out."

READ: Designer to Know: Felicity Donaldson, Wundaire

It was refreshing to talk to his fellow creatives, visit some studios, buy a piece of design and just enjoy a change of scenery. "You never know about things like that," he says. "Maybe something will come out of it a couple of years down the track."

There's that line in his work again, twisting away into the unforeseeable future, a road with a bend ahead.

MY FAVOURITE THINGS

1. Moleskine notebooks
They're valuable little nuggets filled with drawings, meeting notes, wedding speeches, receipts, spontaneous ideas, sketched maps, dimensions of forgotten objects, and checklists.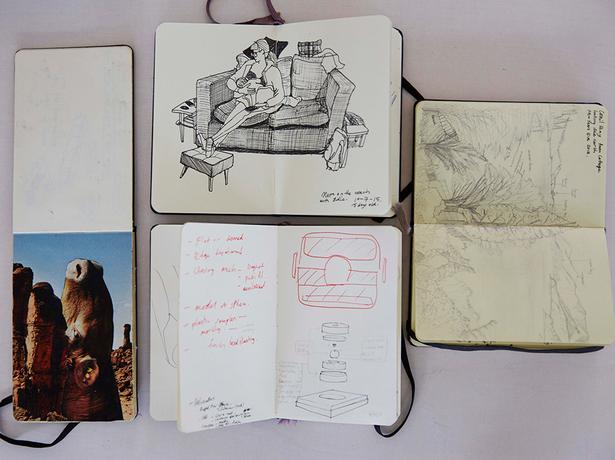 2. My bike 
It's not even mine, but on long-term loan from a friend. It's how I get anywhere in Auckland, keeps my body tuned up, my location sporadic and my commute exciting.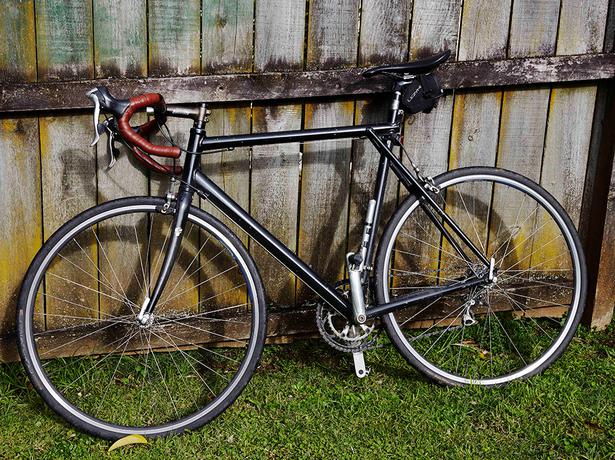 My bike. Picture / Rebecca Zephyr Thomas

2. Yellow tracing paper 
A tool that helps me retain analogue authorship over my digital process. Print. Trace. Scan. Change. Print again.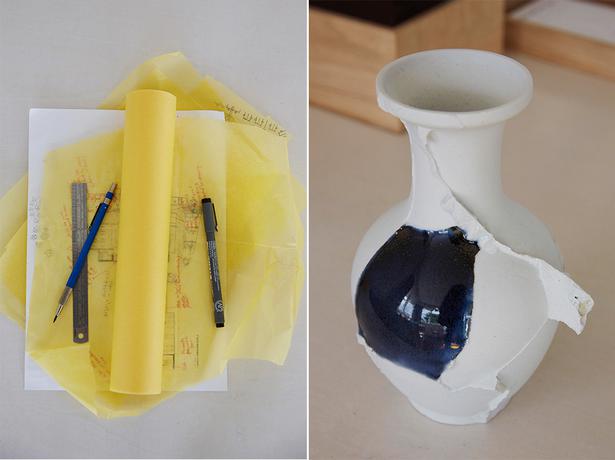 Yellow tracing paper and Jules and Jessie vase. Picture / Rebecca Zephyr Thomas

3. Jules and Jessie vase
A precious and richly narrative keepsake from my recent trip to Hong Kong. Made by fellow COS collaborators Jules and Jessie.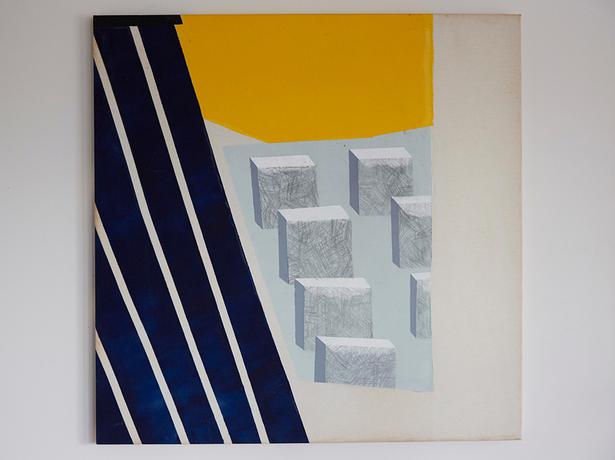 5. Faye Toogood paintings
This is one of two canvasses painted by British designer Faye Toogood for the design store 2021 in London as part of the 2009 London Design Week Memphis installation. The two works were picked up for 100 quid and have filled the walls in every place my wife and I have lived since — even as they get a little worse for wear.
Share this: