Favourite Things: Makeup Artist & Hair Stylist Sophy Phillips
The much-loved local freelancer shares her most adored objects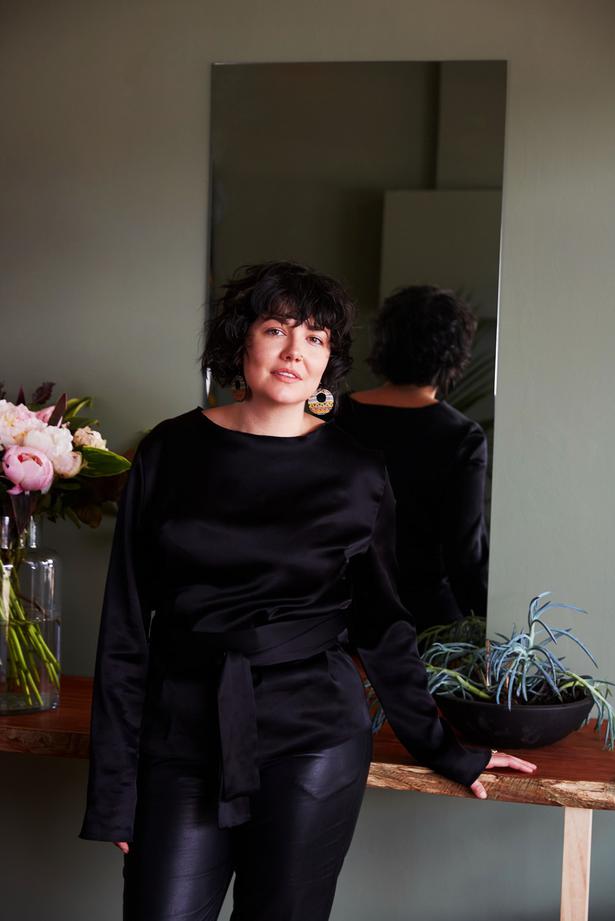 Saturday Dec. 1, 2018
Lopping off the ends of around 15 synthetic wigs is all in a day's work for Sophy Phillips. She was on set recently for New Zealand musician Jonathon Bree's wonderfully weird video for his single 'You're So Cool', which features the band and dancers in white masks, turtlenecks, and standout 60s mop-top dos.
The makeup artist and hair stylist regularly lends her final finesse to local artists, top fashion designers, photographers and magazines.
"It's exciting to collaborate and be part of someone else's creation. I take the concept, bring it all together, and make it look the part. It's the icing on the cake," she says.
READ: The Do's and Don'ts for Coloured Hair
The freelancer is well established in her field, first studying at Newmarket's Samala Robinson Academy before furthering her training overseas in London.
Sophy returned in 2009 to form the team that opened Mecca Cosmetica's first store in Ponsonby, where she built confidence as a makeup artist, as well as contacts in the industry. Hairstyling was added to her resume when freelance work offered only a small selection of music, TV and film work.
"Make-up artists fresh out of school were getting the jobs I wanted because they could also do hair. The reality is you need to have both skills now," she says.
Sophy completed a hair apprenticeship, loved it, and then worked a two-year stint at Stephen Marr from 2012, which opened doors to the fashion industry.
A career highlight so far is designing many of Nom.D's dramatic hairstyles in lookbooks and at runway shows.
Her latest venture includes opening a new hair salon, Common People, in the central city this month with partner and hairdresser Chris King.
The couple got together in March after a chance encounter at Golden Dawn's closing night. Sophy — dressed up in a banana skirt — spotted Chris, a previous client.
"I had been asking him out for a beer for ages. I even pretended that I wanted to buy the bicycle he was selling when we first met just so I could talk to him more. He finally got the hint that night and we have been inseparable since," she says.
READ: Get The Look: Meghan Markle's Signature Messy Bun
Chris will be the sole hairdresser in the salon, and Sophy has been left in charge of the interior. "We didn't want it to feel like a busy modern salon but more like a living room. Somewhere you can come and hang out with a coffee and get a haircut," she says.
The original 1926 building on Symonds St has been painted sage green to match the wooden floors. Plants, sheepskins, and a statement painting by Emily Karaka borrowed from Sophy's parents' living room fill the space.
Music will be a big part of creating the right atmosphere and a new record will be bought each week to play. The couple share a love of music, with Sophy involved in the local scene over the years, as a vocalist for artists and bands, and recently joined Creme Jean, who opened for Princess Chelsea in October. Chris grew up in Sheffield's 90s clubbing scene and would regularly DJ big events.
The salon's name pays homage to the band Pulp, who are also from Sheffield. For now, Sophy says she will keep behind the scenes of the salon, to "play the records and be the tea lady".
MY FAVOURITE THINGS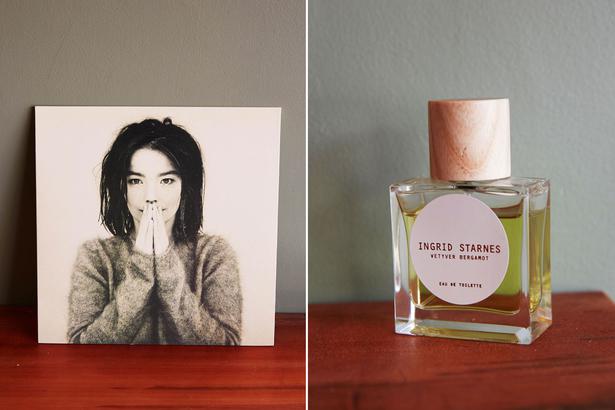 1 BJORK RECORD
This was her first album Debut and is such a special record. I was 4 when it came out and it's one of the first records I remember hearing at my parents' house.
I listen to it all the time and to me it's just as current as it was 25 years ago.
2 INGRID STARNES FRAGRANCE
This bergamot perfume has been a favourite of mine since it was first launched. The bottle was given to me by Ingrid herself so is extra special. It was also the fragrance I was wearing when I first met Chris and he knew exactly what it was. I was quite blown away by that. We have common tastes in perfumes and often if I'm not wearing it he will and it smells just as good on him.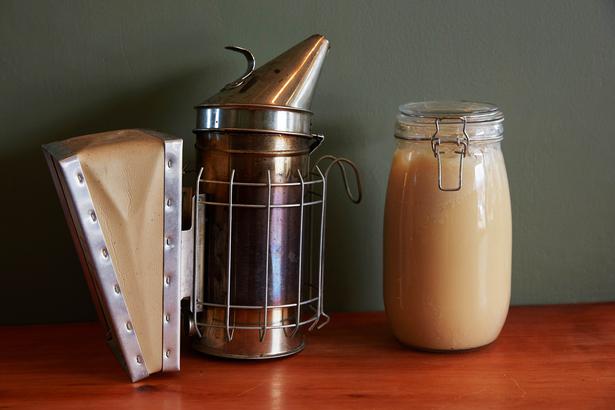 Jar of honey and bee smoker. Photo / Rebecca Zephyr Thomas

3 JAR OF HONEY AND BEE SMOKER
I started beekeeping around three years ago after wanting to do it for a long time. I joined the Auckland beekeepers' club at Unitec and signed up for their night classes and then got some bees. My smoker is an essential tool for checking on my girls and the end result is like floral fudge. My bees have moved with me around Auckland and might end up on the top of the salon.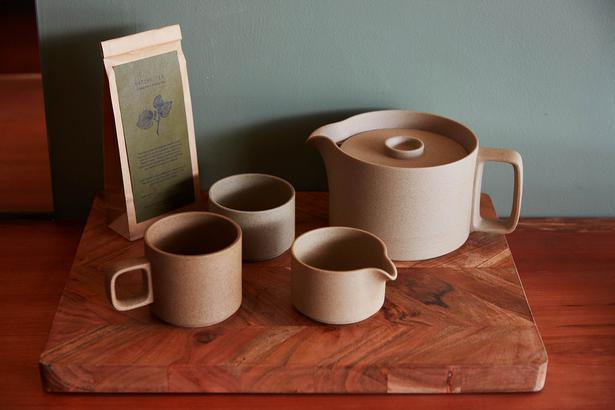 4 HASAMI TEA SET
This handmade Japanese tea set was bought from Coffee Supreme and lives at the salon. My favourite tea to serve in it is Wild Love's Kawakawa blend which is hand harvested.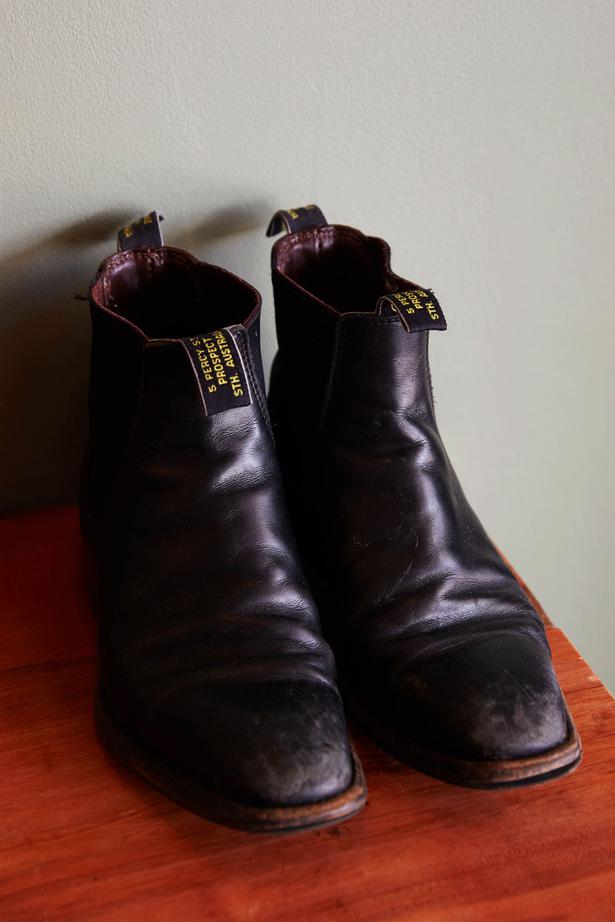 5 R.M.WILLIAMS BOOTS
I buy a lot of my boots secondhand and wear them until they are totally thrashed and worn out. I fell in love with these cowboy boots from R.M.Williams and I've bought two other pairs since.
Share this: