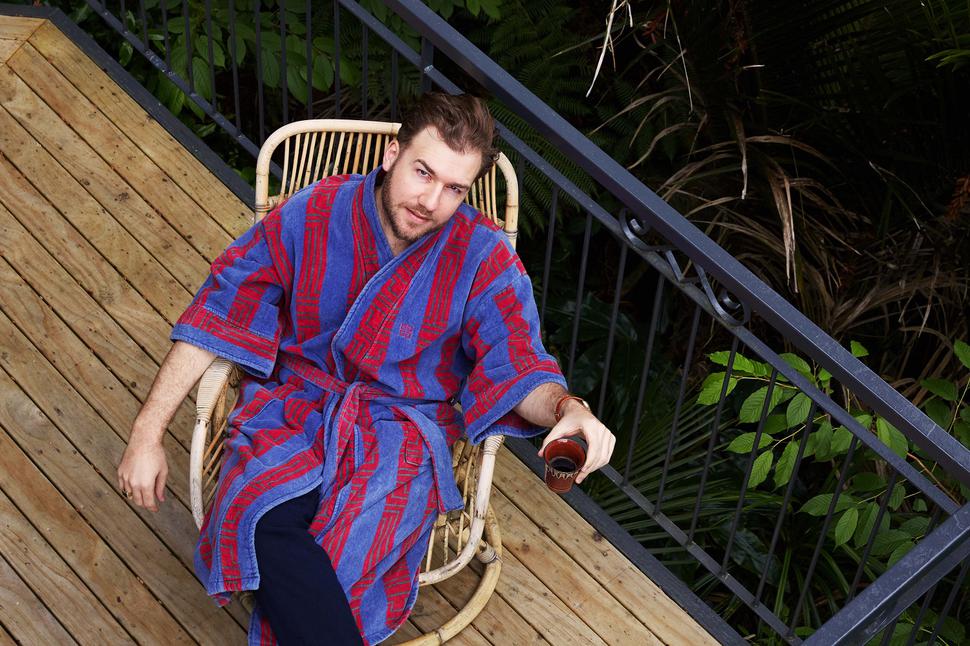 Favourite Things: Musician Jordan Arts aka High Hoops
Producer and vocalist Jordan Arts shows off his new Titirangi studio and funky jacket collection
Saturday Oct. 20, 2018
With the release of his debut solo album last month, Jordan Arts is relieved for it to finally see the light of day.
"It's been a long creative journey to get to this point but it's an absolute extension of myself. I'm really proud of it," he says.
Released under the moniker High Hoops, Seasons on Planet Earth, is a cultivation of the past three years for the Royal Oak producer and vocalist who has been working on the side project in addition to his "day job" co-owning independent music label A Label Called Success and making up one-fifth of Auckland band Leisure.
READ: The Inimitable Marlon Williams On His Mercurial Year
The decision to branch out on his own began during his hard and fast reign in the hugely successful pop duo Kids of 88, formed with old schoolmate Sam McCarthy in 2009. Their breakthrough hit 'My House' was picked up by C4 Music Channel and blasted on every radio station, leading to an international bidding war between five major labels and a worldwide tour with pop star Kesha.
"It was a fluke basically. Within six months of forming the band, we were playing to huge crowds in Europe," says Jordan. "It was all back to front though. We had these songs that had done well and had a following but the music we were putting out wasn't the fairest reflection of who we were or aspired to sound like."
He soon craved an outlet and started writing late into the night, usually kicking off at midnight and lasting until six in the morning. He still produces his best work like this. "It's such a nightmare the next day but you can wake up and go 'Wow, how the hell did I do that?'. Once you start, you never know where it will end up," he says.
Jordan says High Hoops has become "almost a reprieve" from making music as Kids of 88.
"That was a collaborative effort with so much expectation on it. I now just go at my own pace and make music I really enjoy."
READ: Favourite Things: Singer-Songwriter Julia Deans
Like most artists, however, Jordan, 30, has struggled with insecurities as a solo artist. "There were times in my mid-twenties when I thought I would never enjoy my own music. With this record, I've had to love every song. You need to, otherwise no one else can." He says his other creative ventures help to balance things out when he goes too deep.
Leisure is currently working on a new album coming out next year — although Jordan says they have at least two more albums worth of material.
At a A Label Called Success, his Bachelor of Digital Design comes into play as he produces and shoots videos for up-and-coming local acts.
This year he has worked with Onehunga hip-hop group Swidt on the track 'Boogie' for their Bootleg EP, and High Beams on the single 'Red Wine'.
"I'm right in the pocket of doing all these things I want to do," he says. "I'm at peace with what I can offer and not too worried about what I can't."
MY FAVOURITE THINGS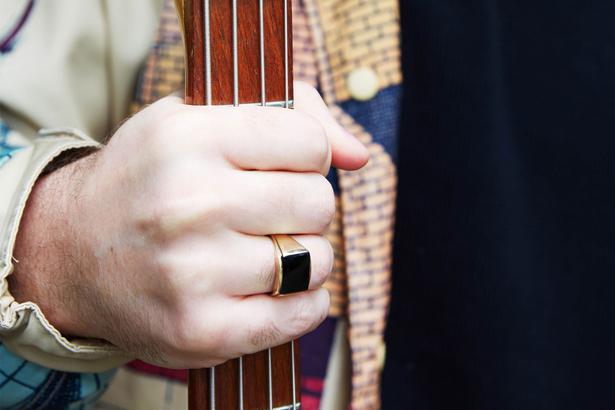 1 JACKET COLLECTION
I see jackets as a form of self-expression you can exude flair and personality with. I loved the vibrant and patterned leather jackets from the 90s TV series Jam Zone and I have a big collection in that realm.
Jacket collection. Photo / Rebecca Zephyr Thomas

2 OPA'S RING
I am half Dutch and my Oma gave me this ring after my Opa passed away five years ago. He was one of my heroes and was very musical. It's a reminder to me that he's there with me.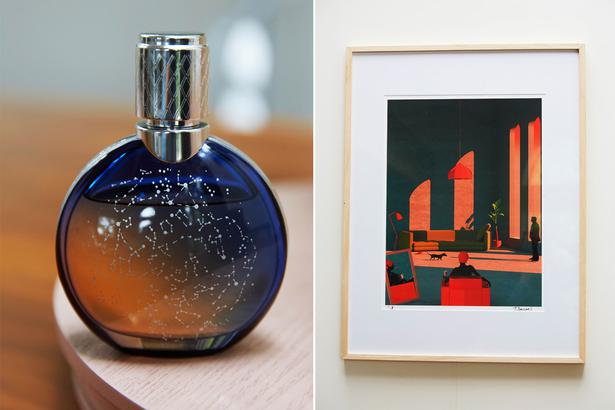 From left: Van Clef & Arpels Midnight in Paris Cologne; Print by Tisch Bazanji. Photos / Rebecca Zephyr Thomas

3 VAN CLEEF & ARPELS MIDNIGHT IN PARIS COLOGNE
This is an incredible scent and has become part of me. The bottle has an amazing star-like pattern. It's sadly discontinued and I'm down to my last bottle. Now there are eBay cowboys selling it for around 400 bucks.

4 PRINT BY TISCH BAZANJI
This Parisian-based graphic artist makes incredible neo-futuristic landscape art. The red and orange colour combination always speaks to me as a sunset last day on earth scenario.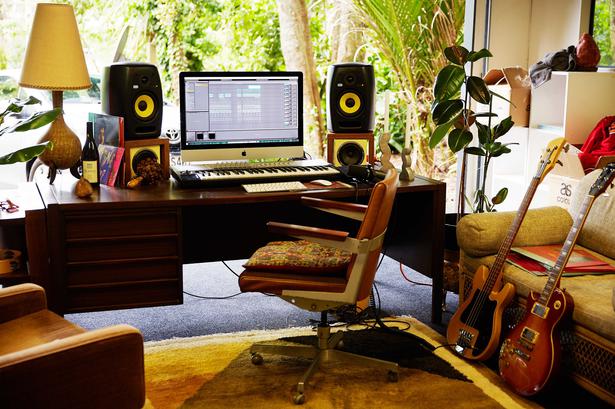 Titirangi studio. Photo / Rebecca Zephyr Thomas

5 STUDIO
I've just moved into a new place in Titirangi and a studio was a prerequisite. Already sessions are filling the room with memories and a good energy.
Share this: