Favourite Things: Singer-Songwriter Tami Neilson
The Canadian-born singer-songwriter is speaking her mind on her new album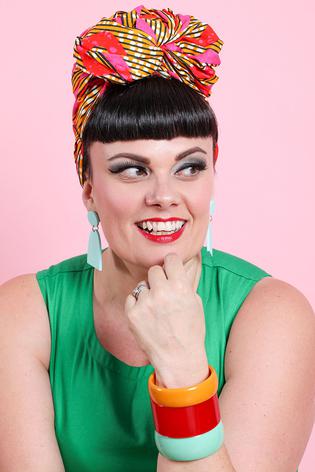 Tami Neilson has gone bush. The Canadian-born singer-songwriter has recently taken a liking to sassafras — a plant known for its fragrance and beauty but, be warned, it comes with a bite.
Much like her sixth album Sassafras, released on June 1, which not only borrows its name but weeds out the judgment she's faced during her career, especially as a woman.
"In legend, the sassafras plant means to break rock, which is so fitting," she explains. "Something that's strong enough to break rock stands for women in general."
READ: The Quiet Achiever: Nadia Reid
Sassafras is also Southern-state slang — another link to the album's lyrical content and its stonking soul sound. "It means a sassy person who isn't afraid to speak their mind," says Tami. "The album is about coming into my confidence."
The single Stay Outta My Business confronts the remarks Tami faced as a touring parent. "After every show, I would get comments like 'who's taking care of your children?' and 'how can you leave them?'. The judgment was crushing but I realised if you are a mother, you're going to be criticised no matter what. So you may as well just do what's best for your family."
Brought up with country music, Tami knows life on the road well. From age 12, she toured with her family band The Neilsons, which meant living out of hotel rooms, performing for thousands, and opening for legends such as Johnny Cash. "Oh hold on, I guess that's not what everybody else did," she laughs.
READ: October's Red-Hot New Music Video
The move to New Zealand a decade ago was daunting, but it's helped shape her music, says Tami. "When you grow up so close to a music hub you get influenced by what others are creating. It's given me a uniqueness I wouldn't have had if I was still in Canada."
The new album was co-produced with Ben Edwards at Sitting Room Studios in Lyttelton. "It's a little slice of heaven in isolation from any outside influence. I find I make the music I want without thinking about how it's going to be received. That mentality is ingrained in Kiwi musicians. I love that. If you want it you've got to make it for yourself."
MY FAVOURITE THINGS
1. Tin signs
Neilson's is an iconic Canadian dairy company. These vintage signs were hanging in a restaurant down the road from my parents' place and I always loved them. When the restaurant redecorated, my parents bought the signs and brought them to New Zealand as our wedding gift.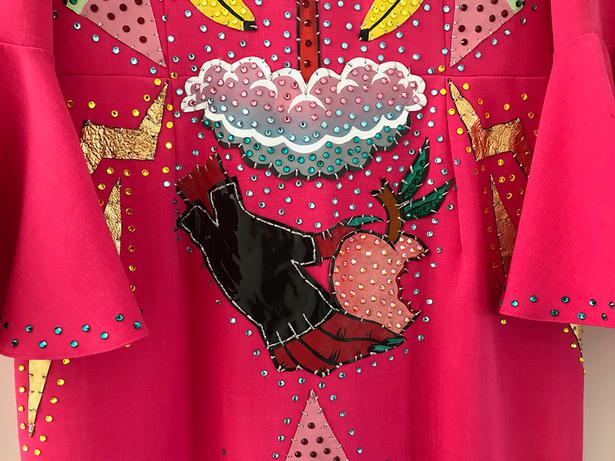 2. Cover dress
This dress was designed for my album cover by Wellington artist, Xoe Hal. Xoe repurposes garments by redecorating them with recycled, hand-painted leather patches and then embellishes with rhinestones. This dress has 3000 of them. It's a perfect visual representation of the album and I love the symbolism of female power.
3. Signed poster
I got to open for Mavis Staples, my musical hero, last year. It was an incredible night I will never forget. She signed this poster of our show together and my husband had it framed for my 40th birthday.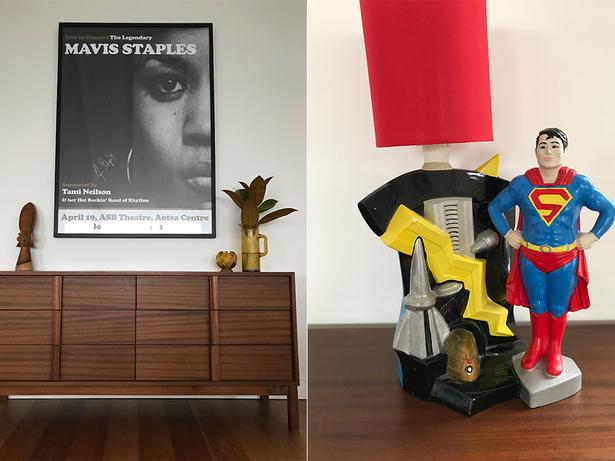 4. Vintage lamp
I was obsessed with Superman in my teens and my dad found this vintage lamp, which was peeling and no longer working, in a junk shop. He painted and rewired it for me for Christmas. I love that he signed it "Love Dad" and dated it on the back. I lost my dad three years ago so it has become even more precious to me.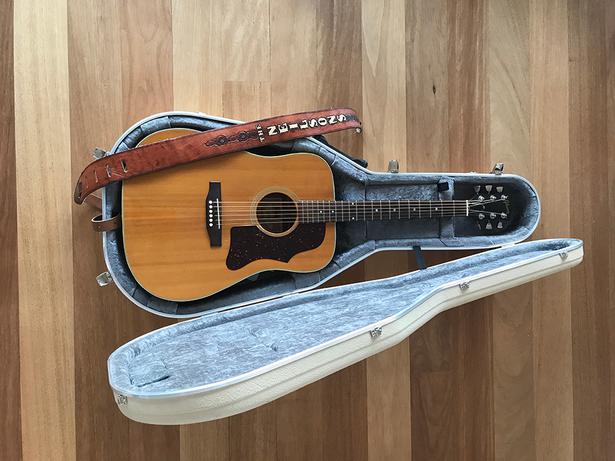 5. Gibson guitar
My dad gave me this Gibson for my 18th birthday. It was a session guitar at the legendary RCA studios in Nashville. If only it could talk! The leather strap was made by a childhood friend and bandmate of my dad's. It's embossed with our family band name 'The Neilsons' and toured across North America with us for a decade. I love that I always have a part of that legacy with me whenever I perform.
Share this: