Favourite Things: Radio Host & DJ Clint Roberts
ZM host Clint Roberts likes gifts from Mum and music equipment he can't use yet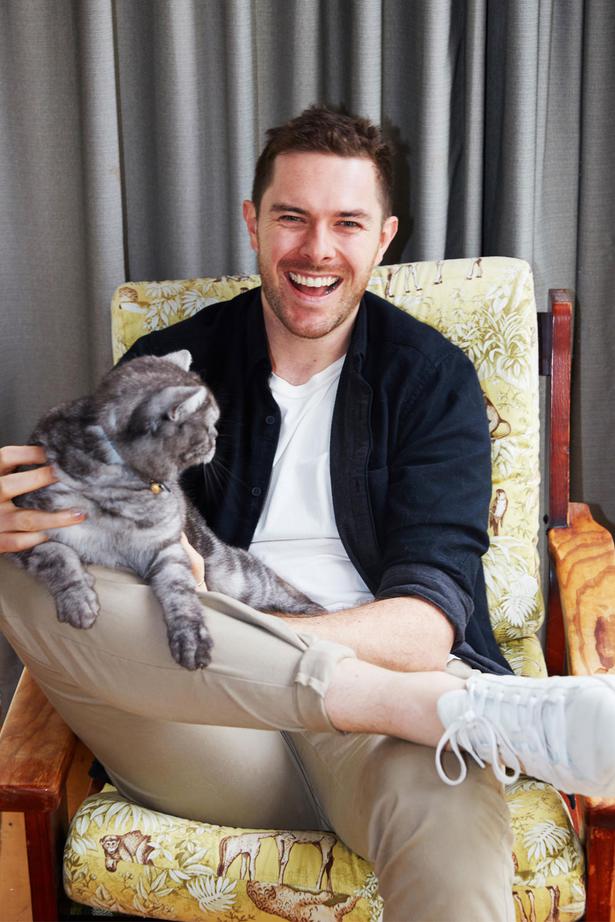 Saturday Aug. 25, 2018
Even when he was young, no one could really get Clint Roberts to zip it.
The Rotorua schoolboy was first in line to audition for every production, took a leading role in the Shakespeare and debating teams, and completely ignored the three-minute limit of speech competitions. "I was a real nerd. A complete show pony," he says, laughing. "The idea of competitive talking was always my favourite part of school."
READ: Favourite Things: Radio Host Sarah Gandy
After considering a career in law — he made a close call after trying out the "awful" experience of mooting (mock court proceedings) — Clint set his sights on radio and applied to broadcasting school in Christchurch. The aspiring host loved the course and fully embraced his new student life.
"Six of us lived in the scungiest flat on Worcester St. We were probably illegally overcrowding it and the roof caved in, but it was one of the greatest experiences of my life."
With six months to go, however, The Edge offered a "now or never" internship after Clint had smooth-talked the boss while on university holiday road-running duties. "I had to ring Mum and tell her… I think she's still coming to terms with that," he says.
He then stuck around for a decade hosting the afternoon show with Guy Williams and Sharon Casey, followed by a one-year stint at George FM. He's most recently been unleashed at ZM, co-hosting the afternoon show with Bree Tomasel since July.
Introductions so far have included frolicking about in Hamilton with a woman convinced she's a mermaid, staying the night in a haunted prison in Napier, shark diving with great whites off Stewart Island and getting an on-air perm.
READ: Favourite Things: Sam Wallace From The Hits
"It's not what most people get to do for their jobs," says Clint. "We get in there at midday and have no idea what's going to happen. We create great entertainment from nothing. And if it's no good, which sometimes it is, it doesn't matter because you have the chance to make it better the next day."
You may also recognise Clint's friendly face from spinning DJ decks at various festivals around New Zealand, using his largely self-taught skills. At 16 he set up his own mobile DJ company, Rotorua DJ Services.
"I used my parents' van and bought some speakers and lighting. I'm sure it was highly illegal at the time," he says. "I'd DJ birthdays, school halls and after-balls, all out of my CD wallet downloaded off Limewire. Some were even unfortunate enough to have me at their wedding."
Since then, DJ moments have improved, and Clint's greatest was playing the main stage at Rhythm and Vines in 2017. "In the middle I switched to playing Poi E and got about 20,000 people going hard, all singing. It's just one of the coolest experiences ever," he says.
A slightly less positive experience was interviewing British rapper Dizzee Rascal at the Big Day Out in 2010. Dizzee tried to fight Clint because he didn't like his interview questions.
READ: Best Buddies: Pua Magasiva & Sela Alo
"He came right up to me and looked me straight in the eye. His enormous security guards stepped in and it went from zero to 100 real quick," he says. "I'd love to say I recovered but it really ruined the interview.
I sort of backed down from there and didn't say much else."
Still, Clint says that getting to talk to all kinds of people is what he loves most about his job.
"Most days, we open up the phones and take people live to air, so you never know what you're going to get. Most bring you so much gold every day." 
MY FAVOURITE THINGS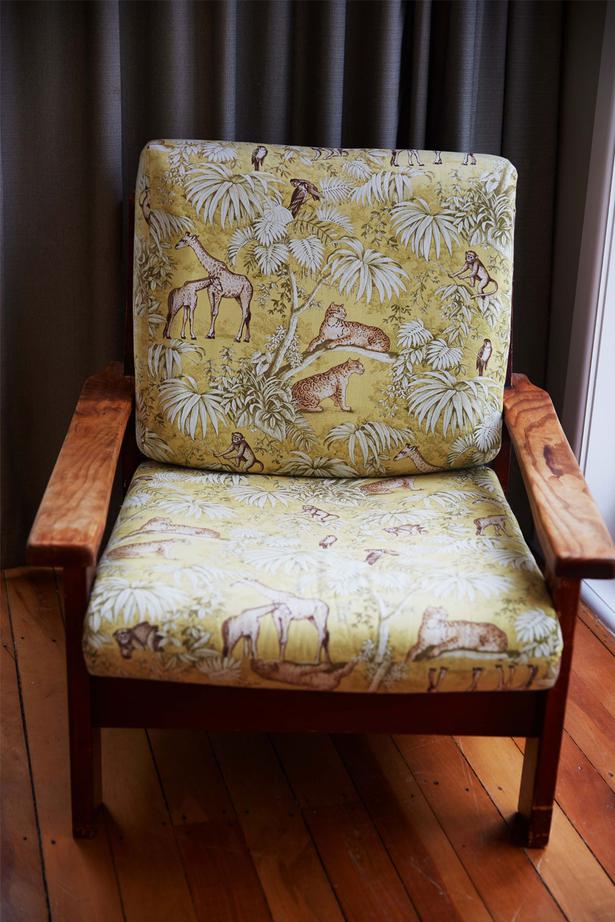 1 Set of chairs
These came from my wife Lucy's parents when they moved from their old house. Her mum has re-covered them in this jungle print that Lucy chose. It's bizarre.
2 Vintage All Blacks jersey
I got this jersey from a pop-up sale from this couple who bought a shipping container — on the show Storage Wars — without knowing what was inside. They paid $10,000 for it and it turned out to be full of brand-new vintage sporting memorabilia. I scored this brand new 1996 All Blacks jersey. It has the old white collar and the Steinlager logo and still has the original price tag on it. It was $180 in 1996 and I got it for $50. It will be one of the things I pass down to my kids.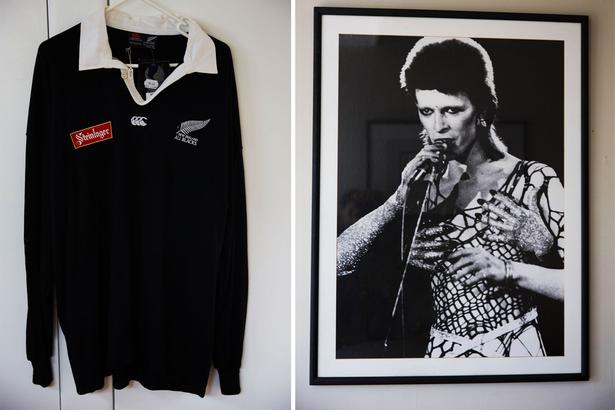 3 David Bowie Print
David Bowie is dressed as Ziggy Stardust and hangs in our dining room. It's just the coolest piece of artwork. We got our cats the week after Bowie died and named them Ziggie and Bowie.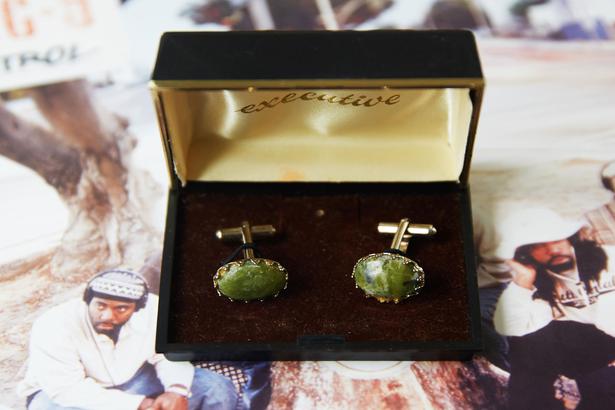 4 Cufflinks
My mum has only just found these. They belonged to my Poppa, who passed away
more than 20 years ago. He was Irish, from Dublin, and I only have vague memories of him but now I have these cufflinks. They are made from Connemara marble and are a beautiful green.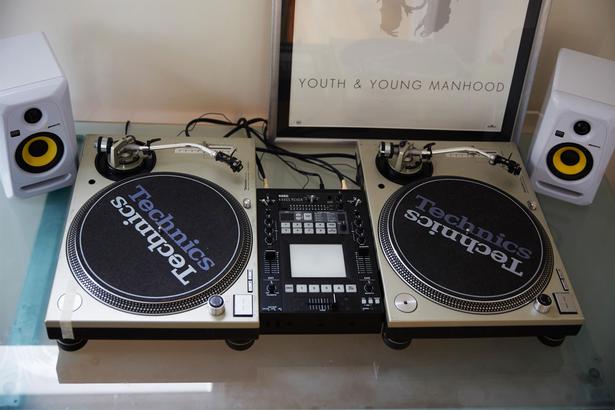 5 Analogue Turntables
I've set up these turntables in a spare room in our house that I've commandeered with all the things I love. I don't even know how to use them so at the moment it's just a very expensive paper weight. I have grand plans of buying boxes of old house records and playing them on weekends.
Share this: