Fiji's Namale Resort a Haven For Couples
There's never a crowd at Namale Resort in Fiji, where couples can truly lose themselves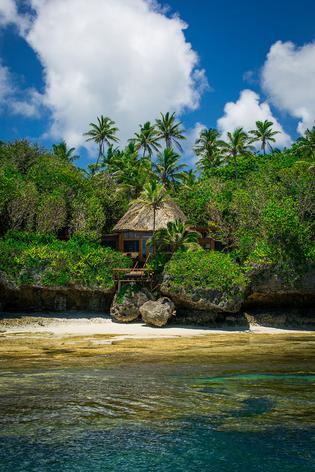 When the most difficult decision of the day is whether to dine by the lap of the waves, the mist of a waterfall or the vent of a blowhole, the scene is spectacularly set for a romantic retreat.
The beauty of these locations is that they can all be enjoyed at the same five-star Fijian property. So too a table set up in a candle-lit sea cave or beside a heart-shaped hot-tub, or in a surprise spot on the large property that is the boutique Namale Resort & Spa.
This couple's delight of a getaway stretches over more than 200ha with just 19 doors. These range from vast clifftop bures, with indoor and outdoor bathing, to intimate eyries atop rocks, accessed by suspended walkways. Each suite opens to decking allowing you to dine privately indoors or out, from an American-style menu with tropical twists and complimentary drinks.
A week's worth of unique eating experiences are thus sorted, without your even venturing to the resort's two main restaurants, although each has its own appeal well worth checking out. The main bar and restaurant nestles in greenery near Namale's sandy bay; the other, with views on high, looks out to sea from a commanding spot on Fiji's lesser travelled second main island of Vanua Levu.
With its high peaks, lush landscapes, great diving and yachting anchorages, Vanua Levu is a world away from the hotel strip of Denarau. It offers a sense of space that cannot be found on the inner holiday islands, teeming as they are with family groups. Travelling here involves an add-on flight north from Nadi, so Vanua Levu is for those who wish to broaden their experience of Fiji or get away from the madding crowd.
At adults-only Namale, that space is guaranteed, as are cosseting creature comforts. The award-winning spa is vast and echoes dining options in providing menu choice aplenty for those staying the usual five days or longer.
Resort co-general manager Nowdla Keefe hails from the Bahamas and brings extensive tourism industry experience. With her husband Bill she has happily made Fiji her home for six years and relishes tailoring personalised trips for the mainstay business of couples.
Typically they come to visit on honeymoon or to celebrate other special occasions. Wedding and anniversary groups can block book and make good use of the resort's facilities, which include a country-style nine-hole golf course and, more unusually for the tropics, a basketball court and indoor bowling alley.
Cabin fever isn't the issue at Namale it can be at smaller couple resorts. Day trips on sea or on land are easily arranged. The town of Savusavu, with its store of stunning Fijian pearls gathered from local waters, is a short drive away. Within the resort itself, however, are ample appealing places to idle a while — together or, if needs must, alone. But lonely you will not be.
Staff really do know your name.
The friendly touch begins at check-in, when guests are escorted to their bure to find a welcome "Bula" picked out in petals and a personally inscribed wooden doorplate they can take home. On departure day, you are encouraged to etch your name in stone, to form part of an ever-expanding link around the colourful gardens — and a pull to return to rediscover your very own magic marker in the sand.
namalefiji.com
• Janetta Mackay travelled courtesy of Tourism Fiji, visit fiji.travel
Be inspired by the good things in life. Sign up now to receive emails from Viva, and twice a week you will be sent the latest news, profiles, videos, fashion shoots, competitions and more.
Share this:
More Culture & Travel / Going Places