Going Places: Spa-Hopping in Fiji
Janetta Mackay visits three Fijian resorts that celebrate local ingredients in their spas, and have a relaxed redefinition of luxury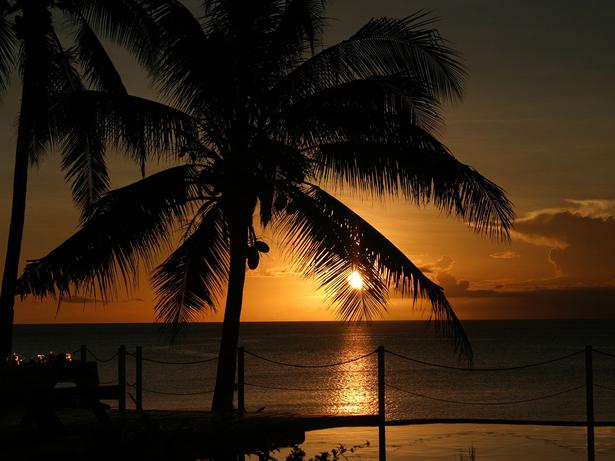 Friday Feb. 3, 2017
Fresh off the boat on Taveuni, I step up the cliff path to Fiji's garden island. Minutes later, seated with juice in hand — my sticky feet soaking in a bowl of fragrant coconut milk — I gaze across the Pacific in the general direction of much chillier New Zealand.
To my left is the southern tip of this rugged northern island, Fiji's third largest. In February, 2016 it bore the full force of Cyclone Winston, but today all is serene. The deep blue open waters ahead are unruffled; off to the right Vanua Levu rises high and green.
Checking in at the Paradise Taveuni Resort is beyond restful. After a warm welcome comes a sugar scrub and foot massage. This simple gesture of hospitality strips away the stress from guests, many of whom have travelled half-way across the globe to get here.
Once my calves are kneaded and my toes twinked, I am taken across the lawn, past the pool and restaurant to one of just a dozen bures. All have been rebuilt since the cyclone, in materials that remind me of a classic 1950s Kiwi bach.
This is a relaxed, unpretentious place. Albeit with a few more creature comforts than most coastal cribs. Starting with air-con and a sulu to wrap in when you step from the outdoor tub and shower in your bure's own little rock-walled enclosure.
Days are best spent snorkelling, hiking or swinging in a hammock. Nights congregating to drink and dine. Along with honeymooners and dive groups from America, guests may include a few adventure-minded families or independent travellers upgrading for a few evenings. Passing yachties are welcome to anchor off the resort and come up.
Taveuni draws those who like remote regions. Paradise is not a luxury resort for people who like it swishy, but for those who consider luxury is about location and lazing. Visitors can head around the island to swim under waterfalls and venture to the highlands to bird watch.
READ: Great Places to Eat in Fiji
The island is a jumping off point for world-renowned diving in Somosomo Strait. Paradise has a PADI dive instructor and its own boat for trips to see the soft corals of Rainbow Reef and the White Wall.
Food here, by necessity of isolation, is fresh, simple and local. By design of Australian owner-chef Allan Gortan and wife Terri, it is enticingly tasty, and nicely celebrates Fiji's Indian input and its bountiful seafood.
The resort took six months of hard work to rebuild and reopen. Gardens have been replanted, with roof thatching one of the few big jobs remaining.
For now, the spa has been kept simple. It is an open-fronted hut, for massage and facials.
It is the view that makes this place remarkable — sigh away your cares, caressed by an ocean breeze, as the sun sets.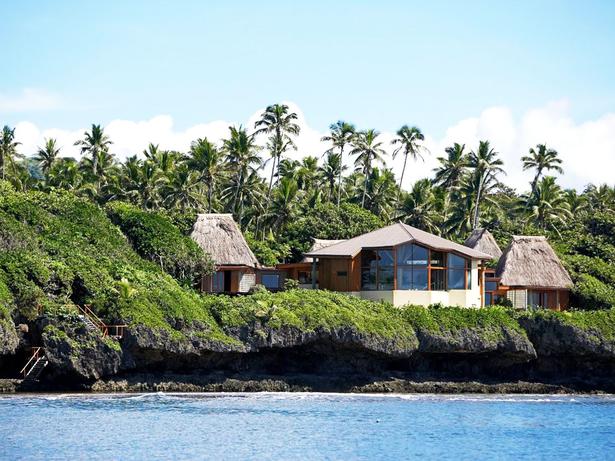 Over the strait from Taveuni on Vanua Levu, a spa on a very different scale is one of the arresting features at Namale. It is vast, as big as any you will find at Denaru's international hotels, or at the Intercontinental's swanky facility at Natadolo Bay.
This five-star resort, owned by American motivational guru Tony Robbins, is one of the most unusual around. Yes, there's the-to-be-expected-for-the-money all-inclusive meals, drinks and activities, but who would have expected a full-sized bowling alley and indoor basketball court. Golf carts are used to get around the 200ha estate, which includes a walled compound Robbins slips into once a year.
Don't worry, staff won't try to sign you up for a self-improvement seminar, Robbins has built a separate property up the road to accommodate those. His ownership isn't advertised to Namale's adult-only guests but the quirky nature of this place nods to the time he has spent here.
Designer Donna Karan is a previous guest and described it as the "ultimate escape". It is indeed a world of its own, complete with a nine-hole golf course and a waterfall, where you can have a private picnic and swim.
My bure was enormous, with a pool table in one corner which I honestly didn't spot until day two. On arrival evening I was so distracted walking through Villa Rosi's lower lounge, up to the sleeping platform with its four-poster bed, down a few steps to the lower-level sitting area (overlooking layers of cliff-top decks, complete with loungers, a plunge pool and jacuzzi), and back inside and through to the biggest bathroom area and dressing room I've experienced in a hotel.
Exploring the cliff-top resort, which dips down to a small beach at one end and features a blowhole on the rocks at the other, would take the week that most guests stay.
Couples of all persuasions and ages are Namale's mainstay, with weddings, honeymoons and anniversaries a specialty.
The Bachelor US raised the resort's romantic profile. An early season episode showed a dining alcove in a candle-lit sea cave that you, too, can reserve.
With a maximum of 44 people at any one time, finding a quiet corner is easy — without even leaving the main restaurant. The spa's hydro room is open for lazing, gazing out to sea. The booked rooms include one just for bobo, the traditional firm massage style of Fiji. My therapist Mere used a pole suspended above the floor bed to balance her weight as she kneaded my body with her feet. In another room, on another day I had a nicely replenishing cocoa and coconut milk body wrap.
The menu includes freshly prepared cucumber masks for pedicures and papaya and local honey for facials. These are treatments the spa has developed to supplement an international array of massage techniques and use of those trusty and fragrant Pure Fiji products, ubiquitous across the island nation.
Mere, who has seven children, tells me a job in the spa is much prized among the villagers who work at the resort.
Training it seems is a two-way street. Mere takes pride in seeing an award-winning spa adopt indigenous ideas and ingredients.
For sunburn, a local remedy is recommended. A suluwaki, or bundle of healing herbs and roasted coconut, is brushed across the body, followed by a cooling wrap of pure coconut butter.
Namalefiji.com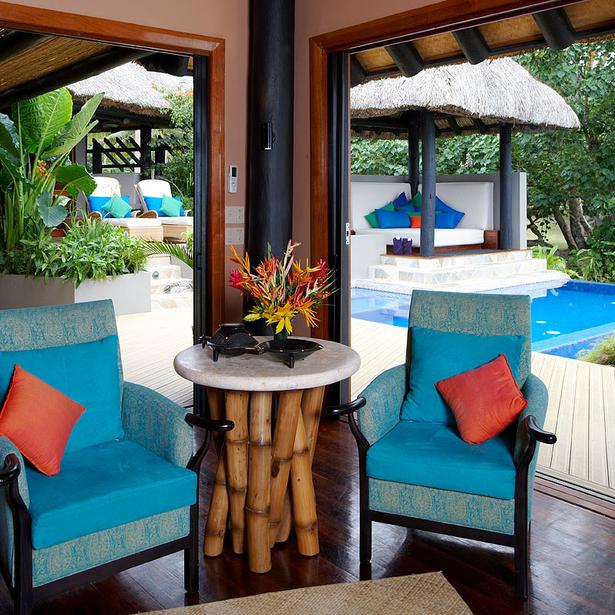 From the town of Savusavu — where Fiji's first big Tahitian-style over-the-water bungalow development is meant to be built soon — it is a short trip around the bay to the Jean-Michel Cousteau Resort.
Although this property dates back decades, it is thoroughly contemporary. Its original environmental message is bang up to date and so, too, the look, feel and food at this eco-luxe resort.
The beachfront main restaurant is restored since giant waves from the cyclone washed through. It is, again, a worthy showcase for Fijian-born chef Raymond Lee's menu. He makes great use of seafood, but avoids reef fish.
Resident marine biologist Johnny Singh explains this is because of over-fishing. Singh accompanies guests on diving and snorkelling expeditions and leads the resort's educational programme for adults and children. Village elders play a part, explaining medicinal plants.
Ocean environmentalist Jean-Michel Cousteau, now in his late 70s, still visits once a year from California. His name is licensed to the resort's American owners, but he and a partner own the dive shop. With its heritage, proximity to the Somosomo Strait's dive spots and skilled staff, the resort is a drawcard for divers.
It's also pretty good if you just fancy indulgence. How about lunch for two lazing alone on a nearby islet? If you have children, don't worry, they've probably already bonded to the nanny they get for their stay.
After morning yoga, head to the small spa to try a fusion of liga mana and vidua, translated as gifted hands and mother earth. Try the maucokona treatment, meaning complete or fulfilled. The fufunu I have is named for the scrub of local nuts, seeds and leaves. This is followed by a massage with cold-pressed coconut oil. Therapist Janice explains that the rubdown is based on a village ritual with chiefs and is also used to give brides glowing skin.
The spa is increasingly focusing on sourcing local, natural and organic ingredients. It uses fruit scrubs and banana-leaf wraps. Due to guest demand, expansion is on the agenda. When it comes to staying in the presidential villa it is hard to imagine that any alterations would be necessary.
Two private pavilions, built around a pool, offer the resort's ultimate accommodation. The indoor-outdoor flow, poolside daybed and walled garden speak of Balinese-style serenity. The ocean view and resort's friendly ambience is all Pacific paradise.
Fijiresort.com
If you fancy feeling a renewed fuss about Fiji, the extra effort heading to its north will be rewarded. Find Fijian friendliness on the next level, authentic experiences, and dramatic landscapes worth exploring.
• Janetta Mackay travelled to Fiji courtesy of Tourism Fiji, see Fiji.travel. From Nadi, flights leave daily to Taveuni and Vanua Levu on Fiji Link, see Fijiairways.com. Contact individual resorts for rates or see your travel agent.
Share this:
More Culture & Travel / Going Places