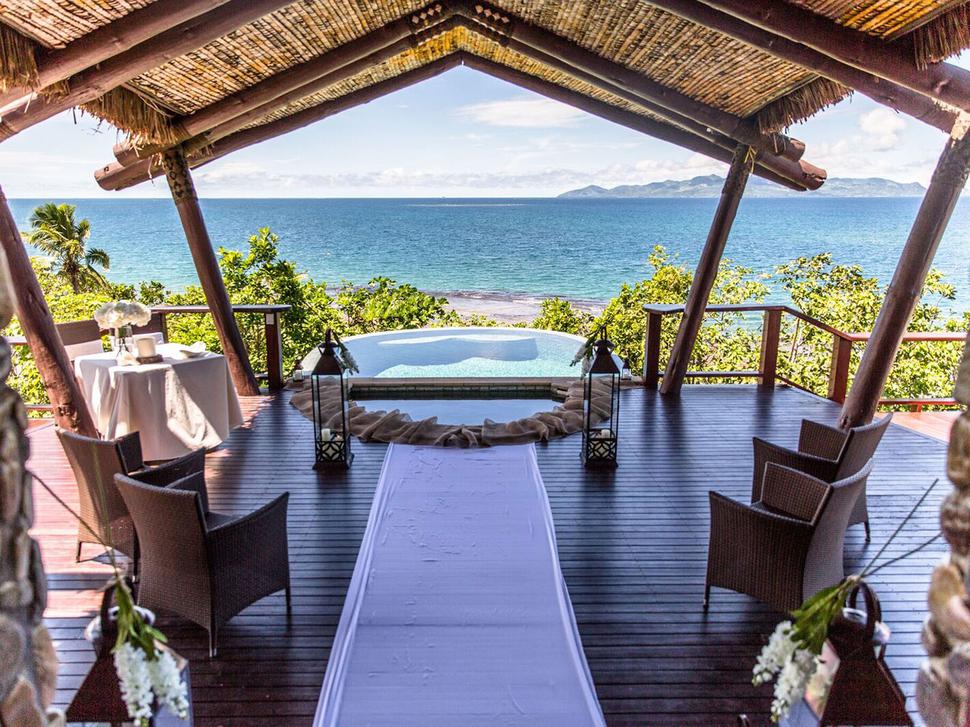 Everything You Need to Know About a Fiji Wedding
Fiji is the tropical wedding destination du jour, with a growing number of stylists, caterers and resorts specialising in bespoke, intimate celebrations
Wednesday March 30, 2016
When planning a wedding, it's easy to succumb to the temptation of booking a flight, handing the reins to the experts, and leaving the guest list headache behind. The relaxed atmosphere, stunning scenery and dedicated service offered by the Fijian wedding industry provides the perfect alternative to a wedding at home.
Weddings in the tropics have traditionally been one-size-fits-all. However, if a buffet on the beach isn't your style, an increasing number of new and established providers are offering dedicated styling services, boutique menus and alternative locations.
You can choose to elope, invite a small family group, or even host 200 people if your budget allows. And if you like the idea of an unplugged wedding — where guests refrain from photographing or posting about your wedding on social media — Fiji and its famous island time works perfectly.
We visited the inaugural Tourism Fiji Wedding Expo, and some of the island's most romantic locations, to discover the latest wedding trends.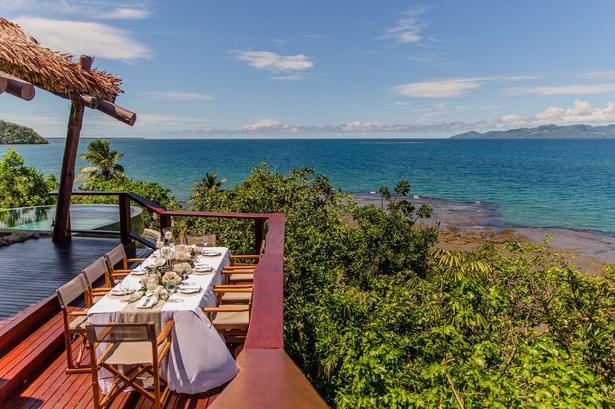 Nanuku Auberge Resort, styling by My Tropical Fiji Wedding.
TAILOR-MADE
Though most resorts still offer all-inclusive wedding packages, the option for a tailored service is becoming increasingly popular. Some resorts have dedicated wedding planners who can customise your occasion to suit any size, theme or request. There are also a growing number of stylists and wedding co-ordinators who can organise off-the-beaten-track locations, beautiful themes, and gourmet menus. The "100% locally owned" Rosie Holidays, which has operated in Fiji for 40 years, offers 160 themes, from traditional Fijian ceremonies to gorgeous Moroccan-style layouts and romantic candle-lit settings under the trees.
"We know Fiji, [it] is our home," says Adeline Lee-Erasito, director of business development for the travel company.
The team can organise unique locations and transport between a ceremony and reception venue, and are experienced in setting up weddings for anything from two to 1000 people.
I Do Fiji Holidays is an Australian-based travel agent specialising in resort weddings, with founder Deahann Urqueza able to customise itineraries, and help clients find the resort that will work for their budget and preferences. "The resorts will bend over backwards to make something work," she says.
LOCATION-LOCATION
A beach-front ceremony is the obvious choice for a picture-perfect backdrop, but many brides are opting for a beautifully manicured lawn or garden at a resort or private villa. The orchid-filled Garden of the Sleeping Giant near Nadi is a popular choice, says Louise Acreman from Taste Fiji.
The local company offers a catering and planning service and can organise a local bus to take guests through a dusty inland road to a private venue such as the gardens.
Many of the larger resorts offer a "wedding pavilion" or non-denominational chapel.There are breathtaking ocean views from the pavilions at Sofitel Fiji Resort and Spa, Intercontinental Fiji Golf Resort and Spa and Shangri-La's Fijian Resort and Spa, host of the Wedding Expo. The wedding co-ordinators at these resorts can organise the appropriate celebrant to perform your ceremony.
At Nanuku Auberge Resort and Matangi Private Island Resort, self-catering is an option with large, luxurious villas offering kitchens, lounges and private outdoor zones, perfect for a wedding and accompanying family holiday.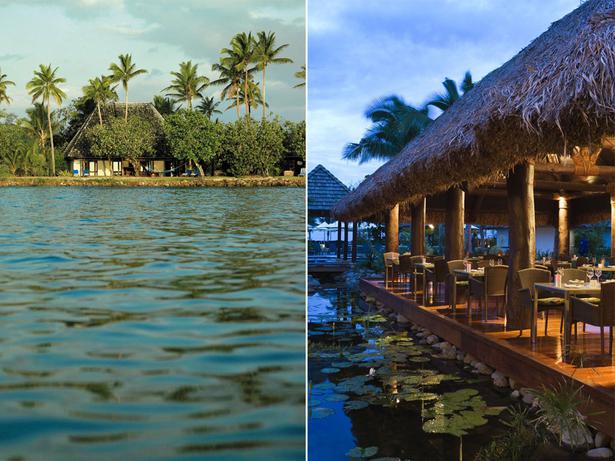 Shangri-La's Fijian Resort and Spa; Sofitel Fiji Resort and Spa.
GET ACTIVE
Although wedding days are often formal affairs, Fiji's location makes adventure activities an ideal pre- or post-ceremony choice — or even an option for your big day. A snorkelling trip or shark-diving experience will add a memorable adrenalin rush to your celebration and keep your guests entertained, as will a fishing trip or four-wheel bike adventure. Sigatoka River Safari takes tours upriver to a traditional village, and even offers cave weddings for adventurous couples.
Another popular choice is getting married aboard a cruise ship — with all-day access to snorkelling and island-hopping. For the most intimate ceremony, you can jet to a sandspit in the middle of the ocean such as the one off Royal Davui Resort, reached by a 15-minute boat trip.
LOCAL FLAVOURS
Celebrating the local produce is easy in Fiji, and a wedding menu should showcase the abundance of seafood, fruits and vegetables available on the islands. Adi chocolate, made in Vanua Levu from locally-grown cacao and sugar, is used in the desserts at the Intercontinental Golf Resort and Spa. The five-star resort, which uses 86 per cent locally-grown produce in its restaurants, also creates a lobster kokoda, which makes for a great wedding appetiser.
The Intercontinental can make anything work, says director of sales Hudson Mitchell, although he warns guests not to "come with Champagne taste and a beer budget".
Louise from Taste Fiji says the catering company and restaurant she runs with husband Lee keep imported products to a minimum. For weddings they specialise in delicious cakes and dessert bars made from local ingredients.
"We prefer naked cakes," Louise says, referring to the trend for leaving the sides of a cake free of icing, revealing the layers beneath for a more natural look.
Catering to gluten-free diners is easy in Fiji she adds, with coconut and tapioca flour being so widely available.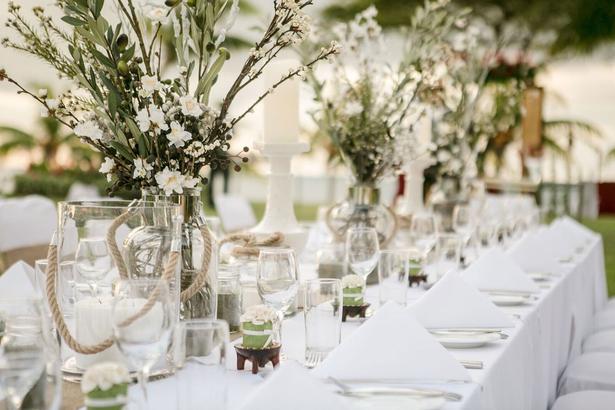 Sofitel Fiji Resort and Spa, styling by Grace Creations.
WHITE WEDDINGS
Tropical flowers are making way for lifelike silk flowers, and floral arches for elegant tables heaped with candles. This follows the international trend for more rustic, romantic decorations.
My Tropical Fiji Weddings, specialising in styling and co-ordination "beyond the package", opt for "a modern twist which still incorporates Fijian elements", says Cherie Oyagawa-Smith.
Mark Stanford, general manager at Nanuku Auberge Resort, who work with My Tropical Fiji Weddings to style weddings held in their private villas, says the look is "more about the luxury feel. It's a little bit antique and a little bit rustic, to blend in with the property."
With her cousin and business partner Erin Addison-Smith, Cherie also runs Cafe O and O Catering. The food here is Asian fusion with Pacific elements, and their chefs can create cute wedding favours, such as coconut cookies shaped like palm trees, which are "simple and relevant to a destination wedding".
Grace Creations, another local styling business, focuses on a similar natural, pared-back look, working with resorts such as the Sofitel Fiji Resort and Spa to enhance the natural setting with lighting, candles, and flowers.
JUST THE TWO OF US
Choosing to marry in Fiji makes it easier to hold a more intimate occasion. These days, more couples are opting out of the expectations altogether and deciding to elope, with private islands reached by plane or boat ride an enviable choice.
Qamea Resort and Spa, Matangi Private Island Resort and Royal Davui Island Resort offer secluded beach-front properties perfect for simple weddings or marriage renewal ceremonies. Couples can retreat to a private dining pavilion afterwards, order room service in their villa or enjoy a relaxed meal with other guests.
Each property also has its own spa — Qamea's Jungle Spa is award-winning — so couples can book in for pre-ceremony pampering, or enjoy massages on their honeymoon.
• Fiona Ralph flew to Fiji courtesy of Tourism Fiji.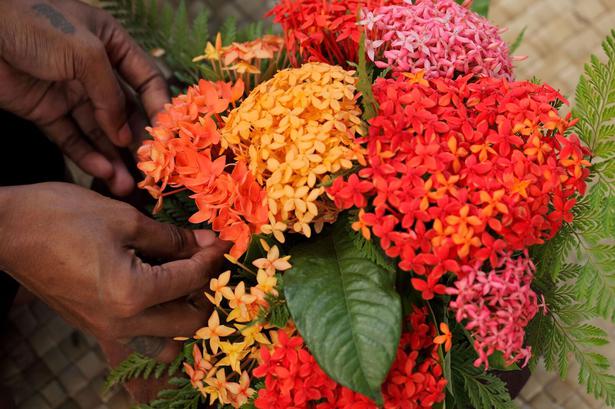 Matangi Private Island Resort.
WEDDING CHECKLIST
The dress
A simple, stylish dress from Anton Conway Wye, a young Fijian designer who combines traditional fabrics with modern shapes.
Signature dish
Coconut-crumbed prawns served on a bed of pineapple salsa, a local favourite.
To toast
Champagne with fresh watermelon juice as seen at Shangri La's, or coconut water, pineapple and rum — served in a coconut, of course.
Party favours
A handmade fan (your guests will thank you in the heat) or fragrant Pure Fiji candle.
The cake
Taste Fiji's delicious tropical cake, made with local passionfruit, orange and coconut.
Share this: