For the Love of Books: Critic Linda Herrick
Linda Herrick, the Herald's award-winning arts and books editor, loves reading so much that books are taking over her home. As a former librarian, she occasionally feels the need to impose some order,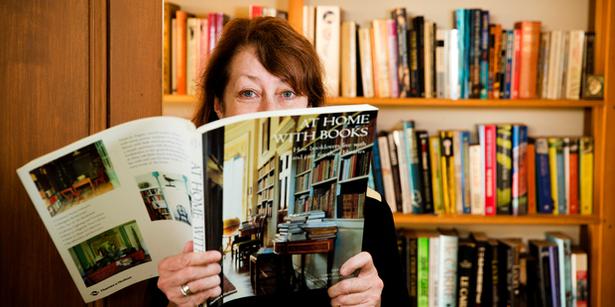 Wednesday May 14, 2014
"I'm not exactly sure when books started taking over just about every flat surface in the house but it must have been when I was able to end the treadmill of renting and settle down with a mortgage. At last, I had room to indulge in something I'd always loved - books. But slowly, the "collecting" has turned into what some people have unkindly called an obsession. To which I say: I don't care.
"Way back, I used to think I was a bit fancy when I had a tiny flat in St Mary's Bay, with a meagre three-shelf bookcase in the hall that was jammed with rubbishy old thrillers. The thrillers have long gone but the bookcase has survived, now in the spare room and exclusively reserved for books I will read "one day". Some of them have been there for years.
"Also in the same room are two high wooden bookshelves. These are shelves of shame, a failed effort to establish a system, which offends my sensibilities as a former librarian where order is all. One bookcase holds a motley collection of old Faber classics (Zorba the Greek and Lawrence Durrell antiquities), remnants of my childhood (illustrated copies of Toad of Toad Hall, The Secret Garden), travel guides, poetry, history, politics and large-format fashion and photography books.
There is even a book on home libraries, including a piece on Keith Richards' dark den (he favours war histories and novels by Eric Ambler and Ken Follett). His library, by the way, definitely needs sorting out.
"On the other side of the room is more mish-mash. Art books, biographies, gardening anecdotes, animals (hello, Lawrence Durrell's brother, Gerald), children's picture books. The desk has a pile of books on it too: Ken Burns' National Parks and photos of the Queen by Cecil Beaton, ISBN number ... just kidding. Then there is a sweet little glass-fronted bookcase that contains the real old-timers: my leather-clad Sunday School Bible with a pressed four-leaf clover, a condensed Hamlet from school, and a creaking children's encyclopedia set of myths and fables. The pictures are great. But the hazy organisation in that room would make my old library diploma teacher from Victoria University hallucinate.
"The hallway is where some order has been imposed, sort of, thanks to a luxuriant seven-shelf wooden bookcase mounted along one side. More history and biographies by the dozen have crept out of the spare room and on to the top shelf. It is completely crammed; from Keith Richards' Life at one end to Clarissa Dickson Wright's Spilling the Beans at the other, in no particular order. However, the shelves below are a tour de force, all fiction, A-Z. Or more correctly, A-W (Monica Ali to P.G. Wodehouse). A perfect paradigm of neatness.
"The lounge, supposed to be book-free so the television gets a look in, isn't. There's a pile of 'must reads' next to the speakers on the sideboard, a stack that mysteriously always seems to number 11 books. And a few more too on an art deco trolley, including a very old edition of Pride and Prejudice awarded to my late aunt for her proficiency in "commercial work' at Avonside Girls' High School in 1930, signed by the "Lady Principal".
"The books now spread on into the kitchen, like a glacier. I drastically culled the kitchen bookcase a few years back. Of those cookbooks remaining, some I just flick through for pleasure, like Stephanie Alexander, whose older books are beautiful but complicated. The ones I use most often - Nigel Slater, Gordon Ramsay, Monty Don - really earn their place on the shelves because they work.
"The bottom shelf is devoted to books on gardening, cousins of the "my life in the country" tomes in the front room. These are guides by the likes of Xanthe White and a very old Yates, flanked by some "how to" kitchen design guides - and, hello!, I've just discovered a novel by Elizabeth Jane Howard. That's a serious transgression.
"One day, I suppose, I could remove all of the books in the house from their shelves and put them all back up in the Proper Order. But this is a house, not a library. So I'll just relax and keep reading them. Books make me very happy indeed."
Share this:
More Culture & Travel / Features & Profiles