Shop At A Sundry Of Pop-Ups, Hear Pulp Fiction In Concert & More Fun Things For The Weekend
Browse considered offerings from local labels, listen to a bestselling soundtrack and secure your spot at a Soul Bar–Giapo mash-up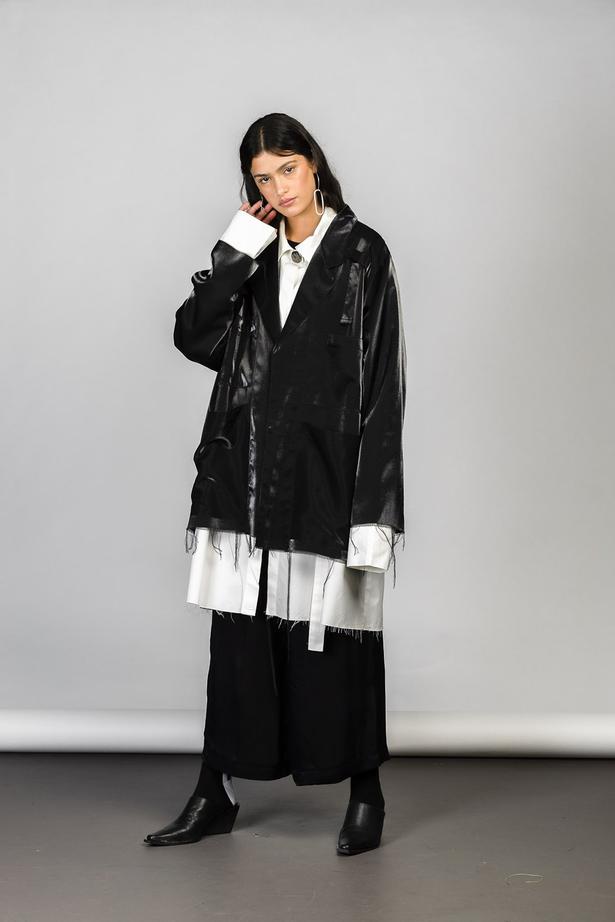 Thursday July 8, 2021
Check out Slug Pop Up
We're all for creatives banding together to support each other, and the latest group of talented names in fashion, art and adornment are launching a unique pop-up retail experience and exhibition space in Wellington. Slug Pop Up is a unique shopping experience created by local creative Julia Palm of slow fashion label JPalm.
The pop-up will include the works of Vague Jewellery, fashion label Papa Clothing, tattoo artist Archie Fitzgerald, Mess bags, independent book publisher Black Wax Press, and the zines and digital art of multidisciplinary artist Max Mollison. For more information visit @Slug_pop_up. Open from July 8 to 26. 2/126 Wakefield St, Wellington.
Learn about Maori art and how it transcends national borders
Join professor Deidre Brown (Ngapuhi, Ngati Kahu) for her talk on Maori art, Beyond Biculturalism: Contemporary Maori Art in Western Europe and Australia. It's poised to be an educative and insightful evening from the teacher of design and history at the University of Auckland's School of Architecture. Tuesday, July 13, from 6pm to 8pm at the Govett-Brewster Art Gallery. 42 Queen St, New Plymouth.
Visit the Ingrid Starnes pop-up
Peruse the local label's delightful range of winter essentials and archive and sale pieces, as well as sweet-smelling candles and perfumes from July 8 to July 10. Open Thursday and Friday from 10am to 6pm, and Saturday from 10am to 4pm. 70A France St, Eden Terrace, Auckland.
See Reservoir Dogs and Pulp Fiction in concert
The soundtracks of Quentin Tarantino's classics are being performed live in concert with an impressive cast of vocalists and musicians in tow (think Tami Neilson, DJ K-Billy, Laughton Kora and Milan Borich). On this Saturday, July 10, at Auckland' The Civic at 8pm. Cnr of Queen St and 269-287 Wellesley St West, Auckland.
Snap-up some feel-good knitwear
The eclectic collab Dove Hospice x Karen Walker is returning to Karen Walker's Newmarket store this Friday with a collection of one-of-a-kind knits. Find pre-loved gems to keep warm this winter, with the full sale of every piece ($80 for adults' sweaters; $30 for kids' sweaters; $20-$30 for accessories) going to Dove Hospice to support those with life-threatening illnesses.
Want to help more? Standard Issue's inspiring charity initiative Jumper 4 Jumper has returned, giving high-quality knitwear to kids who need it. Find out how you can get involved.
Sample some local wine
Hitting the South Island's slopes this winter? Stop by the historic Gibbston Tavern for Rockburn Wines' newly opened apres-ski tasting room. Open every day from 12pm to 5pm. 8 Coalpit Rd, Gibbston, Otago. To book a private or group tasting session, contact cellardoor@rockburn.co.nz or call 027 2114438.
Go to the Winter Clothing Market
Thrive Curate is joining community group The Conscious Club for a Winter Clothing Market this Saturday, at Christchurch's Boxed Quarter hub. This Saturday, July 10, from 10am to 2pm. All second-hand clothing will be priced under $20, so make tracks for a fashionable bargain. 270 St Asaph St, Christchurch Central City.
BOOK AHEAD
Go to a fashion show
Nab your place at Wellington Festival of Fashion's ebullient The Colour Show, which will see fun, bold garments by sustainably and ethically minded designers, including Havilah Label, take to the catwalk. Tickets are $25 and are available now. Public Trust Hall, 131-135 Lambton Quay, Te Aro, Wellington.
Dine on Soul Bar x Giapo
Soul Bar's executive chef Gavin Doyle is teaming up with Giapo Grazioli of Giapo for an evening of Italian fare with canapes, bubbles, a four-course menu with matching wines, and a never-before-seen dessert from the esteemed icecream parlour. Thursday, August 12, at 6pm. Tickets are $160 per person and are available here.
Head to fashion week
New Zealand Fashion Weekend is fast approaching, and tickets have just gone on sale. Attend the Miss Kanorau, Augustine and Storm shows, see the YMCA's Walk
the Line event, and be amongst the country's fashion set. August 28 to 29. Auckland Town Hall and Aotea Square, Auckland central.
Share this: