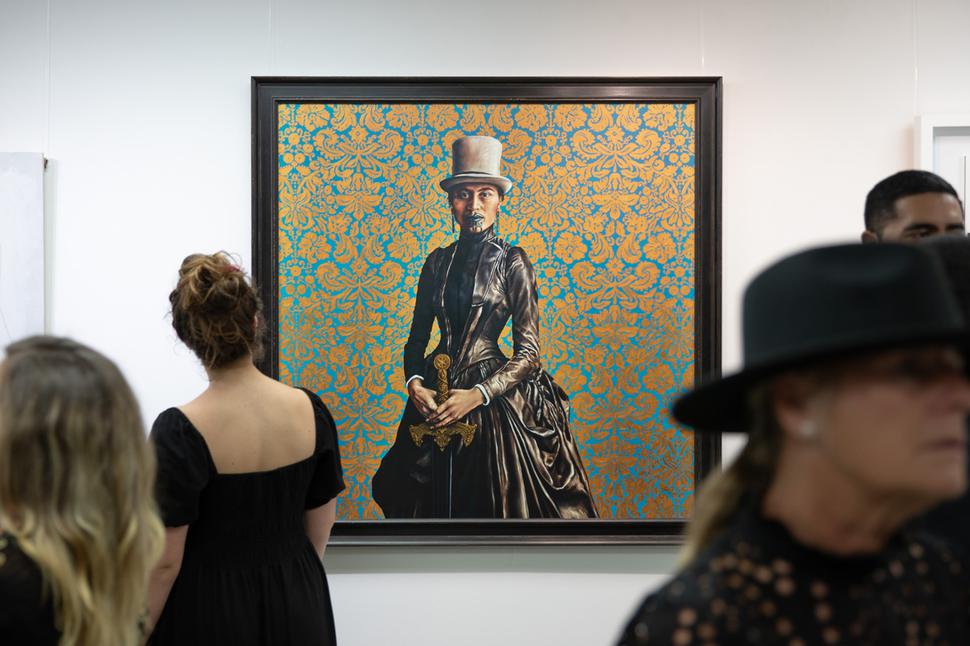 Purchase A Masterpiece At Art In The Park & More Fun Things For The Weekend
There's also a delightfully recherche Japanese-meets-gastro-pub pop-up
Thursday July 22, 2021
Shop for art
Looking to brighten your interiors? Eden Park's vast grounds will play host to Art in the Park, an exhaustive showcase of more than 100 local artists — Sofia Minson, Iian Wittenberg and Tony Ogle, to name a few — and their works, with prices ranging from $250-$60,000. Open Friday July 23 (6.30pm to 10pm), Saturday 24 July (10am to 6pm) and Sunday July 25 (10am to 6pm). Tickets are available from Artinthepark.co.nz.
Explore the Jewish International Film Festival
Vendetta Films is bringing the sublime cinematic works of Ruthy Pribar (Asia), Caroline Link (When Hitler Stole Pink Rabbit), and more to six cinemas across Auckland (Rialto Cinemas Newmarket and Academy Cinemas), Christchurch (Alice Cinema), Dunedin (Rialto Cinemas), New Plymouth (Govett-Brewster Art Gallery) and Wellington (Penthouse Cinema). Thursday July 22 to Sunday August 15.
Dine on pub grub
Acho's is teaming up with Bestie Cafe head chef Nicola Standage for a foodie pop-up this Sunday, July 25. Expect a gastro pub-style menu infused with a Japanese twist, plus Devil Plum wine. From 6pm until late. DM Acho's via Instagram to book.
Support a fundraiser
Karin Kreutz, artist and domestic violence survivor, will be holding an art exhibition in support of Fathers for Families, a 10-week peer-support programme helping men who have lived through domestic violence. Half of all art sales from the hearteningly titled A Beautiful Change will be donated to the cause, so make for the exhibit. Thursday July 22 from 6pm. 350 Karangahape Rd, Auckland.
Check out the Wellington Festival of Fashion
Whet your fashionable appetite ahead of New Zealand Fashion Week at The Wellington Festival of Fashion, on now. Thrive on joyous hues at the Colour Show, sit down to the Sustainability Show (complete with panel discussion) or experience Havilah's A Seat At The Table, a serving of locally made produce and the brand's new-season collection at the Naumi Hotel.
Grab a burger
The wildly popular burgers of Baby G are coming to the equally popular East Street Hall. Have a double-cheeseburger, sample some natural wine and relax to Haz Beats and El Truento in the courtyard from 5pm. Sunday July 25 from 12pm until late. 5 East St, Auckland.
BOOK AHEAD
Watch the runway
Experience a new kind of runway show at Starving Artists Fund's Independent show, from 2pm to 6pm on August 21. Run entirely by women of colour, the event is poised to showcase emerging talent (including Issy Hams, Tess Su MarJenny Ruan) in a programme that combines fashion, DJs, live performers and street food. Tickets are available now. 42 Pollen St, Grey Lynn, Auckland.
Immerse yourself in dance
The forthcoming double-bill from The New Zealand Dance Company (NZDC), Night Light, featuring The Fibonacci and choreographer Eddie Elliott's Uru: Behind the Canvas, will tour Auckland (September 3-4), Whangarei (September 8) and Christchurch (September 16) in a vivid exploration of movement. Tickets are available now.
Make for the Dunedin Craft Beer and Food Festival
October's hopped-up festival returns for its ninth year, coming to Forsyth Barr Stadium on October 29 and 30 with a music line-up that includes The Black Seeds, The Jordan Luck Band, Anna Coddington and Kylie Price. Tickets are on sale Monday July 26 from Dunedinbeerfest.co.nz.
Share this: