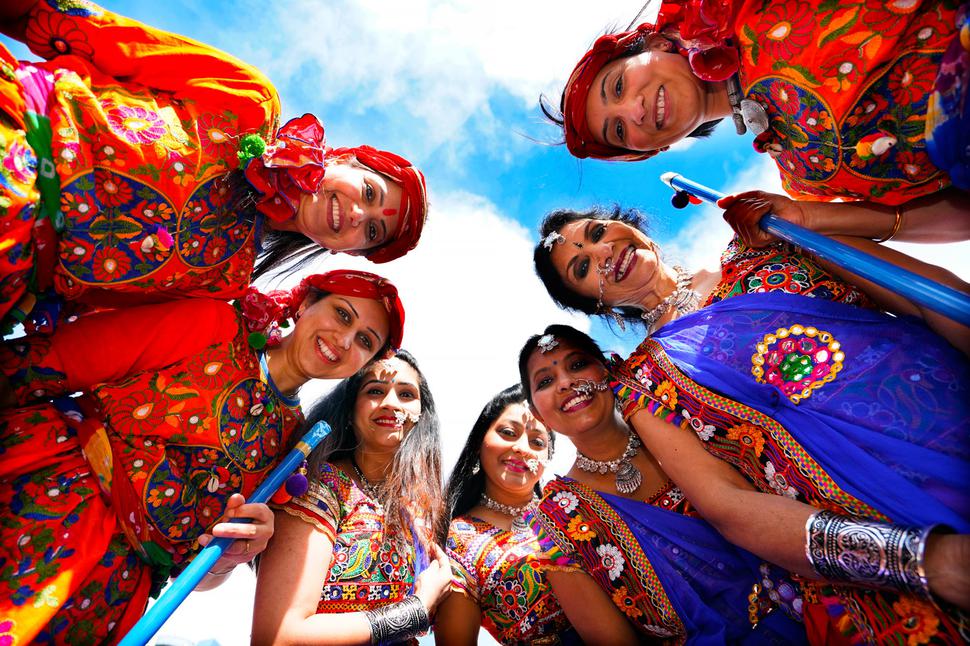 Celebrate! Halloween, Diwali, Fire Dancing & More Fun Things This Weekend
Summer has arrived so we're doing our best to safely enjoy life where we can this weekend - and beyond
Thursday Oct. 29, 2020
Diwali Celebrations
Lighting up our lives is the return this week of Diwali, a festival that celebrates the victory of light over darkness, good over evil, and knowledge over ignorance. The Auckland Diwali Festival has more than 100 events where you can explore everything from DIY henna, belly dance, and Bollywood dancing.
Included in the schedule is a host of panel discussions, movie screening, and whanau-friendly events happening at community venues Auckland-wide. October 27-November 14. Various locations across Auckland.  For a list of what's on offer visit Aucklandnz.com/diwali
Support Local Creatives At A Virtual Pop-Up
Those who are looking to stay close to home should check out the Moana Fresh and Papa Clothing Virtual Pop-Up. It's the third virtual event by Avondale studio store Moana Fresh, which is run by Ahilapalapa Rands and Vaimaila Urale and represents 16 Pacific and Maori artists.
This time they're partnering with fashion brand Papa Clothing (designed by Ahilapalapa's sister Keva) which will have some special linen pieces for 30 per cent off (available on Papaclothing.co.nz) including the brand's beloved Mama dress, Ehu shirts, and more.
The pop-up runs October 30 to November 1 and will showcase limited-edition fashion, accessories, and artwork from local artists and makers including Manu Sione, Angela Lee, Louisa Afoa, and more. Moanafresh.com 
Shop Crown Lynn
Avid fans and collectors of Crown Lynn will be in ceramic heaven at the Crown Lynn Collector's Market this Sunday, at Te Toi Uku, Crown & Clayworks Museum.
The bi-annual event is a great source of inspiration for collectors, fans and traders and will be held at the historic Gardner Brothers and Parker kiln next to the museum. Free admission. Sunday 1 November 10am-2pm. 8 Ambrico Place, New Lynn. 
Shop vintage
Those who frequented Waves Vintage's previous locations in Pitt Street and St Kevins Arcade will be pleased to know the vintage store has a new home in Eden Terrace, opening last week at 4/62 Randolph St.
Founder Helen Young-Loveridge has a killer eye, and a fresh approach to pre-loved clothing – with plenty of vibrant colours and prints to add a touch of (sustainable) fun to your summer wardrobe, and sure to be snapped up by Waves' loyal following. https://www.instagram.com/p/CGqfasNsSAK/ [embed] https://wavesvintage.com/
Halloween dress-ups
Holiday Records Presents Halloween: taking place at the majestic Hopetoun Alpha, local Vinyl record pressing plant & record store Holiday Records is uniting a host of musicians and DJs for a night of fun with its costume party this Saturday night. Frank Booker and Nathan Haines (DJ Set) will playing everything from disco to 80's boogie and everything in between. Sip on drinks from local brands Rudi's Beer, Pals and Peddlers Gin; with surprise installations from The Dust Palace and Vesica.
Tickets range between $30-$45 and are available to purchase from Eventbrite. Saturday 31 October, 5pm-11pm. Hopetoun Alpha, 19 Beresford Square, Auckland.
Check out this unique food festival
Auckland's rich volcanic earth is a highlight for this weekend's Te Ahi Komau – Food, Fire Festival in Mangere.The festival kicks-off with a delicious hāngi and early access to the Marae Market of Māori entrepreneurs, followed by a light show.
There's a range of fire-focused food-focused food and entertainment including hāngi, umu, mataahi (spit), auahi (smoked) and flame-grilled delicacies. There's fire dancing, waiata and kappa haka included.
The whanau-friendly event is delivered in partnership with Papatūānuku Kōkiri Marae, ATEED, Panuku & Healthy Families South Auckland. Free admission. Friday 30 October 5:30pm and Saturday 31 October 5:30pm. Papatūānuku Kōkiri Marae, 141R Robertson Road, Mangere. 
See the Purple Pilgrims live
Dreamy duo Purple Pilgrims are playing this weekend, at an aptly spooky event in the Wintergarden space beneath The Civic in Auckland. Sisters Valentine and Clementine Nixon are part of the musical line-up for Catacombs, a "subterranean journey" put on by Friendly Potential over two nights – October 30 and 31. Tickets are nearly sold out, so be fast. 
Share this: