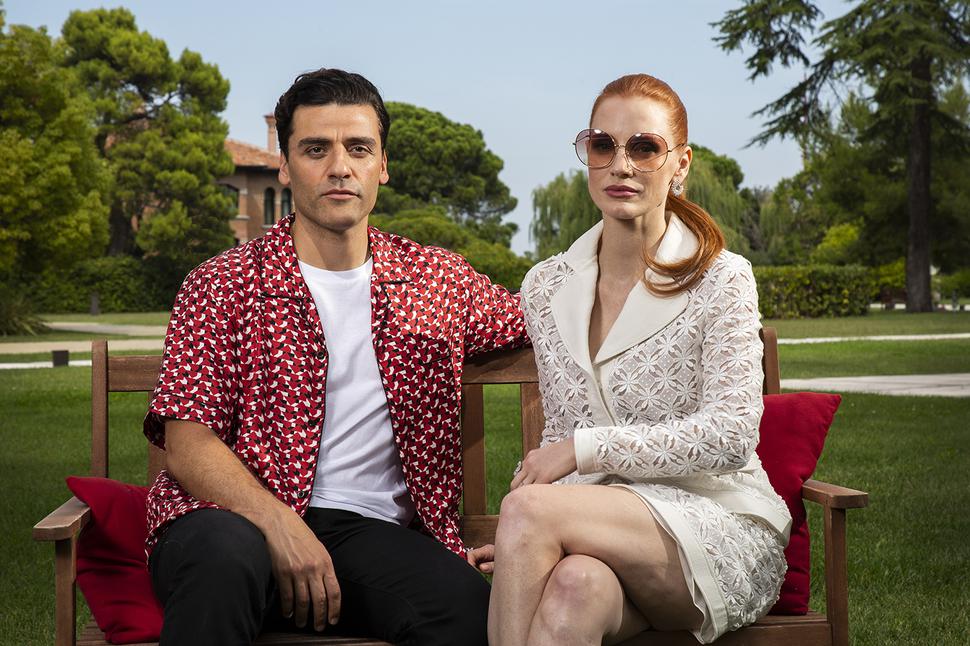 Learn Yotam Ottolenghi's New Recipes, Watch Taika Waititi's Comedy Series & More Fun Things To Do At Home
Alternatively, join Oscar Issac and Jessica Chastain in an intimate rollercoaster of a Swedish mini-series adaptation
Thursday Sept. 9, 2021
TELEVISION
Scenes from a Marriage
Jonathan (Oscar Isaac) and Mira (Jessica Chastain) are happily married, until they aren't. In Hagai Levi's adaption of Ingmar Bergman's celebrated 1973 Swedish mini-series, the director charts the slow crumbling of a decade-long relationship in this intimate rollercoaster, made all the more compelling by the actors' viral red carpet arm caress at the Venice Film Festival. Available to watch on Neon from Tuesday.
Reservation Dogs
Taika Waititi and Sterlin Harjo's unhurried but rewarding comedy series follows a quartet of teenagers living on a reservation in eastern Oklahoma, whose petty crimes (including, in the opening scene, stealing a truck full of spicy chips), they hope, will pay off with a singular reward: the opportunity for them to leave their small town and move to California. Available to watch on Disney Plus from Wednesday.
PODCASTS
Poog
Comedians Kate Berlant and Jacqueline Novak dissect the wellness industry and the culture of self-optimisation in their podcast Poog (an emordnilap of Goop). While their subjects are strictly high-gloss, from double cleansing and sleep hygiene to vision boarding, gut health and nap training, their investigations are personal, sometimes silly, and reliably authentic.
Doing It Right
Journalist Pandora Sykes interviews experts in this probing podcast that covers everything from "Yoda wasn't chill all the time, with Alain de Botton" to "Arrival fallacy, with Raven Smith" and "Why do we hate change, with Julia Samuel". Sit back to a tour de force of myths, trivialities and modern life. (Fans of true crime and unsolved mysteries should also check out her podcast The Missing.)
You Must Remember This
The secrets of Old Hollywood are laid bare in former film critic Karina Longworth's podcast, You Must Remember This. Learn about a heist of Wizard of Oz ruby-red slippers and the nebulous world of memorabilia, the "Hemingway Curse", and the fat-shaming, whitewashing and high-level witch-hunting that the industry heavily perpetuated in the 20th century.
ONLINE EVENTS
In Conversation with Liane Moriarty
The author behind adults-behaving-badly Big Little Lies and wellness-retreat thriller Nine Perfect Strangers will sit down for a conversation with TV presenter and political commentator Annabel Crabb, presented by Sydney Opera House. Join Moriarty as she discusses her new book, Apples Never Fall, her writing process and more. The talk will be livestreamed and available to watch on-demand on Stream, the Opera House's online streaming platform, for $15, on Tuesday September 14.
The Ottolenghi Test Kitchen on YouTube
The first-ever YouTube episode, OTK: What's for Dinner?, from impossibly famous chefs Yotam Ottolenghi and Noor Murad, is out tomorrow. The culinary pair will share recipes from their (and their self-described super-team's) new book, Shelf Love, plus tips, tricks and mishaps that have shaped their gastronomic prowess.
The Curve's 'Invest in a Better World' Talk
This virtual event will see Victoria Harris, co-founder of investment platform The Curve, talk "all things conscious investing", including seeking out businesses that align with one's values, on September 15 at 6pm. Tickets are available through Eventbrite.
BOOKS
The Echo Chamber by John Boyne
John Boyne delivers a satire of a "woke" world in this new work, with a searing voice that takes aim at the screen-addicted and social media-obsessed. Is he disgruntled? Yes. Does it sound like another remorseless "back in my day" nostalgia trip? Also yes. The magic of Boyne is his ability to craft something unputdownable in the face of this. Available from all good bookstores.
Second Nature by Nathaniel Rich
The effects of humanity's impact on the planet is at the fore of Nathaniel Rich's book, including the melting of Arctic permafrost and the poisoning of the town of Parkersburg, West Virginia, by chemicals company DuPont. But against the ecological despair are heartening stories — the attempts to bring the passenger pigeon back from extinction, the quest to create eggless eggs and the study of "immortal" jellyfish. Available from all good bookstores.
CRAFTS
Ruby's Liam Patterns
The local label has recently released its beloved Liam patterns, available in sizes 4-28. Try your hand at making Carol, a swishy bias slip; Elaine, a ruffled maxi dress; Glen, a beginner T-shirt; Chloe, a tie-front playsuit; and Marsha, an advanced-level coat. Patterns are available on Rubynz.com.
Make A Face Mask
Recommended by Mesita wine bar's Alice Bourdot, this face mask by The Fabrics Store is worth adding to your rotation — the pattern is free to download, and there are step-by-step instructions and a tutorial to help you get the perfect fit.
Share this: