Fun Things To Do This Weekend 07/12/17
Discover pop-up bars, explore Christmas markets, or visit an installation by a world-renowned artist this weekend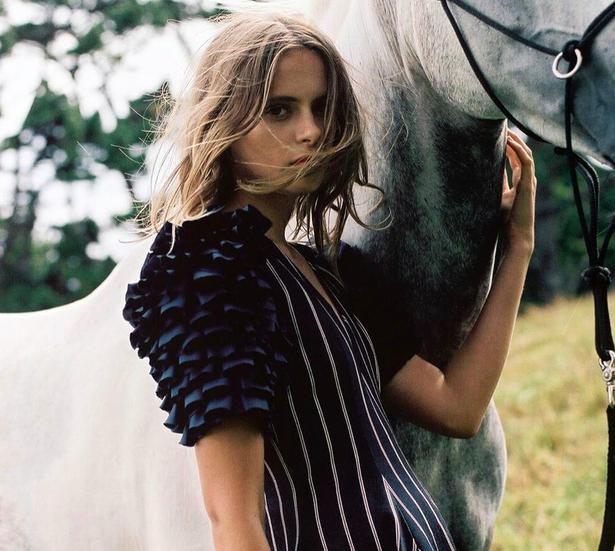 Thursday Dec. 7, 2017
1. Treat Yourself at Maggie Marilyn's Christmas Sale 
Maggie Marilyn has attracted attention from near and far since their launch last year, thanks to their beautiful designs and stand-out ethics. This weekend they're holding a Christmas gift — make the most of this chance to freshen up your festive wardrobe, or gift yourself a pre-Christmas treat.
• 51 Mackelvie St, Grey Lynn. Saturday December 9, 10am-5pm. Visit Maggiemarilyn.com

READ: Lunch with Maggie Marilyn at NZ Fashion Week
2. See Yayoi Kusama's Obliteration Room
This artwork by Japanese artist Yayoi Kusama asks you to join in to help cover a crisp white room in colourful dots. The Obliteration Room has travelled to the UK, South America, Shanghai, Switzerland and France, and draws on hallucinations Kusama has experienced since she was a child. This playful work is also perfect for visiting with children as they're not bound by galleries' usual 'no touch' rules. 
• Auckland Art Gallery, Cnr Kitchener and Wellesley Sts, Auckland City. Visit Aucklandartgallery.com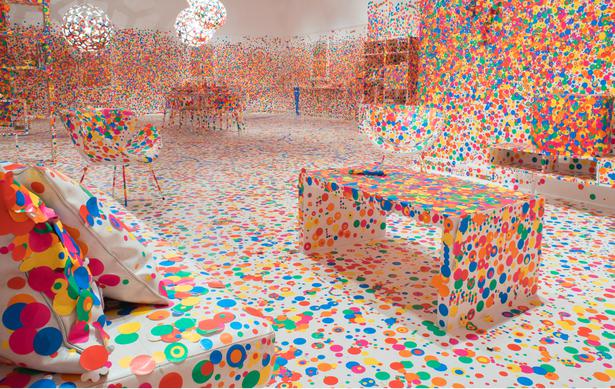 Yayoi Kusama's Obliteration Room. Picture / Supplied

3. Visit Britomart's New Mezcal Bar
La Fuente has popped up in Britomart for the summer, bringing a taste of Mexico to Auckland. Mexican-born sommelier Edmundo Farrera has picked some of the best artisan mezcals and natural wines from New Zealand and abroad, as well as well-priced champagnes. These will be served alongside Mexican food, such as antojitos and tacos, as well as charcuterie boards and cheese.
• 51 Galway St, Auckland City (next to Mexico restaurant). Open Monday-Saturday until 10pm.

READ: Designer Jimmy D's Ode to K'Rd

4. Explore First Thursdays on K'Rd
Tonight K'Road will come alive with a First Thursdays celebration, themed 'A Night at the Circus'. There will be activities, actors, bands, circus performers, live art installations, late night shopping and The Cross Street Markets are happening just around the corner. Plus it's pet-friendly, and if you take your dog it will be given a free lion costume to keep it cosy. (Just don't let it run away with the circus.)
• K'Rd, Thursday December 7, 6pm-10pm. Visit Kroad.com

 

5. Meet Mick Fleetwood at a Special Book Signing
There are only 50 copies of Love that Burns: A Chronicle of Fleetwood Mac, Volume One: 1967-1974 available in New Zealand. By purchasing the book from Mossgreen-Webb's as part of a VIP package, you'll be invited to a special book signing where you can meet Mick Fleetwood himself. You'll have a professional photo taken with him, and receive a collection of limited edition memorabilia. 
• Find out more from Hedleys Books on 06 378 2875, email sales@hedleysbooks.co.nz or visit Hedleysbooks.co.nz

6. Discover a Christmas Market
There are festive markets happening across town this weekend, including the annual Mercatino Di Natale - Italian Christmas Market. There's set to be pizza, gelato, coffee, wine, confectionary and hand-made gifts on offer, plus kids' activities and competitions. 
• Freeman's Bay Community Hall, 52 Hepburn Rd. Saturday December 9, 10am-3pm.

There will be a wide selection of gift stalls, plus face painting for the kids and music to keep you entertained, at the Avondale Christmas Markets. Save space for dinner too, as there will be a range of tempting food trucks on site.
• Avondale Community Centre, 99 Rosebank Rd. Friday December 8, 5pm-9pm.

Each Sunday until Christmas, Skycity are holding a market to help you get ahead with your gift buying. There's also coffee and music to keep you bright-eyed as we head into the busiest season.
• Skycity Auckland Main Plaza, 90 Federal St, Auckland CBD. Sundays until December 24, 10am-2pm.

READ: Choosing the Perfect Christmas Present

7. See Emma McIntyre's Pink Square Sways exhibition
Emma McIntyre is currently showing her first solo exhibition, Pink Square Sways, at Grey Lynn gallery Hopkinson Mossman. Her paintings initially present a relatively simple view, working with grids and intersecting lines, but they are enigmatic, deceptive — the longer one views them, the more three-dimensional, shifting and complex they appear.
• Hopkinson Mossman, 19 Putiki St, Grey Lynn. Until December 23. Visit Hopkinsonmossman.com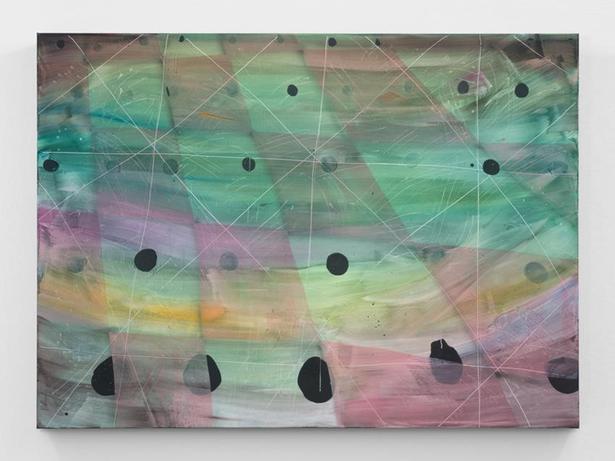 8. Watch Pilot Season at Basement Theatre
Watch on as some of Auckland's most talented improv comedians pitch a story in a competition where only one will come out on top. With no scripts, get ready to expect the unexpected, and laugh — a lot.
• Basement Theatre, Lower Greys Ave, Auckland CBD. Until December 16, 8.30pm. Visit Basementtheatre.co.nz
9. Check Out Two New Pop-up Stores
New menswear label Samuel Joseph specialises in beautiful linen shirts, made in Portugal, with their first collection being sold from a brand-new pop-up store in Grey Lynn. With seven colours in the range (navy, charcoal, black, khaki, white and salmon pink) the shirts are light, breathable, and made with care. 
• 534 Richmond Rd, Grey Lynn. Open Saturday 10am-4pm and Sunday 9.30am-3pm until December 17. Visit Samueljoseph.co.nz
Two Hamilton teens have been making waves in the streetwear world with their label Friends and Enemies, not least because one of their designs was worn by A$AP Ferg while on tour. See their designs in person at a one-day-only pop-up this Saturday, and see what all the fuss is about. 
• 183 Karangahape Rd. 10am-7pm, Saturday December 9. Visit Frenemies.co.nz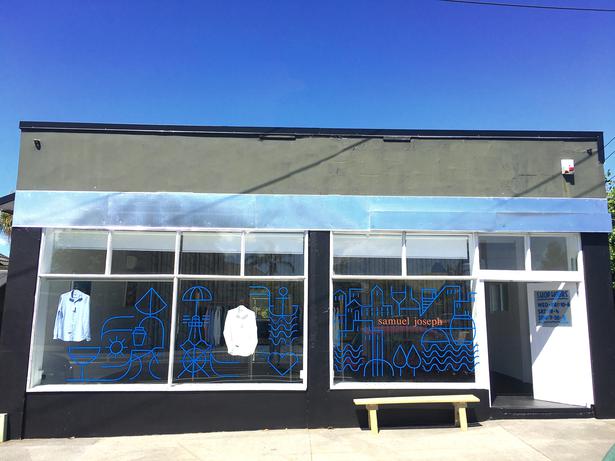 READ: A Kiwi Designer's Quest to Find the Perfect Linen Shirt
10. Try a Cocktail at Grey Goose's Pop-up
It's the last weekend to visit Grey Goose's special summer pop-up at Britomart's Custom Lane. It features bespoke Grey Goose cocktails (including Le Grand Fizz, of vodka, St-Germain Elderflower liqueur, and fresh lime, and chilled soda), delicious canapes, live music and even a crepe cart. You have until Saturday to pop in for a delicious refresher on a sunny day.
• Custom Lane, 8 Customs St East, Auckland CBD. Until December 9, 3pm-late.
11. Make a Flower Crown
Visit Kingsland's gorgeous Ivy Studio for this special workshop hosted by With Love Florists. Take some time for yourself and focus on making something beautiful that you'll get to take home with you. You'll be all set for the festival season with your new crown in hand.
• Ivy Studio, 503 New North Rd, Kingsland. Saturday December 9, 11.45am-1.15pm. Visit Withlove-florist.co.nz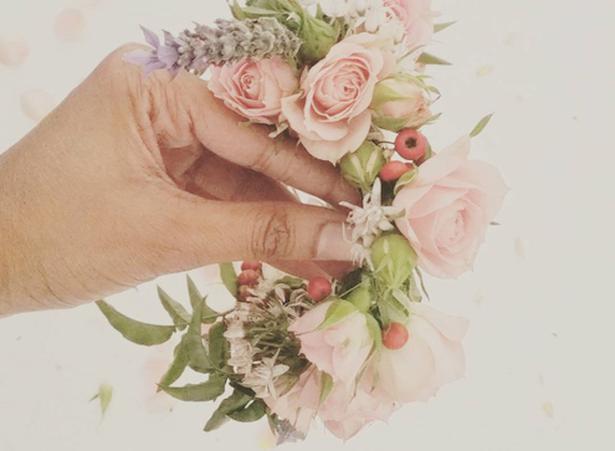 Share this: