Fun Things to Do This Weekend 08/06/17
Have a great one with our pick of weekend events, from sample sales to wine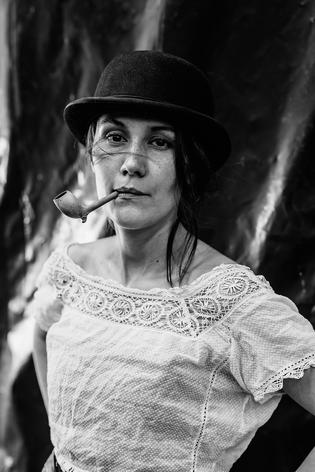 1. Kororareka: The Ballad of Maggie Flynn
Premiering at Q Theatre this Friday is a tale of the ocean, settlement and New Zealand's women. Red Leap Theatre company and writer Paolo Rotondo have teamed up to create Kororareka: The Ballad of Maggie Flynn - a play set in the 1800s that follows the journey of Maggie Flynn, the captain of a whaling ship who lands on the shores of Kororareka (Russell) from Ireland.
• Q Theatre, June 9-17. For tickets and show times, visit Redleaptheatre.co.nz
2. Kate Sylvester Warehouse Sale
Pick up a designer piece this weekend, with nothing over $150 - including showroom samples, end of line and "stuff that just didn't quite make it to the runway but we love them anyway". The sale will take over the old ASB Bank space (opposite Kokako) in Grey Lynn from Friday.
• 592 Great North Rd, Grey Lynn. Friday June 9, 11am-6pm; Saturday June 10, 10am-5pm; Sunday June 11, 10am-4pm
3. Kowtow Sample Sale
Another sale worth visiting this weekend. Update your winter wardrobe with some stylish and sustainable fashion, with 50 to 80 per cent off organic cotton samples and end of season items from local label Kowtow. The sales have proven popular in Wellinton and Melbourne, with this weekend's sale the first in Auckland. There will also be a drop off point for clean, unwanted, useable clothes to be donated to Red Cross.
• Flying Fish, 203 Ponsonby Rd, Saturday June 10, 9am-4pm; Sunday June 11, 10am-4pm.
4. Winetopia
Showcasing the finest wares of more than 60 wineries, Winetopia is a must for wine enthusiasts who can chat to the winemakers, attend talks, tastings and masterclasses, enjoy live music, and pair their drinks with food from the likes of Food Snob, Akemi Gyoza, Salash Delicatessen, Regal Salmon and Toastie Bros. Master of Wine and wine columnist Emma Jenkins, one of the star players at this weekend's event, will be holding three 40-minute masterclasses and tastings, one of which will look at the "funky and progressive wine styles" this country has to offer. Don't miss her tips for expanding your wine-drinking horizons.
• 89 Quay St, Queen's Wharf, Friday June 9, 5pm-8.30pm; Saturday June 10, 12pm-3.30pm; 4.30pm-8pm. Visit Winetopia.co.nz
5. Diocesan School for Girls Secret Art initiative
Like artistic lucky dip, the 2017 Dio Secret Art exhibition will offer more than 500 works for sale. The exciting part? You won't know who created the postcard-sized piece until you purchase, for an affordable $100. An artwork by Elliot Collins was among those snapped up at last year's debut event; a top fashion designer, an international model and a highly-regarded contemporary artist are all taking part for 2017. The show will fundraise for the developments of the Diocesan School Arts Centre. An exclusive cocktail preview event will be held tonight at 6.30pm, tickets available from iTicket.co.nz. Following this, the gallery - in the Diocesan School Hall - will be open free to the public on Friday and Saturday.
• Secret Art initiative, June 9-10, 9am-6pm, Diocesan School Hall, Clyde St, Epsom.
6. Author Talk with Steve Braunias
NZ Herald journalist and Te Atatu local will be at the suburb's library on Thursday night, talking about his fascinating new book The Man Who Ate Lincoln Road. Based on his popular weekly Herald columns of the same name, the book follows Steve's year of eating at the various food outlets along the famous West Auckland strip described as "heart attack alley". The book will be available to buy on the night, and refreshments will be supplied by local food outlets.
• Te Atatu Peninsula Library, 595 Te Atatu Rd. 6.30-8.30pm, Thursday June 8. To RSVP call (09) 890 4949.
7. Some Feminist Club Nights #1
The start of a series of events throughout winter, featuring a guest speaker, women-led bands and performers, including 60s pop-influenced band Secret Cousins. Venus & the WinkWinks, and folk singer Sophie Mashlan. $10 at the door, the best part is that each raises money for Women's Refuge.
• The Wine Cellar, St Kevin's Arcade, 183 Karangagape Rd. Thursday June 8, 8-11pm. Visit Facebook.
8. What's Love Got to Do With It? Marriage, Feminism and the Space in Between
The women behind The Spinoff's podcast On The Rag will discuss feminism in relation to marriage, as part of the exhibition Till Death Us Do Part: Fifty Years of Vintage Wedding Style. Featuring comedian Michele A'Court, writer Alex Casey and Mana editor Leonie Hayden, the discussion will offer some intelligent, local context to the mania surrounding weddings. Tickets to the talk also include afternoon tea, and access to the exhibition which showcases vintage wedding gowns, on display until the end of the month.
• Highwic, 40 Gillies Ave, Newmarket. Sunday June 11, 2-3pm. Tickets $10, to book ph (09) 524 5729. Visit Gorydaysmagazine.com
LOOKING AHEAD
Future events to book and look forward to
Auckland Fair, June 18
Chris Rock, Spark Arena, Auckland, July 1
The New Zealand International Film Festival, July 20-August 6
Share this:
More Culture & Travel / Going Out