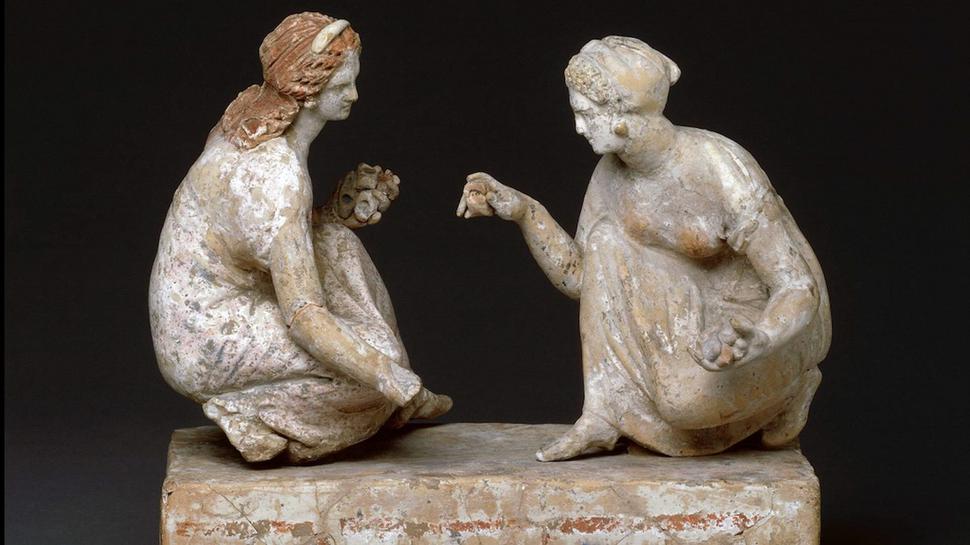 Eat Your Way Through A French Festival & More Fun Things For The Weekend
Grab some mille-feuille and walk through ancient Greece
Thursday June 9, 2022
Venture to ancient Greece
The long-postponed exhibition Ancient Greeks: Athletes, Warriors and Heroes at the Auckland Museum opens this weekend, bringing with it priceless antiquities, marble statues, weapons, jewellery and other treasures courtesy of the British Museum. Art, architecture and mythology are all unmissable highlights. Open from June 10 to November 6. Tickets are $25 (adult), $12 (children aged 5 to 13). Free entry for those with museum membership. Tamaki Paenga Hira, Auckland Museum, Auckland Domain, Parnell. Aucklandmuseum.com
Eat your way through a French Festival
Alternatively (or equally) make your way to France with the return of the French Festival by Le Chef. Find a sundry of food (artisanal sausages, cheese, pastries, crepes, deli products and more), entertainment (think Cancan dancers) and Champagne. Be sure to secure your place at the One Night In France dining experience that will see you take part in a 699-person dinner, complete with five-course meal, wine and music. Saturday June 11 from 9am to 10pm; Sunday June 11 from 9am to 4pm. Shed 10, Queens Wharf, Auckland. Le-chef.co.nz
Consider animation
Artists Danielle Brathwaite-Shirley, Juliet Carpenter, Tanu Gago, Ary Jansen and Sorawit Songsataya bring newly commissioned works together for Te Uru and CIRCUIT's fascinating exhibition Otherwise-image-worlds, which poses some important questions: "How can animation in contemporary moving image practices be critical of the commercial demand for spectacle and efficiency? How can it serve as a tool for worldbuilding and re-imagining history beyond imperialist, white, cis, male-dominated narratives?" Te Uru Waitākere Contemporary Gallery, 420 Titirangi Road, Titirangi, Auckland. Teuru.org.nz
Watch the BANFF Mountain Film Festival
Catch some slopes at the BANFF Mountain Film Festival, with two programmes — Red and Blue, each a compilation of several films with a total screening time of roughly 2.5 to 3 hours — on show at Auckland's SkyCity Theatre. Or curl up at home and watch it online. Banff.nz
PLAN AHEAD
Catch an international flick
Here's your chance to relive all the gritty excitement (from the comfort of your cushy cinema chair) as The Strokes, Yeah Yeah Yeahs and LCD Soundsystem explode on to the early 00s New York music scene. The screen adaptation of Lizzy Goodman's bestselling book Meet Me in the Bathroom is just one of several films we're getting jazzed about as part of the upcoming New Zealand International Film Festival (July 28-September 4).
Just as nostalgia-inducing is Hallelujah: Leonard Cohen, a Journey, a Song, exploring the singer-songwriter's life; and Kurt Vonnegut: Unstuck in Time, Robert B. Weide's tribute to the American satirist. Then there's fly-on-the-wall doco Navalny, which follows the attempted assassination of Russian opposition leader Alexei Navalny; Spain's Oscars contender The Good Boss, starring Javier Bardem; acclaimed British director Clio Barnard's socio-realist drama Ali & Ava; and from France, the award-winning adaptation of Balzac's classic, Lost Illusions. Stay tuned for more announcements at Nziff.co.nz
Go to a pop-up
Maggie Marilyn has a pop-up space this winter at an expansive private residence nestled amongst the mountains of Wanaka. Pieces from both the brand's Somewhere and Forever lines will be available. June 30 to July 13 at 1 Atherton Place, Wanaka. 9am to 5pm Monday to Friday; 10am to 4pm Saturday and Sunday.
Book a seat at an intimate dinner
A ticketed dinner by local chef Karl Bayly, Soft Notes will take place on Sunday, June 19, at Florets in Grey Lynn. Featuring a three-course menu and natural wine pairings, there are two sittings — 4.30pm and 7.30pm — but places are selling swiftly. Tickets are $125pp and 5 per cent from each will be donated to Palestine. Send a direct message to @Cooked_plates to reserve a spot.
Share this: