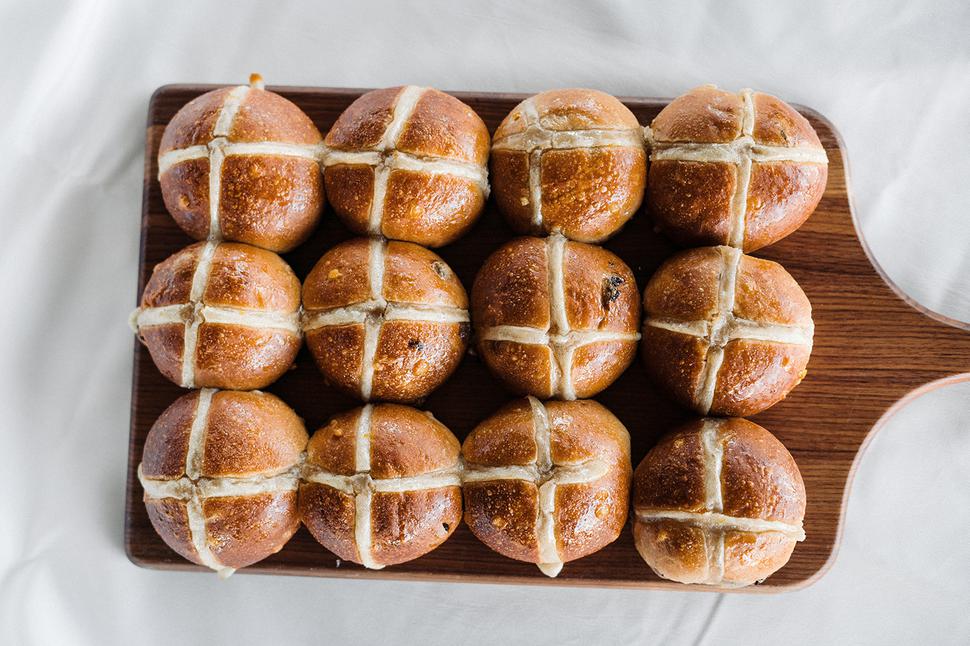 Have Pecan-Caramel Hot Cross Buns & More Fun Things For The Long Weekend
Compound your chocolate intake, watch a historical drama and more
Thursday April 14, 2022
Have hot cross buns (naturally)
It's little secret that the Park Hyatt's The Pantry offers some of the city's most exquisite hot cross buns. Pick up these baked goods, including a new pecan, chocolate and caramel flavour, then multiply your chocolate intake with Executive Pastry Chef Callum Liddicoat's dessert Easter egg, filled with mango salted caramel, whipped Chantilly cream and Valrhona Itakuja chocolate. Hyattpantry.co.nz
Daily Bread's sourdough hot cross buns, infused with an altogether luxurious spice mix, are flying off the shelves. Make haste, and pick up a six-pack (or more) of their chocolate-filled alternatives for those that bristle at the thought of raisins. Dailybread.co.nz
Secure your buns from Yael Shochat's much-loved Middle Eastern restaurant, Ima. They are something of a legend, swiftly disappearing from shelves as soon as they came, so don't miss out. Ima will be closed Sunday. Imacuisine.co.nz

Peruse an exhibition
The Objectspace exhibition Mark Work features six artists who harness mark-making to set their creative energy alight. It's a diverse and expansive show that will appeal to young and old. Go even if it's just to admire Auckland-based artist Raukura Turei's large-scale panelled work made from black sand and oil pastel, with Seurat-like marks made with her fingers.

Warwick Freeman's sketch collection is wonderfully diverse and beautiful — from collages to graphic drawings, they make for an unexpected and rich surprise from the famed jeweller.
The winner of the 2016 Parkin Drawing Prize, Hannah Beehre, shows charcoal and pencil drawings that are delicate and energetic — each drawing is a result of her research into the mechanics of art-making, while Julian Hooper investigates the alphabet to graphic effect.
Krystina Kaza explores visual languages that have a basis in geometry, and contemporary jeweller Areta Wilkinson (Ngāi Tahu) considers contemporary jewellery as objects that have the power to pass on Māori philosophies. Objectspace, 13 Rose Rd, Grey Lynn.
Watch The First Lady
This new historical drama follows three different first ladies from the last century: Michelle Obama (Viola Davis), Betty Ford (Michelle Pheiffer), and Eleanor Roosevelt (Gillian Anderson). Fictionalising their behind-the-scenes lives in and beyond the White House, it's a star-studded, imagined insight akin to The Crown. Available to watch on Neon from Monday.
Enjoy an evening of Champagne and opera
Treat yourself to a cultured evening of Champagne and opera at the Hilton Auckland's Bellini Bar, on now every Friday from 6.30pm to 7.30pm. While you're there, order some fries with truffle aioli and house-made focaccia, or continue your night with a meal at the hotel's lush Fish restaurant afterwards. Entry is free, and walk-ins are accepted. 147 Quay St, Auckland
Sample a toasted sandwich
PSA, toastie-lovers: The Great Toastie Takeover is, once again, taking over. With 185 venues participating this year across the country, there's ample opportunity to sample some sandwich delights, like Best Ugly Bagels' sesame bagel double-cheese melt with, smoked kahawai, and McClure's Garlic & Dill pickle; Federal Delicatessen's pickled 'shroom sandwich with porcini mayo; Lowbrow's offering with slow-cooked pork belly with buffalo sauce, balsamic fig and gruyere cheese; and Sweet Release's vegan Reuben. Find the full list of participants at Toastietakeover.com
BOOK AHEAD
See a Scandi film
Oh hej, there's a new cinematic event to transport and inspire this autumn: Volvo Scandi Film Festival Aotearoa will showcase award-winning contemporary films from Sweden, Norway, Finland and Denmark. Challenging the notion that all Nordic movies are dark and serious, the inaugural line-up includes comedies Games People Play, which sees a group of 30-somethings chaotically reliving their adolescence one weekend, and Diana's Wedding, a comedic musing on family, marriage and relationships. Familiar faces include Nikolaj Coster-Waldau (Game of Thrones) who stars in the foodie film A Taste of Hunger. Showing around Aotearoa — Auckland, Hamilton, Wellington, Nelson and Christchurch — the festival is on from April 21 to May 4, with screenings in Tāmaki Makaurau taking place at Rialto Newmarket and the Bridgeway Cinema. Tickets are on sale now. Scandifilmfestival.co.nz
Have a long lunch
Those looking to get out and about should book a seat for Cloudy Bay's experiential event, a ticketed Wonderscape long-lunch series at the breathtaking Mawhiti on Waiheke Island on Saturday April 30. Tickets are $450 per person (inclusive of wine, food, transport and entertainment) and can be booked in groups of two (romantic!), four or six. Tickets are limited. Cloudybaycurated.co.nz
Head to the theatre
Described as "a theatrical and sonic dreamscape of rocks, deserts and disaster movies in an attempt to capture the feeling that another world is possible," the new production directed by Nisha Madhan and performed by Julia Croft, titled Terrapolis, is a must-see for those invested in live art, boundary-pushing theatre and the climate crisis. Tickets are on sale now, with shows running from April 19 to 23. Q Theatre, 305 Queen St, Auckland
Share this: