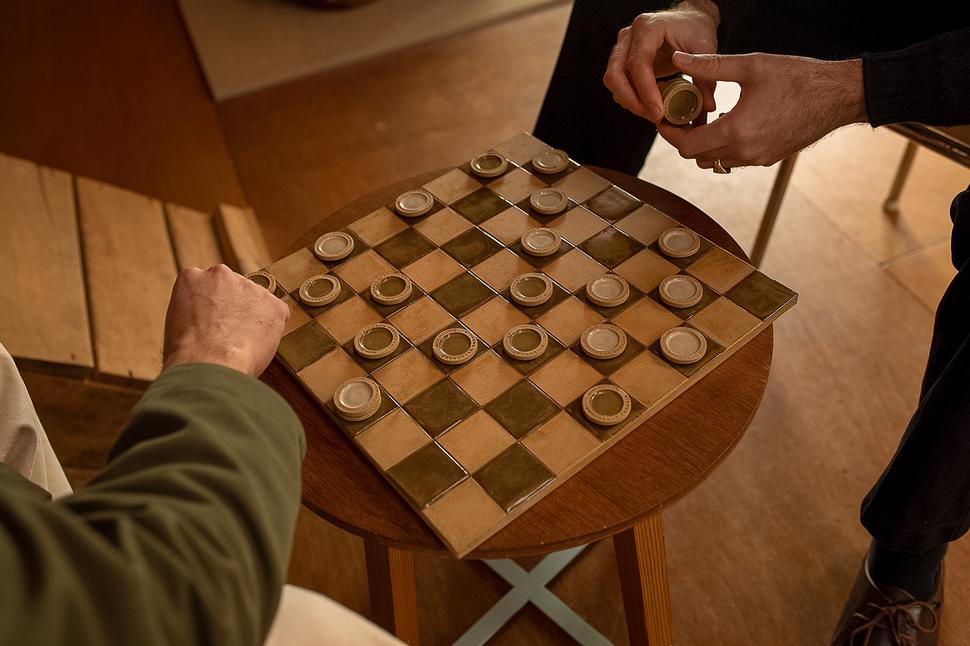 Get Coffee At Cafe Morison & More Fun Things For The Weekend
Play draughts (stylishly), find something uncompromisingly bold at a sample sale, and watch a tender family drama
Thursday June 16, 2022
Get coffee at Cafe Morison
For one day only, men's fashion label Thom Morison will be turning part of its studio into a coffee corner in collaboration with ceramist Richard Beauchamp. Expect a full-service cafe complete with a barista, Supreme Coffe and Boring Oat Milk, and moreish baked goods from Florets. There will be draughts sets too, available to play and purchase. Sunday June 19 from 10am-2pm. 598 Great North Road, Grey Lynn, Auckland. Thommorison.com
See an exhibition
On our radar is the newly opened painting and photography exhibition Motutapu from artists Brendan Kitto and Benjamin Work, on display now at Te Uru Waitākere Contemporary Gallery in Titirangi. Looking at the shared history of Motutapu (sacred island) throughout Moana Oceania, including Tongatapu, Rarotonga and at the entrance to the Waitematā Harbour in Tāmaki Makaurau, this artistic study explores how Motutapu serves as a gateway for navigators arriving and departing on voyages and a deeper connection to the artists' own genealogy as they travelled to three of the Motutapu locations.
The resulting works display something of a personal metaphor for Brendan and Benjamin, a gateway into or starting point for their personal journeys. Don't miss the hosted walk on Sunday, July 24, around Maungauika led by the pair, exploring different views over the Waitematā Harbour in response to this special collaborative effort. On display until September 11. Teuru.org.nz
Watch Minari
Lee Isaac Chung's devastatingly tender family drama Minari, released in 2020 and set in rural Arkansas in the 1980s, has become in its few short years something of a beloved classic. If you missed it in cinemas, sit down to this semi-autobiographical, wonderful heartbreaker of a film, available to watch on Neon.
Shop at a sample sale
Local label Hej Hej brings its bright, bold samples, seconds and archive pieces to its flagship store on Ponsonby Rd this weekend. Stave off the winter blues with a limited-edition linen or knit. Saturday June 18 from 9am-4pm; Sunday June 19 from 10am-4pm. 282 Ponsonby Rd, Auckland.
Listen to Podcrushed
Watched You and Gossip Girl and wish you could spend inordinately more time with Penn Badgley? The good news is he has a podcast, delightfully called Podcrushed, where he, Nava Kavelin, Sophie Ansari and special guests (think Drew Barrymore and, naturally, Blair's Leighton Meester) to discuss middle school stories: heartbreak, anxiety, self-discovery. Reminisce with some celebs, and join in their light-hearted roasting.
Watch the Pistol biopic 
The rollicking new Sex Pistols miniseries by Danny Boyle, Pistol, tracks the rise and fall of the famous punk band. The fashion is on point (the band was dressed by Vivienne Westwood's King's Road shop Sex) and the series does a good job depicting the fraught relationship between Malcolm Maclaren and the band. The timing is prescient — punk was born out of the socio-economic frustrations of 1970s England — and parallels the current climate and much-discussed fashion "vibe shift". You'll likely finish it wanting to wear leather pants and eyeliner, we did. Available to watch on Disney+.
See Scenes from a Yellow Peril
Theatre-maker, playwright and poet Nathan Joe's new production Scenes from a Yellow Peril is poised to make its premiere next week. It's described as "equal parts anger and humour, this collection of scenes is a political stream-of-consciousness that will encourage conversations with open-minded audiences. The work cuts straight to the cultural quick, exploring racism and privilege in Aotearoa New Zealand. Presented in a contemporary format that combines performance poetry, direct address, and live music, Scenes from a Yellow Peril embraces a non-conventional theatre form, not often seen on stages in New Zealand." June 21-July 3. ASB Waterfront Theatre, Wynyard Quarter, Auckland. Tickets are available via Atc.co.nz
Begin your Matariki celebrations
The Matariki Ki Waikato (MKW) festival kicks off its celebrations this weekend to see in the Māori new year. See a giant scale glow-in-the-dark puppet show, visit the Matariki Market Day (June 18) at the Hamilton Gardens Pavilion (there will also be market days in Raglan and Ngāruawāhia), and hear L.A.B, Jess B and Masaya at Hamilton's Globox Arena on Saturday July 2. June 17 to July 17. Discover the full programme at Matarikiwaikato.nz
BOOK AHEAD
Books, books, books
Bibliophiles and the generally bookish, the Auckland Writers Festival (August 23-28) programme has been released, with a soaring line-up on offer. There are salons with South African author Damon Galgut (winner of last year's Booker Prize), London-based New Zealand poet and essayist Nina Mingya Powles, and Sorrow and Bliss author Meg Mason. Attend a livestream-in-venue event with 2021 Nobel Prize-winning writer Abdulrazak Gurnah, and sit down to a conversation with Liane Moriarty, creator of the bestsellers-turned-TV series Big Little Lies and Nine Perfect Strangers. Megan Dunn will be discussing art, as will curator Nigel Borrell, and director Jane Campion joins Noelle McCarthy to speak about "her artistic inheritances, guiding principles and preoccupations". Tickets are on sale Friday June 17 via Ticketmaster. Writersfestival.co.nz
Share this: