7 Fun Things to do This Weekend 17/03/16
No plans this weekend? Here's our pick of what to do, from designer sales to fashion talks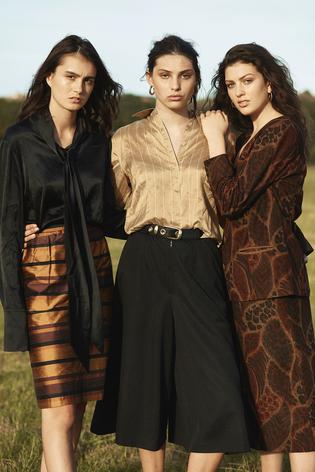 1. Dress for Success will hold their annual Designer Sale this Friday from 5-8pm at the Sapphire Room in Ponsonby Central. Funds raised will go towards the charity's work helping women in need get interview-appropriate attire, and giving them the tools needed to succeed in work and life. Keep an eye out for 1970s pieces from local designers Adrienne Winkelmann and Michael Mattar (pictured above). If you want to get in early, for just $20 there is also a preview sale from 4pm-5pm, phone (09) 377 2762 to book tickets.
2. An, a new film by award-winning director Naomi Kawase hits cinemas this week. Sentaro, played by Masatoshi Nagase, runs a quiet bakery selling Japanese confectionary. However a request from elderly lady for a job sees Sentaro learn more about his fare and himself. Though the focus is mainly on food, the film, set in the midst of Tokyo's cherry blossom season, delves deeper into societal discrimination, kindness and hope
3. The Centre is hosting an Urban Retreat on Sunday, a chance to rejuvenate and reset as autumn approaches. Each participant will receive a one-day Little Bird Organics cleanse pack filled with six drinks and a salad. The schedule begins with an Ashtanga Vinyasa class, followed by Rebecca Wadey, The Centre founder and Viva wellbeing editor, sharing her concept of 'the health spectrum', and a mindfulness and pranayama class with clinical psychologist Dr Vicki Connop. Held from 7.45am-11.30am, with complimentary entry to scheduled shakti mat class at 5pm.
4. Headliners Kendrick Lamar and The National are set to take over Western Springs Stadium on Saturday at the Auckland City Limits festival. There will also be plenty of local artists, including Ladyhawke, Broods and The Naked and Famous. There are limited tickets still available. Further south in Taranaki is the three-day festival Womad, a celebration of music, arts and dance from a global perspective.  
5. This Sunday QBE Stadium will turn rainbow for The Colour Run, a 5km fun-filled course. There is a tropical theme this year – including a Tropicolor Zone on course and an island-style participant kit. Once you have made it past the finish line, you will be gifted your own bag of coloured powder to take part in the 'Rainbow Beach' finish festival.
6. Head to Manukau Sports Bowl on Saturday to catch the last day of ASB Polyfest, where secondary school students are performing in groups for their respective Pacific nation. Make sure to visit each of the six stages - Maori, Cook Islands, Samoan, Tongan, Niue and Diversity – plus the stalls selling food, crafts and fresh produce.
7. iD Dunedin Fashion Week is in full swing and designers Kate Sylvester and Margarita Robertson of Nom*D will both participate in live talks at the Dunedin Public Art Gallery on Friday. Kate will discuss the connection that art has had with her design process over the past 22 years, while Margi will be speaking about the exhibition Margarita Robertson: 3.33.12 dedicated to her personal style and featuring 12 looks from her private wardrobe.
Share this: