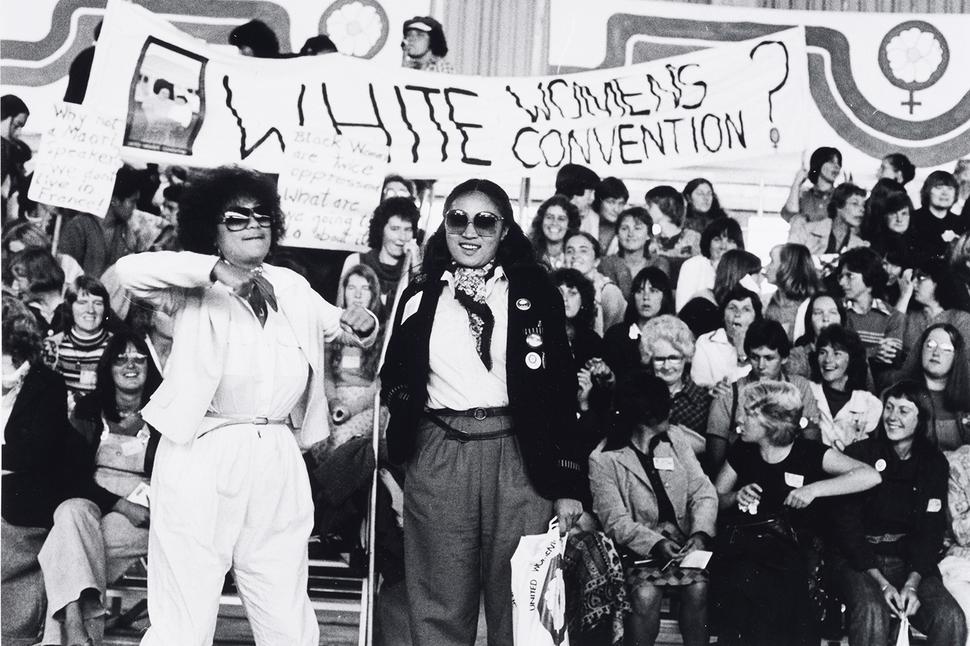 An Inspiring Exhibition, A Do-Good Bake Sale & More Fun Things For The Weekend
Tour a collision of art, politics and activism, and fill a basket with moreish pastries
Thursday March 17, 2022
Visit Declaration: A Pacific Feminist Agenda
For an inspiring collision of art, politics and activism don't miss the latest offering at Auckland Art Gallery Toi o Tāmaki, which brings together 12 prominent artists from across the Pacific whose works set a feminist agenda.
Attune to pressing issues of today, such as climate change, resilience, tino rangatiratanga (sovereignty), activism and social justice, Declaration: A Pacific Feminist Agenda is a reflection of the past through the lens of works from Jasmine Togo-Brisby, Marti Friedlander, Jessica Hansell, Taloi Havini, Lonnie Hutchinson, Ioane Ioane, Sione Monū, Suzanne Tamaki, Latai Taumoepeau, Molly Rangiwai-McHale and Luisa Tora, and Kalisolaite 'Uhila.
Curated by the gallery's first curator of Pacific art, Ane Tonga, the exhibition looks at how Māori and Pacific women advocated for full and equal participation within feminist movements instigated during the 1970s, and how that has evolved today. Presenting a mix of commissioned projects and existing artworks and ephemera, this is a timely look at how activism and the power of the collective voice continues to help shape society.
"Amid turbulent times, this exhibition calls our attention to the power of collective leadership, vision and radical hope that has always existed in the Pacific," says Ane. On display until July 31. Aucklandartgallery.com
Head to a bake sale
Cook the Books' second iteration of their Cook for Ukraine Bake Sale is on this Saturday, March 19. Felicity O'Driscoll and Kylee Newton of the beloved foodie haven are teaming up with their friends, bakers and cooks for everything from cakes to scones, loaves and jams. Sales start at 11am, with cash-only payments. 19 Williamson Ave, Auckland.
Watch Killing Eve
Season four, the final installment of the remarkably stylish cat-and-mouse chase drama, sees assassin Villanelle (Jodie Comer) and former M16 agent Eve Polastri (Sandra Oh) spar once more on their "will-they-won't-they fall into each other's arms" plotline. This time, the show is helmed by Laura Neal, in the tradition of a new showrunner taking the reins every season. Available to watch on TVNZ OnDemand.
Dine at a taco pop-up
Tortilla aficionados Hands Down are hosting chef Dan Freeman of Ragtag Tacos for a two-day pop-up this Friday and Saturday, March 18 and 19, serving spicy beef and smoked lamb tacos, $6, from 5pm until late. Happy Hour Beer Bike will be pouring Brave brews, and "sugar glider" India Essuah will be serving some delectable sweet treats (think custard doughnuts and glazed cruller). Hands Down factory, 39 Tennyson St, Napier.
Check out Cora-Allan Wickliffe: Otītori Bay Road
Artist Cora-Allan Wickliffe has injected new life into the art of hiapo making — the Niuean artform of barkcloth painting — and her latest exhibition Cora-Allan Wickliffe: Otītori Bay Road at Te Uru Waitākere Contemporary Gallery is a continuation of exploring the new possibilities of using this medium to tell stories through documentation, colour and texture.
Based on her residency at Parehuia, 67 Otītori Bay Rd, Wickliffe has infused raw and natural pigments harvested and processed from the local Waitākere whenua, resulting in a collection of works that are intimate studies of the land as well as visual journals documenting the changing tides and weather patterns of her residency.
Some of the views recorded are of the Manukau Harbour, where Wickliffe spent time on a rowboat named after her late grandfather, Koro. Here, she launched from Otītori Bay, using seawater as a base for her watercolour pigments, creating a space in which her Niuean and Māori whakapapa can unite for a conversation on the past, present and future. On display at Te Uru Waitākere Contemporary Gallery, 420 Titirangi Rd, until June 5.
BOOK AHEAD
Watch animation at the Ellen Melville Centre
Have kids? The Consulate-General of Japan in Auckland has teamed up with the Japan Foundation and the Ellen Melville Centre for two special film screenings of animation, namely, A Letter to Momo (Saturday March 26 at 10.30am) and Wolf Children (Saturday March 26 at 1pm). Tickets on sale now.
Joy Crookes' Auckland show
The British singer-songwriter is bringing her mellifluous, unforgettable mix of jazz, soul, and R&B this July to Auckland's The Powerstation. Don't miss her on July 24 at 8pm. Tickets on sale now at Ticketmaster. 33 Mount Eden Rd, Eden Terrace, Auckland.
Have a slice of comedy at Fork n Funny
The Tuning Fork's comedy night returns with a superstar lineup including Raised by Refugees' Pax Assadi, Bridget Davies and Hannah Campbell, and Billy T nominee Janaye Henry as the evening's MC. Friday March 25 at 7.30pm. Tickets on sale at Moshtix. 42/80 Mahuhu Crescent, Parnell, Auckland.
Share this: