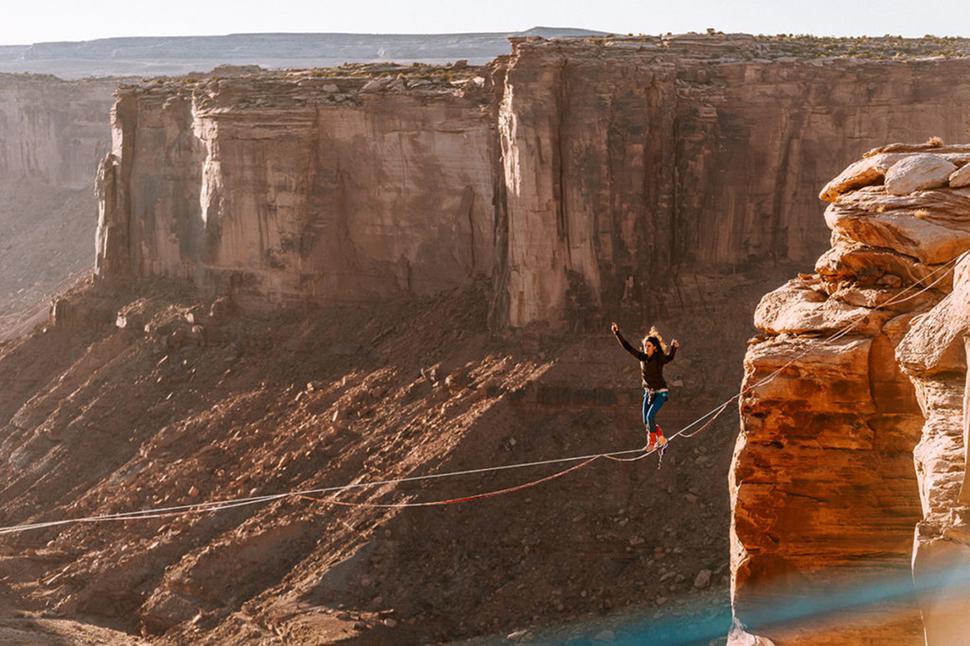 A Mountain Film Festival, New Exhibitions & More Fun Things For The Weekend
Watch high-stakes highlining and go on an educative tour with a curator
Thursday May 20, 2021
Watch a slice of adventure
Welcome winter with the Banff Mountain Film Festival's snow-capped peaks and high-stakes sports. See highlining across canyons in Slack Sisters, a photographer's scaling of Everest in The Ghosts Above, and rappelling from an airship in Zeppelin Skiing. Various locations across the country, and online at Banff.nz

Visit a pop-up
Local label Loclaire has joined Mount Eden's Bloc for a special pop-up, where you can browse its considered range (think playful flower cut-outs, lilac long sleeves and "licorice wool check"), take measurements for their made-to-order garments and talk customisation. 20 Normanby Road, Mount Eden, Auckland.
Take a tour with a curator
Contemporary art curator Hanahiva Rose will be leading a free tour of new and existing works by Teuane Tibbo, Ani O'Neill and Salome Tanuvasa at New Plymouth's Govett-Brewster Art Gallery to celebrate the opening of their exciting exhibition Stars star falling. While you're there, immerse yourself in the world of Len Lye, from his fountain-like metallic sculptures to the architectural gravitas of the Len Lye Centre itself. Saturday May 22 from 11am to 12pm. Can't make the tour this Saturday? The exhibition is open until August 15. 42 Queen St, Ngamotu, New Plymouth
Go to the Baradene Art Show
The 32nd iteration of the Baradene Art Show kicks off this Saturday, May 22, with over 750 works by more than 130 artists on its walls. The two-day event will run from 10am to 4pm at Baradene College of the Sacred Heart. 237 Victoria Avenue, Remuera, Auckland.
Have a laugh
If you haven't attended the International Comedy Festival, don't miss its final event with comics James Roque; Billy T nominees Brynley Stent, Lana Walters, James Mustapic and Josh Davies; and hosted by Michele A'Court. Sunday May 23 at 7pm. SkyCity Theatre, Corner Hobson St and Wellesley St West, Auckland.
Donate to a fundraiser
A host of New Zealand brands have teamed up for a mega-competition, all in the hopes of raising money to support medical aid in Palestine (@medicalaidpal). Spare some coinage towards the cause and go in the draw to win an Arnold Circus Stool, plus an assortment of things from fashion label Penny Sage, ceramicist Fiona Mackay, beauty brand Sphaera, Kaukau store and much more. Entries close Monday May 31. See the competition's Instagram post for full entry instructions.
Catch Reece King's work at Anna Miles Gallery
After solo exhibitions at Gallery 9 in Sydney and CoCA in Christchurch, the Auckland-born artist is showcasing his abstract paintings, which draw references from creative forms as varied as cave drawings and lightsabers, to Auckland's Anna Miles Gallery. Open Wednesdays to Saturdays from 11am to 3pm, ending Friday May 28. 10/30 Upper Queen St, Auckland.
Enjoy a toastie
The Great New Zealand Toastie Takeover competition is upon us. Aucklanders, sample sandwiches at Britomart's pub and eatery The Brit (try mac 'n' cheese; triple cheese with mustard; or smoked kahawai with cheddar, preserved lemon and beer-battered dill pickles), Daily Bread, with its 'Pork and Pickled Puha' (fire-roasted ham hock, kale, cheddar, horseradish and a pickle béchamel), and Federal Delicatessen, with its 'Harry's Kimchi Reuben' (corned beef, Swiss cheese, pickles, mustard, ssamjang mayo, sauteed kimchi), or Wise Boys' 'Sloppy Joe Toastie' (jackfruit mince, mushroom and lentils topped with mozzarella, pickles and jalapenos), among others.
In Wellington, grab Lulu Bar's 'Prawn Royal' filled with prawn toast, pickles, provolone cheese, seafood cocktail sauce and lobster butter with crispy cheese, or The Arborist's 'Toastie Thyme', which boasts a rarebit cheese sauce, pulled smoked brisket and pickles, and is served with a cup of mushroom, thyme and wild garlic soup.
To see the full list of participating eateries nationwide, visit Toastietakeover.com/locations.
Share this: