Browse A Stunning New Exhibition & More Fun Things For The Weekend
Tour a visually generous art exhibit, have your shoes drawn on, and more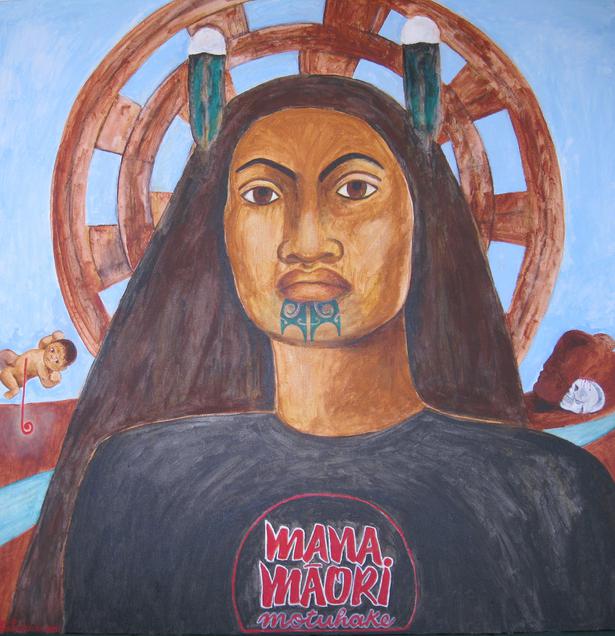 Thursday April 21, 2022
Check out City Gallery Wellington
If you're in Wellington over the coming months, a visit to City Gallery Wellington Te Whare Toi is a must, if only to check out its newest exhibition Matarau. The group show is guest-curated by Walters Prize-winning Pōneke artist, writer and curator Shannon Te Ao, and puts the spotlight on an exciting mix of contemporary Māori art, including all new work by Robyn Kahukiwa, Emily Karaka, Hemi Macgregor, Ming Ranginui, Kei Te Pai Press, and James Tapsell-Kururangi.
"This show displays a range of responses to the present day, touching on the uncertainty we have collectively endured these past few years," explains Te Ao. "Historically, art has acted as a lens in which to help understand the world more clearly, and as our daily lives become more unpredictable, contemporary artists offer a vital way to comprehend this turbulent time."
Described as visually fun, the exhibition includes new, large-scale works exploring themes from politics and economic mobility, to the environment, whakapapa and love — from Kei Te Pai Press's reader, republishing a selection of Māori writing from the last two centuries, to Tapsell-Kururangi's film exploring his whānau connection to Moutohorā (Whale Island), the exhibition is a visually generous exhibition that brings together emerging and established artists across the generations.
The exhibition is complemented by Tai Timu! Tai Pari! The Tide Ebbs, the Tide Flows — a collection of recent artists' film and video responding to indigenous histories and current discourse, also curated by Te Ao, in collaboration with Circuit Artist Film and Video Aotearoa New Zealand. Matarau and Tai Timu! Tai Pari! are on display at City Gallery Wellington from April 30 — August 14. Citygallery.org.nz
Read How to Loiter in a Turf War by Jessica (Coco Solid) Hansell (Penguin, $23)
Coco Solid aka Jessica Hansell's lyrical genius is distilled in her new book How to Loiter in a Turf War, described as a "genre-bending work of autobiographical fiction from one of Aotearoa's fiercest and most versatile artists".
Centred on three friends navigating the streets of Tāmaki Makaurau dealing with gentrification, racial tensions and more, the coming-of-age book features Q (Tongan, Fijian "with a dash of Indian and Solomon"), a sensitive poet-in-denial with a shitty bakery day-job; Rosina (Hawaiian, Rarotongan, Samoan, Irish), a hungry artist on the rise with an unfortunate weakness for privileged white boys; and Te Hoia (Māori and Filipino) — a cranky political science student and our narrator.
"This book paints a picture of the Auckland I grew up in," says comedian Rose Matafeo "when waiting for the 025 to town was a gamble, and the answer to the question 'where are you from?' was an essay, not a sentence. Like everything she makes, Coco Solid imbues this book with fierce intelligence, laser-sharp specificity and cosmic warmth." From all good bookstores.
Dance the night away
With a sweet-sounding mash-up of live orchestra, vocals, guest musicians and DJs, and new music director Dick Johnson, the third iteration of music event Synthony is looking like quite the setlist. Dance to music from Daft Punk, Calvin Harris, Swedish House Mafia, Disclosure, Dizzee Rascal & The Killers. April 23 at New Plymouth's Bowl of Brooklands; May 21 at Auckland's Spark Arena. Tickets available from Synthony.com/nz-tour
Have your shoes customised
Head to Vans' Queen Street store for a custom workshop event with local artist Chippy Draws. Bring an old pair of Vans to have customised by the illustrator, purchase a pair in store, or grab one of the label's totes. 11am to 4pm, April 23, at 200 Queen St, Auckland.
Join a competition
To mark Earth Day, the Auckland City Mission Op Shops are running a revamp competition. Simply choose an item from any of its stores to transform — clothing, furniture, or beyond — and give it a refresh. A panel of judges will be selecting the three best transformations. The remake competition launches on Earth Day, April 22, and will run until May 22. Some guidelines: "Each entry will need to include a before and after photo, as well as a copy of the original purchase receipt. This can be submitted through a web form, or via Instagram." Find further information at Aucklandcitymission.org.nz/remake
Experience music and vinyl
Record Store Day is back at Flying Out on Pitt Street for 2022. Pop in on Saturday for live music (including Reb Fountain and Tooms), new record releases, secondhand vinyl, surprises and more. Saturday April 23, 9am-6pm. 80 Pitt Street, Auckland Central.
BOOK AHEAD
Teeks x NZSO
Fans of the exceptional singer Te Karehana Gardiner-Toi should book tickets to his special collaboration with the New Zealand Symphony Orchetra taking place over the Matariki holiday weekend at Wellington's St James Theatre. General tickets go on sale April 22 at Ticketmaster.co.nz
Back the arts
Our local arts communities are a hive of new ideas and ways of seeing the world, and we've long admired the work of The Arts Foundation and Boosted to bring to life the work of some of our most exciting creatives across Aotearoa. There's still time left this month to show your support for putting the spotlight on the creative innovation that has been brewing in Tāmaki Makaurau following over 100 days in lockdown last year. In an effort to help give a much-needed boost to postponed and canceled projects, shows and more, The Auckland Arts Comeback campaign is an easy way to donate $5, $50 or $500 to back the arts.
Twenty-five projects will receive matched grants as part of the Auckland Arts Comeback initiative. The twenty-five selected Tāmaki creatives will seek donations through their Boosted crowdfunding campaign, encouraging co-investment with Aucklanders. This will be matched by a grant from Auckland Council of $2000, once the crowdfunding total surpasses $2000. The successful artists will also receive mentoring and support from Boosted. "Tāmaki Makaurau artists have really responded, and the creativity is clearly evident in what has been submitted," says Boosted general manager Jessica Palalagi.
From a podcast series and theatre shows to dance performances, comedy shows and photography exhibitions there's a vast array of projects that still need your support with only a few days left to go.
If you can't decide which project to support, you can donate to The Collective Fund and back all of these worthy projects. #BackTheArts!
See the 25 projects below:
Auckland Artists Network
The Multiversity Show – AUT Performing Arts
Bad for Education, Good for Health 2 by William Walker
BORN TO CREATE: OUR STORIES - CHANGING PERCEPTIONS by Lucie Blaževská
The Creative Mother Podcast by Kate Hursthouse
E NOHO - Connecting Aotearoa Through Music & Storytelling
For Your Satisfaction by Acacia O'Connor
FRANCMARIE - TUPU by Frankie Lolohea
Helena by Miriam Eskildsen
Christmas is Coming by Patrick Kelly
Keep Calm and YOLO by Ant Tarrant
The Jerome Incident by Pete Force
Make Your Noise by Jamie Wanders
Midnight Mistress by Ema Barton
Mouthful Comedy – Miniature Comedy Festival by Conor Dunbar
Munster by Jacob Reynolds
PAPERCITY Music Video by Alex Hargreaves
A story re-written by Hōne Hernandez
PHOTO OP. by Emil McAvoy
The Potential for Rain by Navi Collaborative
The Shadow Peak Series by Sarah Dawse
TE KAAHU O RANGI on vinyl by Theia
He Manu Ka Rereby Amos Pongo
Vivie by MHM Productions
"Where My Asians At?" by Reshma Martin
Share this: