Fun Things to Do This Weekend 23/03/17
From fashion to music, food and festivals, get out and about this weekend with these great activities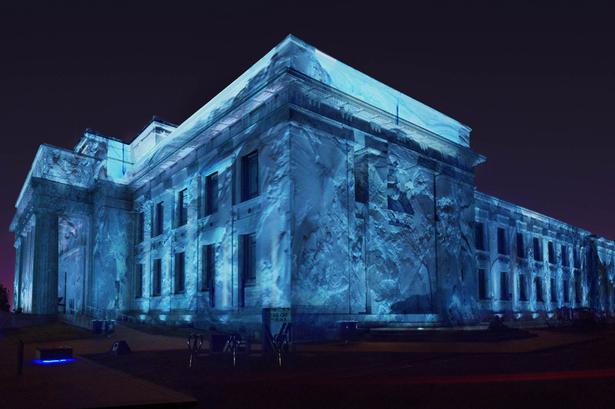 Thursday March 23, 2017
1. Antarctica While You Were Sleeping 
Auckland Museum's iconic building is set to become the canvas for a 360-degree projection of a magnificent Antarctic iceberg. Visual artist Joseph Michael has collaborated with composer Rhian Sheehan to bring Antarctica to life through an immersive multi-sensory installation. It will be on 45-minute loop projected onto the museum.
— Auckland Domain, Parnell, March 24-26. Visit Aucklandmuseum.com
2. Balmoral Is More Than Dumplings – Chinese Food Tour
Dominion Rd is famous for its dumplings and this food tour looks to broaden our horizons. Book the tour and you'll be in for a food-tasting extravaganza, with dumplings and noodles guaranteed plus so much more. 
— Dominion Rd, Balmoral, March 25, 3pm-6pm. Visit Eventfinda.co.nz
3. Kelmarna Gardens Autumn Festival 
Gather together a group of friends and head along to the Kelmarna Gardens Annual Autumn Fundraising Festival this weekend. Orphans Kitchen, Bread & Butter Bakery and Cafe, Organic Mechanic, Little Bird Organics & The Unbakery and more will be there serving up a delicious range of food and drinks, plus there will also be workshops and live music.
— Kelmarna Gardens,12 Hukanui Cres, Herne Bay, March 26. Visit Kelmarnagardens.nz
4. iD Dunedin Fashion Week
The 18th annual iD Dunedin Fashion Week is on this weekend. Tonight's iD International Emerging Designer Awards will showcase up-and-coming talent from all over the world, and today and Friday the iD Railway shows will feature in-season collections from Stolen Girlfriends Club, Nom*D, Carlson, Hailwood and more. Viva will be in Dunedin covering the event so check back in for our coverage across the website and Instagram.
— Various locations around Dunedin, this weekend. Visit idfashion.co.nz
5. Adele
We had Justin Bieber last weekend and this weekend is Adele's turn to entertain Auckland. The superstar will perform her first ever New Zealand show this Thursday night (limited tickets are still available), followed by two more sold-out shows across the weekend. Expect lots of fans belting out the English singer-songwriter's hits like Hello and Someone Like You. 
— Mt Smart Stadium, Penrose, March 23, 25 and 26. Visit Ticketmaster.co.nz/adele
6. Pasifika Festival
Returning to Western Springs this weekend, Pasifika celebrates its 25th year. Head along for a day of Pacific culture diversity, with food stalls and more than 220 vibrant performances. Entry to the festival is free.  
— Western Springs Park, 731 Great North Rd, Grey Lynn, March 25-26. Visit Aucklandnz.com/pasifika
Looking Ahead
Events coming up to book and look forward to
Upsurge 2017 - Bay of Islands Arts Festival April 5-9
Plan a road trip to this exciting five-day arts festival held around the Bay of Islands region. Two international performances which are proving to be popular are How to Keep An Alien and Every Brilliant Thing.
Waiheke International Jazz Festival April 14-17
Celebrate Easter Weekend at Waiheke's jazz festival which brings together the best acts from across the globe. The event is headlined by Kiwi favourite Dave Dobbyn and other artists include Little Bushman, Miles Calder and the Rumours, Melbourne eight-piece The Cactus Channel and Hopetoun Brown. Viva has four tickets to give away to the Good Friday Groove show, to find out more and enter, visit here. 
4 Days of Fashion in the City March 29-April 1
Over 25 events will offer fashion inspiration, history and culture galore as part of 4 Days of Fashion in the City, held in central Auckland next week. For the full line-up of events, visit Heartofthecity.co.nz/fashion
Be inspired by the good things in life. Sign up now to receive emails from Viva, and twice a week you will be sent the latest news, profiles, videos, fashion shoots, competitions and more.
Share this: