Set Your Sights On Sustainability Workshops & More Fun Things For The Weekend
Learn how to compost, listen to lo-fi folk pop and step in front of a fashionable lens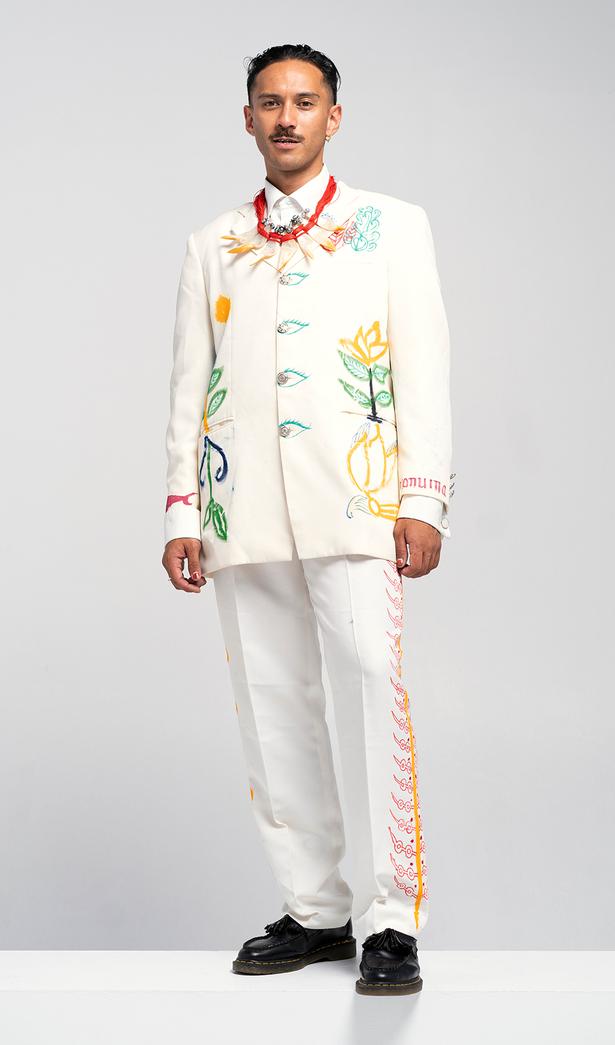 Thursday March 24, 2022
Check out exhibition To Fashion
How do we dress today? It's a question continuously on the mind of the New Zealand Fashion Museum, which has launched its latest interactive exhibition, To Fashion, featuring 12 individuals who share their personal approach to dressing. As part of the official programme for the Auckland Arts Festival, To Fashion shifts the concept of a noun to a verb, highlighting fashion as an action, its central focus highlighted by a collection of life-sized portraits by award-winning photographer Edith Amituanai, on display in The Pavilions at Britomart.
From poet Tayi Tibble reclaiming a vintage Jean Paul Gaultier skirt featuring a moko print, to former All Black and mental health advocate Sir John Kirwan wearing a pair of gold trainers, the stylish personalities offer a snapshot into their own personal appearance in a way that expresses their identity. Their approach to dressing is also supported by insightful videos, available to view at Nzfashionmuseum.org.nz.
Head along to Britomart this Sunday, March 27, for the exhibition's second hosted street-style photography experience, where you are encouraged "to fashion" an outfit that expresses who you are and step in front of the lens of photographer Denise Baynham. Images will be on display on the Fashion Museum's social media channels (@Nzfm). On display until Sunday, March 27, and permanently online as part of the museum's collection. Nzfashionmuseum.org.nz
Listen to My Friends by Mousey
The Otautahi-based singer-songwriter follows her Silver Scroll-nominated debut album, Lemon Law, with this charmingly lo-fi, folk-pop blinder. Its inventive melodies and well-crafted arrangements get stuck in your head and make for an album you'll want to share with your friends.
Make haste for the Harris Tapper sample sale
Find up to 70 per cent discounts on local label Harris Tapper's previous seasons, and a plethora of sample pieces for one day only, this Saturday, March 26, from 9am to 4pm. Kingsize Studios, 27 Sackville St, Grey Lynn
Learn about sustainability in business
Mindful Fashion is hosting an exciting webinar based on the topic Building Brands for a Better Future, and a focus on holistic sustainability principles. Speakers include Yu Mei founder Jessie Wong, designer Bobby Campbell Luke, Nisa's Elisha Watson, and Standard Issue owner Emma Ensor. Don't miss the opportunity to tune in on Tuesday March 29 from 6.30pm to 7.30pm. Register online here.
Get involved in EcoFest West
Want to be more eco-wise? EcoFest West is on now until April 17, and there's plenty to sink your green thumbs into: think beeswax wrap and healthy home workshops, lecturers on whitebait, bike maintenance and worm farm tutorials, and composting and DIY cleaning product how-tos. Find bins for invasive weeds across 15 locations so you can dispose of pest plants, swap seeds at Blockhouse Bay Library, and join a homeopathic vet to learn how to keep chickens happy. Ecomatters.org.nz
BOOK AHEAD
Rex Orange County
The British singer-songwriter is bringing his poppy alternative rock to Auckland (September 2) and Wellington (September 3) this year to mark the release of his fourth album, Who Cares? Tickets are available now from Ticketmaster.
Share this: