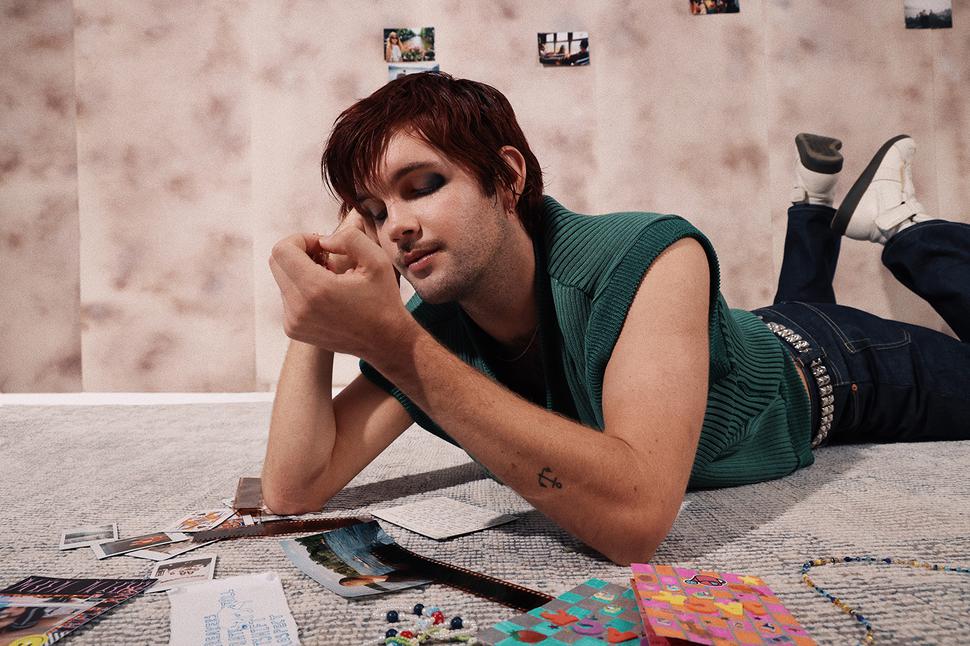 Have A Sensual Slice Of Electro-Pop & More Fun Things For The Weekend
Indulge in sophisticated music, a convoy of food trucks and a particularly intense Viking saga
Thursday May 26, 2022
Listen to Jack Panther
Why not support some of our talented local musicians as part of New Zealand Music Month? One rising star on our radar is alt-pop singer Jack Panther, whose music is helping shape a new generation of queer pop music crafted in Aotearoa. Panther's new single Ski Lift 001 is out now of his sophmore EP release Why Don't You Come Over, out June 3.
Developing his style and sound over the past two years, Jack's debut solo EP released in 2020, This Dream I Had, spawned four singles and was a collaboration alongside UK-based producer Ian Barter, who has worked developing artists including Amy Winehouse, FKA twigs and Paloma Faith.
As a young voice helping usher in a queer-focused pop sound from here, Jack is also working closely with a team of creatives who are also pivotal in shaping our local creative scene including Viva contributors and photographers Matt Hurley and Frances Carter, and director Devan Narsai. Jackpanthermusic.com
Shop a sample sale
Local brand Mina is opening its studio/store racks for a special sample sale, so take a tote and pick up some past-collection samples and one-off pieces. Walker & Bing will be joining the event with a collection of scarf samples, as will jewellery designer Charlotte Penman. 600 Great North Road, Auckland. May 27 to 29. Friday from 10am to 4pm; Saturday from 10am to 4pm; Sunday from 10am to 2pm. Minaforher.com
Peruse some portraiture
The 45 finalists, plucked from 351 entries for the biennial Adam Portraiture Award, judged this year by curator and art historian Linda Tyler and painter Karl Maughan, are now on show at New Zealand Portrait Gallery. May 26 to August 14. Shed 11, 60 Lady Elizabeth Lane, Wellington. Nzportraitgallery.org.nz
Get a special deli-very
Whether you're grappling with brain fog or simply short on time, Cazador has kindly taken all the mental work out of maintaining a primo pantry. Its new monthly subscription service Club Cazador will see members delivered a selection of charcuterie, cheese and goods from the deli, meal kits and other accoutrements to help you throw together some scrumptious fare.
Alongside advice from the expert Cazador team, other knowledge that will be served up to subscribers (before anyone else) includes news of events, tastings and new releases. We think Club Cazador is a great idea to enliven winter — and makes a lovely gift too. $200 per month (or as a one-off purchase), deliveries are made on the third Friday of the month.
Cazador.co.nz/delicatessen

Listen to Soft Spot by Chelsea Jade
This sophisticated and sensual slice of arty electro-pop from the former Auckland local (now based in LA) is sonically inventive, determinedly honest and nothing less than perfectly enigmatic. You could say we've developed quite a soft spot for it.
Attend a fashion show
See the work of fashion designers Alexandra Simpson, John Tanuvasa, Maggie Anitelea, Massey Williams, Penina Schmidt, Phillip Heketoa, Susana Tasi, Tanirose Tausie, and Vivian Hosking-Aue take to the catwalk at the Pacific Fusion Fashion Show this Saturday, May 28. Tickets are available at Fusionfashion.co.nz
Celebrate African culture
To mark the founding of the first union of African countries back in 1963, Te Ara Tukutuku/Silo Park will be transformed into a free day-long family-friendly festival of dance, food and markets. Hear Rwandan-Kiwi rapper Raiza Biza, Zimbabwe-born TK Paradza, DJ Banty and more, and make your way through a sundry of delectable food trucks. Saturday May 28 from 11am to 5.15pm
See The Northman
Robert Eggers' mega-budget Viking revenge tale, variously described as "bloody", "ambitious" and a "death-metal ode to honour", is in cinemas now. The Scandi saga's all-star cast includes Alexander Skarsgard, Nicole Kidman, Anya Taylor-Joy, Ethan Hawke and Bjork, with some truly breathtaking scenery to boot.
BOOK AHEAD
Get lost in the Doc Edge Film Festival
This year's programme, its 17th iteration, boasts 113 documentaries from New Zealand and beyond. See Nothing Compares, on the enduring legacy of Irish singer Sinead O'Connor; Girl Gang, inside the life of a rising teen influencer as she navigates the internet, its potential and its perils; Deep Sea Guardians, the story of three men who, in the hopes of drawing attention to the environmental catastrophe the Dead Sea now faces as it dries up, form a group to swim from Jordan to Israel; or The Other Fellow, as director Matthew Bauer sets out to meet men from around the world all named James Bond. In cinemas across the country, and online, from June 1 to July 10. Tickets are on sale now at Docedge.nz
See Kendrick Lamar
Pulitzer Prize-winning rapper Kendrick Lamar is coming to Auckland's Spark Arena for a one-night-only show on December 16, 2022, as part of his The Big Steppers Tour. Joined by his cousin, Tanna Leone, and fellow rapper Baby Keem, it's poised to be an electrifyingly good night. Tickets are available now at Ticketmaster.co.nz
Share this: