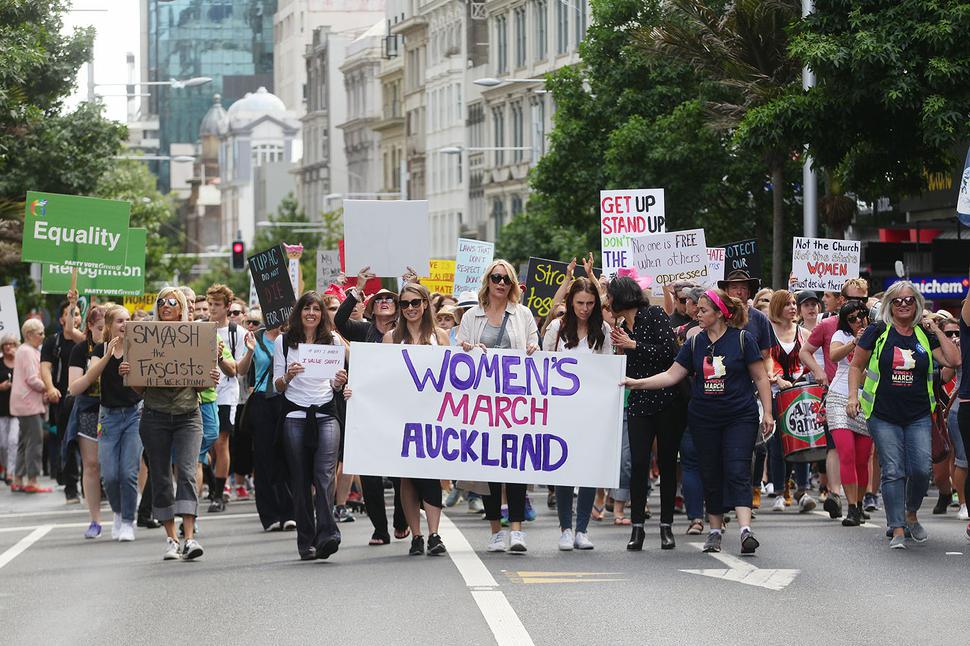 Gender Equality: Are We There Yet?
Nearly 125 years on from when New Zealand women first got the right to vote, we ask if women are finally on the edge of achieving equality
Saturday March 24, 2018
Just before Christmas I stood in front of a Colin McCahon painting, my skin tingling. "I am scared. I STAND UP." Six words in monochrome paint; vulnerability and determination. It had a surge of popularity on social media just after Trump was elected.
Fifteen months on from his inauguration, International Women's Day feels relevant in a way it hasn't previously. Urgent, even. Feminism has a new momentum, thanks to Trump and his "grab 'em by the pussy" misogyny. Opportunities to express solidarity, to be scared and stand up, now abound — weirdly, he's done us a service.
The rise of Trump and the unmasking of Hollywood abusers are US phenomena — in terms of the seismic convulsion in gender relations, America is ground zero. But uncovering the rot that was hiding just beneath the surface in so many places, from law firms to the fashion industry and plenty more that we're yet to hear about, has prompted a reassessment of power dynamics across Western culture.
READ: Theatre-Making Challengers Eleanor Bishop & Julia Croft
Here, the fallout continues from the Russell McVeagh scandal. As similar stories follow, we can hope that, just like in America and the UK, powerful abusers will soon find themselves without the protections they're used to. It's not just the accused who are feeling a sense of culpability. Amid a need to interrogate behaviour that, in retrospect, might be a bit dodgy, the men I know are getting woke to power dynamics in a way they weren't a year ago. This bodes well for a more equitable society in general.
Of course, our New Zealander of the Year, the indomitable Kristine Bartlett, was fighting unfairness well before Weinstein was unmasked or Trump elected. Her case for equal pay for her fellow female care workers was considered laughably out of touch with economic reality and market forces when she first proposed it. Nevertheless, she persisted, in the best tradition of tenacious women.
In a few months' time New Zealanders will be commemorating the 125th anniversary of women's right to vote, thanks to Kate Sheppard. What better year to honour Bartlett's commitment to equality? And who'll be leading the Sheppard commemorations? A Prime Minister and a Minister for Women, both of whom are running the country while having children.
READ: Shining a Light on the Pacific Sisters' Artistic Legacy
So far, so bloody brilliant. I feel the smug glow that comes with living in a genuinely progressive country without even having to move to Scandinavia. Strong female leadership, a historical legacy of gender fairness AND a reasonably temperate climate. Truly, we're lucky. That's not to minimise the work ahead; #Metoo is proof of how much still needs to change in order for women to feel safe, and equal. That's before we even get started on sex. How can it be so hard to lift the bar higher than establishing consent, for God's sake, as a minimum? Just thinking about all the different imbalances of power that need redressing can be exhausting.
I suspect Bartlett didn't spend too much time angsting on her journey. And if the women she fought for were largely invisible — looking after the sick and elderly for very little money — they were also practical, empathetic, the kind of people who just got on with it. It's infuriating to think that the very qualities that made them so well equipped for care work were the same ones that allowed them to be written off as low-wage workers.
Bartlett argued that if it was mostly men doing that job, the pay would be different. Five years, two court cases and three appeals later, the courts finally agreed with her.
READ: The Game-Changer: Prime Minister Jacinda Ardern
"That's just the way the world is" is all too often a standard response to unfairness, abuse even, whether it's less money in your pay packet, an unwanted proposition, a drunken leer or a wolf whistle. It takes a lot of energy to punch through that inertia. Bartlett's landmark victory for care workers and Kate Sheppard's votes for women are thumping great punches.
We're not all going to be heroines but we can all do our bit to keep the punches coming. The possibility that this momentum could be lost doesn't bear thinking about. I had a baby girl in July last year, and one of the nicest things about becoming a mother was realising I'm old enough now to have some perspective, to know that different stories ebb and flow through history.
#Metoo won't be here forever at the front of our consciousness. Before it fades, we need to make sure its underlying principle — that men's behaviour towards women needs to change — becomes part of the air we breathe.
Things are in flux right now, and that is exciting. The stakes are high but when we are on the edge of a world that is so very different, there's everything to play for.
Share this: