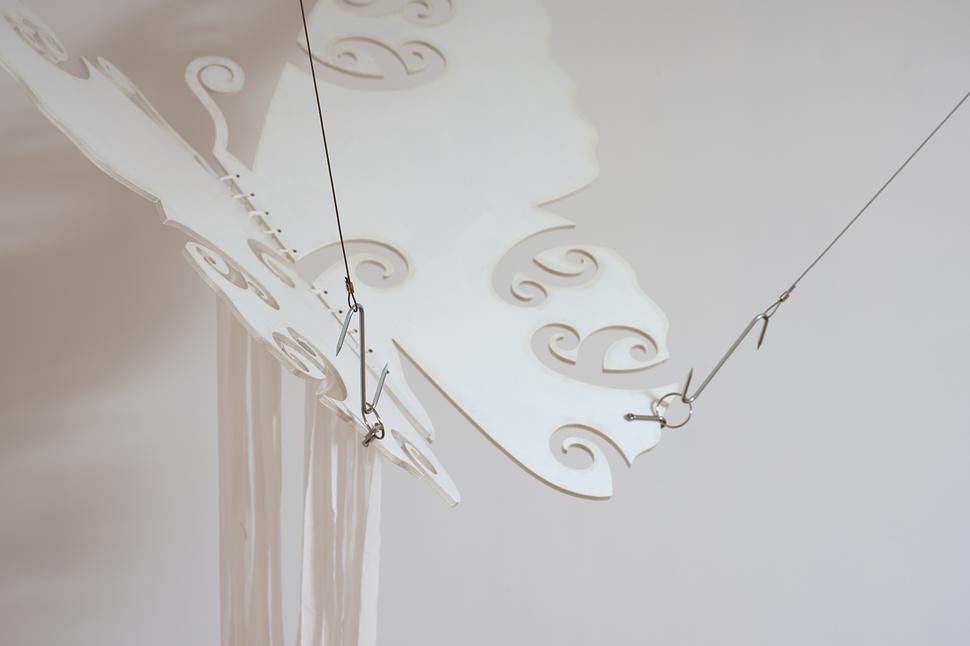 Artist George Watson On Butterflies, Agriculture & Reimagining Mansfield
Her latest work is a suspended laser-cut insect suspended with meat hooks
Saturday Feb. 26, 2022
For multidisciplinary artist George (Georgina) Watson, of Ngati Porou, Ngati Mutunga, Moriori whakapapa, a fascination with early settler literature, colonial imagery and ideologies from the British Empire has led to a thoughtful and beautiful body of work that questions imported colonial culture and the way it has shaped our understanding of place, property and belonging.
George's specific interest in writer Katherine Mansfield's 1907 short story Summer Idyll — a tale that hints at her infatuation with a beautiful Maori woman, inspired the work Carlotta, that appears in this year's Molly Morpeth 3D Award.
READ: Hana Maihi Is Beautifying Downtown Auckland — One Grand Work At A Time
Carlotta was a nickname for her rumoured lover, Maata Mahupuku. Yet no one really knows if their friendship led to anything more, George says. "However, her love for Maata highlights the complications of this kind of relationship at the time — the lesbian aspect and the Pakeha/Maori aspect," she explains.
The resulting suspended sculpture is both soaring and static, a suspended white butterfly laser cut with kowhaiwhai motifs.
"The butterfly is often utilised in western symbology to signify freedom and the patterns cut into the wings traditionally run across the tahuhu of our meeting houses, encoding whakapapa and binding generations to their turangawaewae [identity]."
Yet there is something sinister about this butterfly attempting to take flight — she is bound by meat hooks and held together by corsetry ribbon — suggesting an element of entrapment.
"The meat hooks reference early settler rural agriculture and industry, and the corsetry ribbon a mechanism of restraining the body through clothing."
On the walls surrounding the sculpture are stencilled names in red; Kathleen, Marina, Katherine and Carlotta. She used a woolpack stencil to write the names — another tool referencing early agriculture in Aotearoa.
"The names are all characters from Mansfield's short stories — I've always had an interest in the politics of names. My nana had a beautiful Maori name but had to change it to an anglicised version when she married my Pakeha grandfather."
George relocated to her family's hometown of Gisborne when Auckland went into lockdown last August, prior to this she had worked as set dresser on films — a role that satisfied her interest in fashion and also piqued her interest in making video works.
READ: Get To Know Artist Of The Moment Peata Larkin
For her first solo show at Te Uru Waitakere Contemporary Gallery in Titirangi, George created a film set which reimagines scenes from the same Mansfield short story, Summer Idyll. The resulting filmic and sculptural installation examines the forms of the colonial villa as a metaphor for the disquieting aspect of early settlement in Aotearoa.
For now the Elam master's graduate is staying put in Gisborne, where she works for the family beekeeping business.
George says her return home has been very grounding and she's enjoying the collective support of other wahine at Hoea! Gallery — an artist-run gallery and project space in Gisborne created and curated by wahine Maori — where she will be involved in a group show in April this year.
Share this: