Get To Know The Newest Ballroom House In Aotearoa, The Avant House Of Dawn
The ever-evolving ballroom space is welcoming a new player to the scene with a focus on gender freedom and queer artistry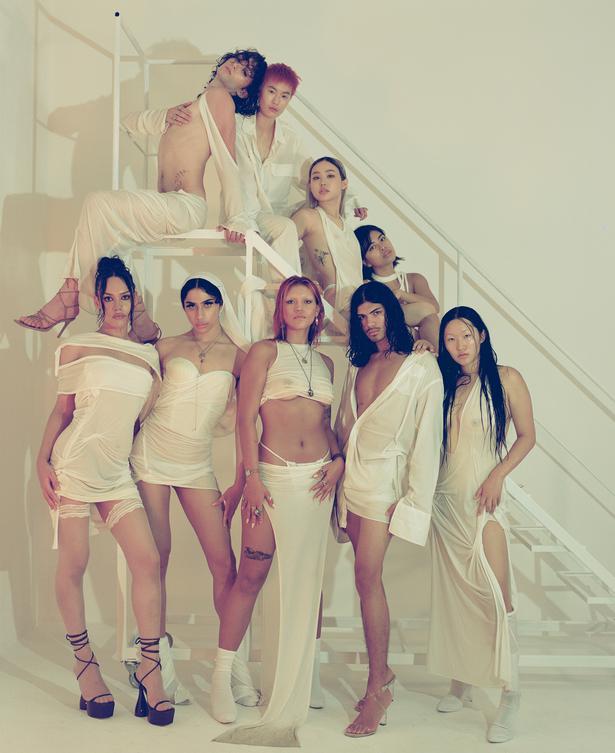 Thursday Feb. 24, 2022
Formerly known as Murder Haus, the newest ballroom and creative collective on the scene, The Avant House of Dawn, has landed and is hoping to help evolve and reshape the ballroom scene in Aotearoa with its commitment to queer artistry and freedom of self-expression.
Housemother Venus shares her hopes for the future of ballroom culture in Aotearoa along with members Kara and Bikyu.
VENUS
You've chosen to rename your house and creative collective from Murder Haus to The Avant House of Dawn. Why was the time right to make this change?
As a collective, we have been blessed with so many opportunities to learn and to refine our craft together. But in these first formative moments of our House, COVID has had such a drastic impact on the queer community and how we see each other, spend time together and grow together.
Without balls, dancefloors and nightclub bathroom conversations to connect with each other our House took solace in our weekly kikis (meetings) and rehearsals.
Over the summer, the experience of preparing for our first festival gig as a full collective made us realise how much we had shifted from mothers to children dynamic, into a fluid and morphing state of equal listening and leading.
What became clear for us then is that the House had changed, that we had changed, and that we wanted our name to reflect who we had become.
Dawn ushers in a new era for our whanau wherein leadership and agency are a shared collective experience, and wherein we are radically committed to a loving and hopeful future.
While myself and Ego will always be mothers in so many respects, it felt like the perfect time to usher in a new Dawn, one that is led by the agency of every artist in this collective.
READ: Creative Freedom Allows Truth": Joshiua Venus Blacklaws On The Power Of Visual Authorship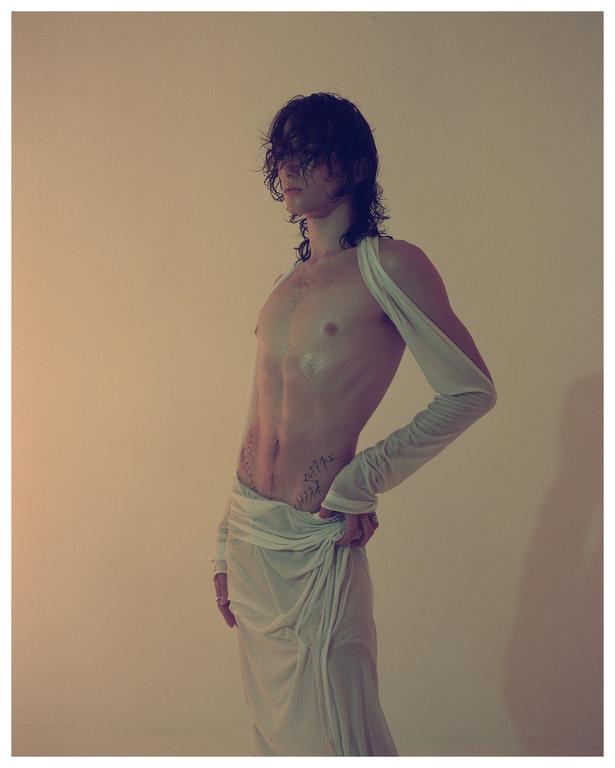 Where did the inspiration come from for the new name of the house?
As a collective I think we have moved quite spiritually from night into day. When thinking about what our House originated as, we were born from a desire to break the mold.
We wanted to push boundaries of the artistry in our queer nightlife scene and to make loud and challenging statements. Our name and our energy was dark and 'edgy', and that felt like it somewhat boxed us into an idea of who we were rather than who we as a collective wish to be. As queer people what we wish to be is important. Aspiration is important.
What was imperative to us was to think critically of the language we used to represent ourselves and to understand the power and implications of certain language within our community. For a long time, I think we were quite naive, but the experiences of growth and nurturing we have since shared together has shifted us collectively into a new space of thinking. Dawn is aspirational.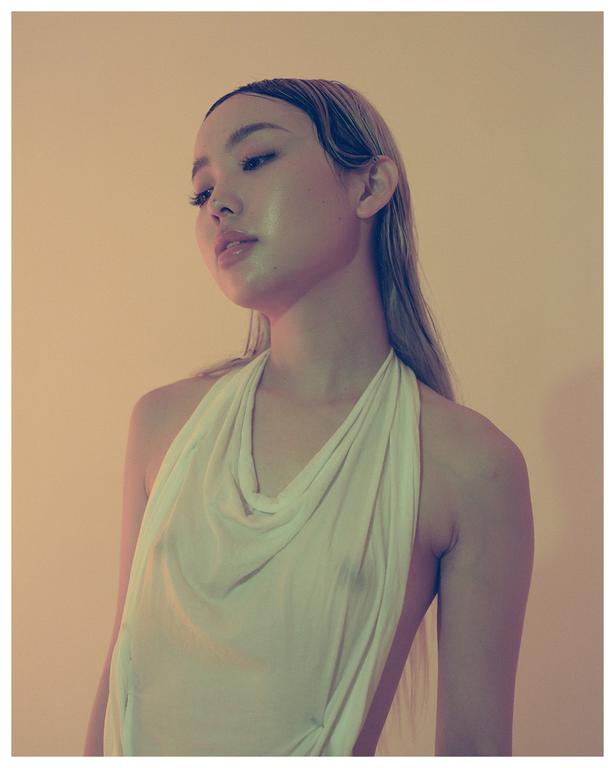 It is symbolic of the first light, of the beginning of a new day and a new era. It's rather literal, too, as we feel that we are truly at the beginning of the future of our House. Dawn is us, Queer, Brown, Asian, Trans and Nonbinary. It is a collective dream for oneself, for the world, for representing a new age of gender freedom and queer artistry. Dawn is warm and it is hopeful, and that is what we wish to be.
There is a real family connection with the house and softness to the new shoot you have worked on with photographer and creative Rob Tennent. How would you describe the family values of The Avant House of Dawn?
With so many of us being in transitional states within our own understandings of gender and identity, I think softness was vital to us in recapturing The Avant House of Dawn.
There's a certain pressure as queer people to perform, to be the most of something or the best at something, to prove yourself as valuable or worthy of simple respect. It can be draining, and it can make your unaltered self feel so lacking. Rather than simply continue this performance we wanted to instead just capture beauty.
Beauty in simply just being. Beauty in existing in our bodies in whatever form they may take. There's an essence to it that just feels so affirming, and Rob is such a talented creative that it was an honour for us to work with him in this intimate way and share that artistic exchange with him.
READ: Local Creative Rob Tennent's Ode To Summertime Freedom & Brotherhood
We have and always will be standing on a foundation of intense and devotional Love. As a mother what I have witnessed is Dawn's commitment to one another, to protecting, holding and guiding each other through every challenge within our individual lives. So, when we speak of our values, love has always come first.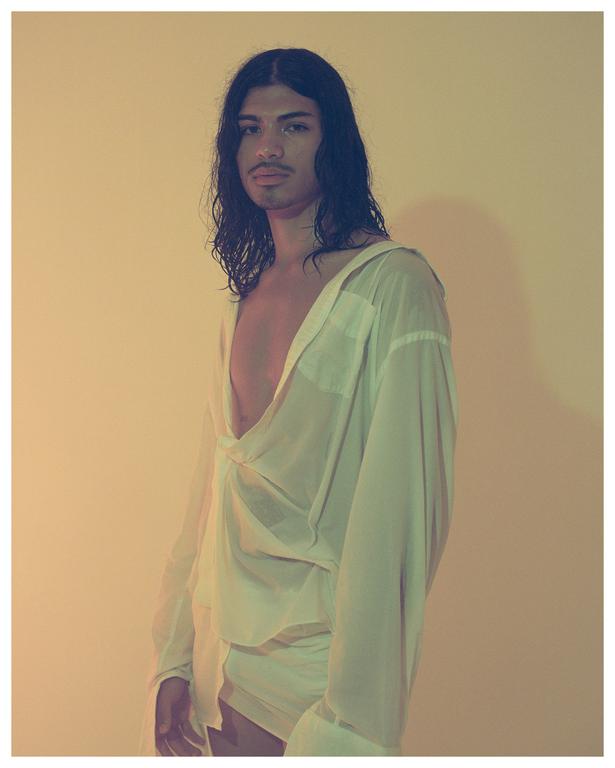 From there as a collective we are wholeheartedly committed to telling stories through our forms of artmaking, we are committed to celebrating others for their being rather than only for what they can offer, and we are devoted to nourishing what can only be described as a spiritual understanding of transformation.
Transformation within ourselves, within this collective, and hopefully outwards into our community.

Where do you see the future of ballroom culture progressing in Aotearoa?
When we think of the future, we can envision a community that is much more unified by the celebration of our differences. We still consider ourselves fresh to ballroom, with so much to learn and so much to see from the work of the trailblazers before us.
As artists and as walkers we have a long way to go before we could stand next to the other houses that have built this vogue scene in many forms since 2013.
As we step into this next era of The Avant House of Dawn we are excited to put our visions into tangible action, and use our collective strength to cultivate and grow the next generation of the queer community and ballroom in Aotearoa. To do this alongside the creatives we admire, and the founding and new-gen houses that are sure to come will be an honour we can't wait to earn, one catwalk at a time.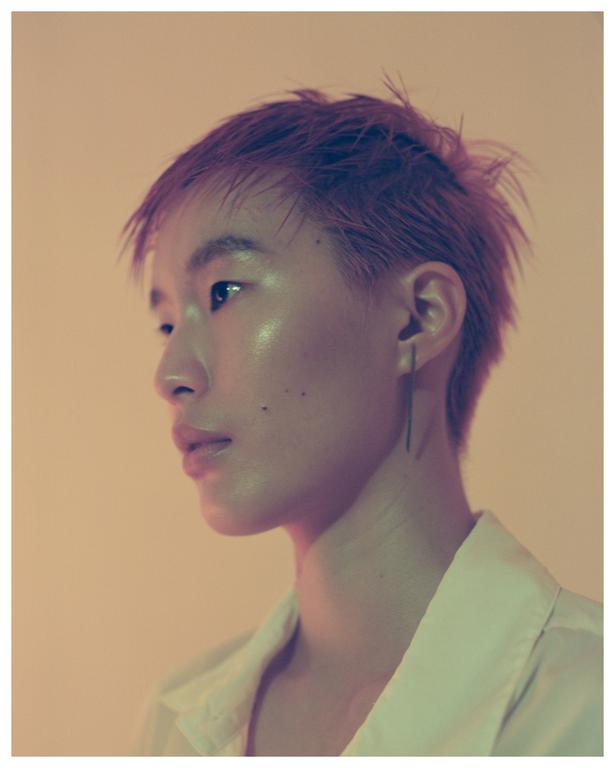 As a transgender man with a Chinese background, Bikyu was able to embark on the difficult journey of transition with the love and support from the house. While the topics of one's trans-ness and queerness remain somewhat sensitive to discuss and explore in where they come from, the house and its members formed a close-knitted system of support, where Bikyu found himself comfortable to express his gender identity.
BIKYU
Kia ora Bikyu. We last worked together on volume four of Viva Magazine. Since then, you've made the transition as a transgender man which has allowed you to live your true authentic self. How does this feel?
It's liberating. I've always known that I'm different, but I lacked the vocabulary to describe the experience. I never thought of myself as a girl or a woman since as early as I can remember — when I was around five or six, I wanted to be the prince and never the princess.
I blame the negative connotations that people around me back home tend to associate with terms like "transgender" or "sex change" for my reluctance to claim those terms for myself. So that I would not "become" one of those "transgenders" that they laugh at.
READ: Style Liaisons: In Conversation With Activist Shaneel Lal
However, since moving to Aotearoa, I have been very blessed to know and be surrounded by many brave trans people. When I see them living their lives as their authentic selves, their beauty and essence shined and shattered those negative meanings around the words.
In this sense, I see my transitioning as the process of not only me understanding myself but also learning the vocabularies and knowledge that can accurately describe my experience, connecting me with so many others, and ultimately allowing myself to be free from the binary gender and sex system, which for the longest time has been confining me.
How has the house provided you with the support and resources to make that transition?
The house has supported me in all aspects of the transition. First and foremost, everyone being themselves unapologetically gives me the courage and comfort to be myself. I feel the safest when I'm with my house. The energy and the love that I have been receiving from virtually every member of the house have been vital for me in my journey.
It is also because of my house, especially mother Venus, that I got to learn about and eventually took my first step into the ballroom scene in Tāmaki Makaurau, where queer bodies and artistries are celebrated.
And I began to pick up means to express myself in ways that I never thought I could. The knowledge I learned from the house and ballroom culture has enabled me to connect with the community deeply and be aware of the struggles now and in the past. These have been helpful when I'm dealing with my own struggles in my transition.
I would say I have been out of my comfort zone, both in terms of my own bodily experience and of the way I would manoeuvre myself around people now that I'm out. It still gets challenging and frustrating at times, but knowing that I have 100 per cent guaranteed support from my house, no matter what happens, has made all the difference for me.
What does this new era of The Avant House of Dawn mean to you personally?
Bolder moves to embrace creative freedom, celebrate different cultures and celebrate my culture — a reconnection to my roots, my country and the community there. As the name implies, there is a sense of hope, optimism, fearlessness and boldness. And I would love to take that for myself as well.
The queer scene in China is slowly emerging, and the world is beginning to see some of its charms. China is forever going to be my homeland, and I care for the community there as much as I do here. It would be a dream to connect my chosen family here to the community back home in China.
From your own personal lived experience, what words of advice or support can you impart on others trying to find their voice and express their true gender identity?
Spend time with yourself, talk to yourself, be patient with yourself, get to know yourself, be best friends with yourself. No one will know you better than you, and the greatest love you can ever receive is self-love. So in this respect, accept that it's okay to be selfish and prioritise yourself sometimes.
People will forever have opinions; they might tell you, they might not. If an opinion is not uttered, then it has no meaning. If it is uttered, take what can help you grow and advance and ignore the rest. Keep an open mind and allow changes to happen. Be kind, be generous, be tolerant and be grateful because no one is obliged to satisfy you.
What else are you working on this year that you are excited about as a creative?
I was supposed to perform solo for the first time at Lychee Baybee, an event organised by All My Friends to celebrate queer Asian creatives, but that didn't happen because of Covid. My sister in the house, Minsoh, and I are working on my first-ever lip sync video.
The choice of the song is 春光乍 洩, which pays tribute to two of most important queer icons from Hong Kong, Leslie Cheung and Anthony Wong.
The video's visuals also draw inspiration from HK films in the 90s and early 2000s. This year and in the future, I plan to do more collaborations with fellow Asian creatives in and out of Aotearoa, and I'm very excited about that. It's time we queer Asians make ourselves seen.
When it comes to fashion, what is a look you love to serve and makes you feel confident at all times?
I love a casual and minimalistic business look. Think the costuming in Infernal Affairs (無間道), Chow Yun-fat, Ti Lung and Waise Lee in A Better Tomorrow (英雄本⾊)) or Roy Cheung in Young and Dangerous 4 (古惑仔).
I think that's a look that best describes my personality and my way of living and interacting with other humans. I make an effort to try always perform in clothes or costumes designed by Asian designers. So far, I've performed in clothing designed by two of my favourites in Aotearoa, Richard Huang and Jing He.
What's the best advice anyone has ever given to you?
My mom has this idea from Immanuel Kant up on her Wechat bio, which says, 'Freedom as autonomy.'
She loves to say that to me too. And I do like that idea a lot; the idea essentially understands individual freedom as self-governance. It taught me that freedom is not free, but I'd always have the agency to change and adapt to different situations, and this has got me through a lot of hard times.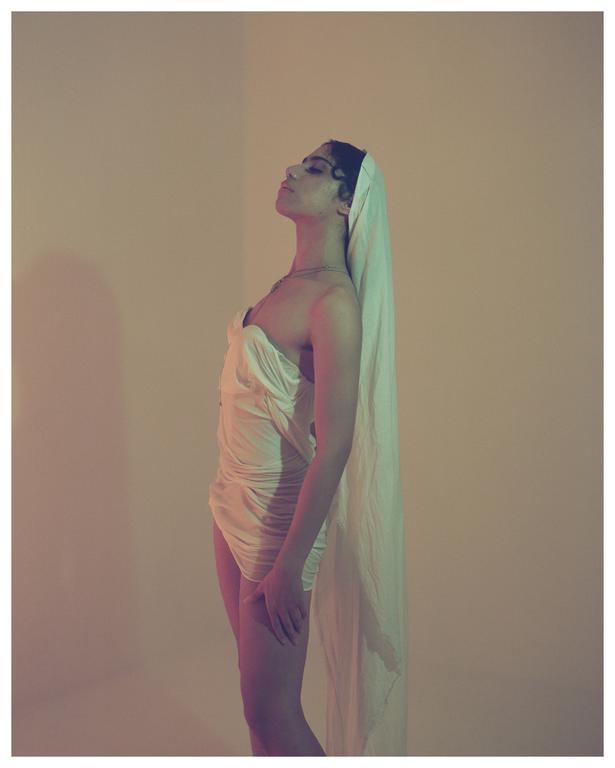 Kara, whose whakapapa traces back to Te Whānau-ā-Apanui on the East Coast and Ngāti Maniapoto in Waikato, is a trans nonbinary artist and law student who, coming from an all-boys school in Hamilton, is first experiencing a queered world at 18 years old.
KARA
Kia ora Kara. How has your time with the house shown you the support you need to thrive?
I think with anything as daunting as starting your life again in the city, having come up from rural East Coast, you kind of need that fearsome space to express yourself; your identities and your expression, your indigeneity, your hori.
A space that has been fought for and nurtured by Black and Indigenous POC. In Tāmaki, how it grew up in the warmth and glow of MPI. I feel like AHOD (Avant House of Dawn) nourishes me in the way a mother would, with guiding hands who through us weave the next generation of the Tāmaki art, ballroom and performance scene.
I think that motherly tenderness has given me an abundance of aroha that has supported this new transitory phase my life is heading toward.
What does this new era of The Avant House of Dawn mean to you personally?
The new era is the newest evolution of an already deep and enormous artistic form that they birthed as mothers and that we now inherit as children. I met Venus and Ego at the local ki downtown. And what is true right now as it was back then eight months ago is that their house, my house, is a force of power.
And as the newest daughter, I feel as though I am catching a wave that refuses to crash and Dawn is simply its next form and shape. But the outline, dimension and shadow that it leaves is long and lasting.
READ: The House Of Iman's Fashionable Roots & Understanding Our Vibrant Voguing Scene
Your chosen family has people from all walks of life. What was it like coming from Waikato and an all-boys school and being fully embraced and accepted for who you truly are?
Hamilton is small. When public perceptions are narrower it doesn't always lead to the most comfortable place to be when you're visibly queer. But I'm from smaller, and even there not once did I ever let the public dictate what or who I should perform as.
My previous school knows all about that. So being 'fully embraced' and 'accepted' was never on the agenda for me. Where it concerns Dawn, no collective has embraced me faster. Dawn is the first glow of the sun.
It's a delicate hold that I feel the house provides me. They're a reassuring scream in the distance or the hand to hold the bobby pins. At every step and kick and walk and strut the girls are ready to cheer me on. There's no embrace sweeter.
When it comes to fashion, what is a look you love to serve and makes you feel confident at all times?
The shortest, thinnest cut-offs of fabric I've bobby-pinned into a makeshift skirt. There's something about exposure to the elements that makes me feel more me, and using less is always more in my opinion.
What else are you working on this year that you are excited about as a creative?
Performing with Dawn, alongside such talent and skill, has led me toward a personal epiphany. I've come away more assured in my artistry and expression and unendingly inspired by the giants around me. All of this I feel I'll be channelling into my debut this year and the performances I have as both a collective and individual. A tide is coming and I'm excited for the abundance it will bring forward.
What's the best advice anyone has ever given you?
Listen. Take pause to just sit with something and reflect. I think my mum telling me to whakarongo (listen) and pay attention has given me a tool that I've used to avoid a lot of hurt in my life. Or titiro (observe) when she's showing me how to do something. We forget the things our mothers teach us sometimes, but I will always encourage everyone to be a better listener.
In Dawn, watching the mothers pass their experience onto me and the other children makes me appreciate them more for the taonga (treasure), the heirloom they are passing on.
Share this: