Why 'Gilmore Girls' Brings Mothers and Daughters Together
When Netflix released four new episodes of American TV series Gilmore Girls last week, there was one person Eleanor Steafel really wanted to watch it with
Saturday Dec. 3, 2016
Unless you have a daughter in her 20s, chances are, you have never heard of an American TV series called Gilmore Girls. But if you do, then you may know why legions of its devoted fans (myself included) took the day off work last week to watch four new episodes as soon as they dropped onto Netflix, nine years after the last series aired.
It's an odd little show in many ways, completely unlike the dark Nordic noir with which we now seem obsessed, or other current hit show The Missing, filled with murder, abuse and heart-stopping twists.
But to people who know and love it, Gilmore Girls — or GG, as true fans refer to it — is practically a religion. And for mothers of millennial daughters, it remains essential viewing. Last weekend, my family flew out to see my sister, who is living in France at the moment, and she, my mum and I banished my dad and brother to another room while the three of us settled down to watch the new episodes.
The programme, which first aired in 2000, follows the life of Lorelai Gilmore, a young woman who got pregnant at 16 and ran away from her wealthy, overbearing parents to live in a little town in Connecticut called Stars Hollow with her daughter Rory, who is herself turning 16 when the story begins.
Over the seven original series — which, in all honesty, probably wouldn't even get commissioned today, there being so little grit and gratuitous sex — the Gilmore mother and daughter find their faltering way through the highs and lows of life, tackling their problems as a team.
They were the ultimate duo. More like best friends than a parent and child, they shared everything and seemed to have a special language, peppered with niche cultural references and anecdotes only they could understand. They watched TV together, went shopping together, went on holiday together. And for young viewers like my friends and I, they were (and arguably still are) a unique pairing on TV — two clever, funny women talking a mile a minute about the "me too!" things that affected us all.
They were the original "strong women", but they weren't gun-wielding, crime-fighting, spandex-wearing super girls. Rather, they spent most of their time sitting on the sofa or at the kitchen table, eating macaroni cheese and icecream, mulling over the big questions in life. And (the true genius of the show) the minutiae.
It was through watching Lorelai and Rory hash out all of their worries, passions and peeves that the teenage girls who grew up with the show were able to get to grips with their own angst. They enjoyed the kind of relationship every girl my age wanted to have with her own mum and thought she didn't — not realising that we had come closer than any generation before us.
My friends and I may not have believed so at the time, but in many ways we had more in common with our mums than they had with theirs. It must have been hard at times for my grandmother, Irene, who was born in 1919, to relate to my mum, Penny, whom she had rather late in life — 14 years after my uncle — at 42 years old.
Mum, now 55, was a teenager in the 70s, when silky flared trousers and suede mini skirts were the height of fashion and the Doobie Brothers were blaring from every self respecting 15-year-old girl's Walkman. Their experiences of growing up in north London were worlds apart. At 20, Mum was pretending to read sociology at Warwick University while spending most of her time going out drinking with her mates or driving up to Lancaster to watch my dad play rugby.
When my grandmother was 20, she was driving ambulances in London during World War II and waiting for my grandfather to return from serving as a paratrooper so that they could elope.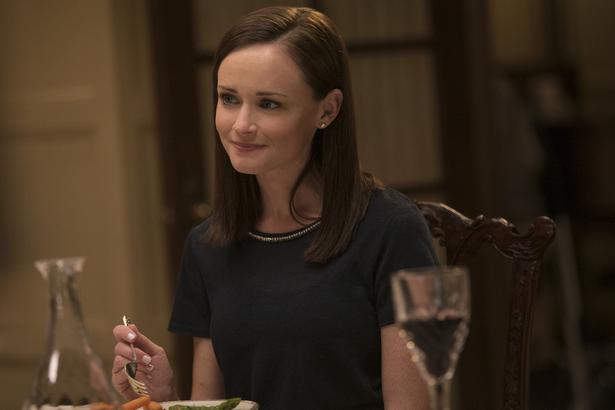 In spite of their vastly different life experiences, Mum and Nanna were very close, though they had a different bond from the one my sister and I are lucky enough to share with our mum now.
"We definitely have more in common in terms of what we like to do, the things we enjoy seeing and experiencing," Mum tells me. "And our relationship has become more like a friendship as you've got older. But then, I probably had a lot more in common with my mum than she did with hers, in turn, too."
In many ways, the Steafel girls have little in common with the Gilmores. Unlike Lorelai, Mum wasn't 16 when she had me, for a start. And she didn't raise me (or my two younger siblings) on her own. Our home wasn't in a tiny Connecticut town where nothing happens, it was in the mad, bad streets of west London (ahem). But perhaps our relationship hasn't been so different.
Like most of my girlfriends, I genuinely love spending time with my mum, which is lucky, as — like 32 per cent of millennials — I'm back living at home with her and Dad. We go shopping together, we go on holiday together, we like a lot of the same TV shows and music, we spend time with each other's friends. She is always the first person I call, whether it's to lumber her with a lengthy rant or to tell her exciting news.
READ TV and Film Remakes Worth Watching
No matter how old you are, I imagine every woman has moments when her mother seems a maddening figure who couldn't possibly understand their life choices. But as you get older, you realise you're not so different, after all (something they have known all along). Now and again, growing up, it would briefly feel as if the gap between us yawned apart, but then we'd sit down to watch an old movie together and it wouldn't feel quite so wide.
An old school friend found that when her mother was diagnosed with cancer, two years ago, it was watching Gilmore Girls together that helped bring them closer:
"Mum became very distant and we didn't speak much during that time," she told me. "But every night, after eating dinner in silence, we sat down on the sofa, watched Gilmore Girls and held hands. One evening she finally opened up while we were watching an episode and from then on, everything was a little bit more bearable."
READ The Best and Worst Onscreen Mums
Some of the most powerful moments in the show are when you catch a flicker of that relationship from both perspectives. In Lorelai, daughters can see how it must feel to be a mother, nervously watching your child stride confidently out into the world; through Rory, mums realise that, beneath the bravado, your not-so-little girl is probably just as terrified of leaving you.
The year Rory went to university, my friends and I were also preparing to leave home for the first time. We were attending open days and imagining the fabulous lives we were going to forge for ourselves: excited on the surface, but secretly scared — just as Rory was — of leaving our mums.
The subsequent mother-daughter separation was something both generations could relate to while crying quietly into our sleeves. That was also the summer that Mamma Mia! hit the cinemas and had every mother in the country sobbing through Slipping Through My Fingers. The 2000s were tough on mums.
I was devastated when Gilmour Girls came to a sudden end in 2007 — the network dropped it and the storylines had to be wrapped up all too quickly. Then I was beside myself when I heard it was coming back this winter, almost a decade later.
The new episodes feature a 32-year-old Rory — the same age as her mother was in series one. She is struggling with all the issues we saw Lorelai encounter, while she, in turn, is finding her own path through mid-life. It felt both fresh but wonderfully familiar — still the perfect antidote to a world that can at times seem all too grim. And it ended with a stonker of a cliffhanger that has given GG fans hope that there might yet be more in the pipeline.
With all seven series available on Netflix, along with the four new feature-length episodes, Gilmore Girls remains a ritual — a programme I come back to again and again; half-watching old episodes in the bath, or putting it on in the background while cooking. Often, it's as comforting and life-affirming as a chat with my mum.
— The Daily Telegraph
Share this: