SPONSORED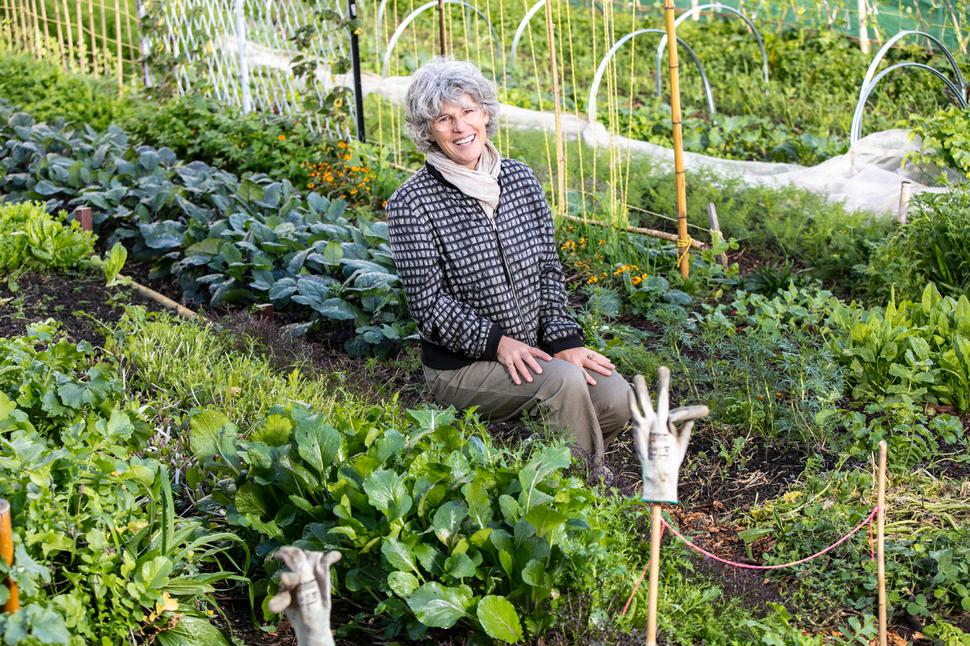 Going Green To Beat Climate Change
This new series sees Viva and Dilmah celebrate the change-makers throughout New Zealand, chatting to each over a humble cup of tea
Wednesday June 26, 2019
There can't be many people who get excited about the prospect of capturing worm flatulence. Then again, Sarah Smuts-Kennedy is passionate about the natural processes many of us take for granted: fermentation, pollination, the way plants absorb carbon dioxide (and invertebrate farts).
There is possibly nothing she doesn't know about the benefits of composting, a process she will happily explain at the Symonds Street patch of Eden she tends. The Organic Market Garden, or OMG, situated at the junction of Symonds Street, New North Road and Mt Eden Road, began as an extension of her artistic practice, For the Love of Bees, and has expanded into a community labour of love.
Everyone from local organisations (Phantom Bill Stickers, City Rail Link and the Auckland Design Office at Auckland City Council, who funds For The Love Of Bees) to horticulture students and members of the homeless community have a stake in its sustainability.
"It's an amazing project, incredible," she says. "A window opens [in visitors' minds] and that's the delight – it's why it becomes an artwork. It's wonderfully centring in a human being when you suddenly understand how the ecosystem is so elegant if we can just get out of its way to repair itself."
Until October last year, the Junction Community Garden as it was formerly known was run by volunteers. But after City Rail Link commissioned Sarah to take the helm and secure funding it has flourished into a thriving market garden. In six months she says the garden and bee sanctuary has generated 10 tonnes of organic matter – gold dust in terms of soil quality – simply through growing food.
On Tuesday mornings, the public can buy the fruits of this labour. On any other day, they can learn from this example of urban farming, become inspired by what's possible. Or they can drop off food scraps to help rebuild the soil. The garden also supplies local restaurants.
"The exciting thing is we're creating biodiversity havens," Sarah explains. "We're improving the microbe levels in the soil, oxygenating the soil, the rain is falling to the earth and suddenly you've got water retention, the plants are photosynthesising, filtering the air, lowering the temperature."
The threat bees are under provides an entry point for a larger conversation: her belief that we possess the ability to stem climate change. If it's possible to replenish the biodiversity in this 600 square metre plot, she says, it's possible everywhere. That requires a cultural shift in thinking, away from the convenience of modern life, including the conventionally-grown food we buy from the supermarket.
Scaling this concept up to meet the needs of an entire population might seem economically challenging but Sarah says it can be done if consumers demand change. Her hope is to encourage similar gardens within each kilometre of cities in the next three years.
A recent German study found it's not just bee populations that are declining at a rapid rate, but all flying insects, their population plunging by 75% in just 27 years. Although the cause has not been determined, researchers say the destruction of wild areas and widespread use of pesticides are the most likely factors.
"When you realise how resistant our industry is in getting rid of chemicals from production," she adds, "then you become concerned not just with the ecosystem but the bodies of people consuming those chemicals."
Before the topic of biodiversity took over her life, she was an actress. Throughout the 1980s and 1990s she worked steadily here and in Australia, with roles in films such as Jack Be Nimble and An Angel at My Table; her most recent performance was in Michael Galvin's 2006 play New Gold Dream.
Then she fell in love with gardening. Her love of nature and teaching meshes with her art practice, which explores the intersection between energy and biology through painting, sculpture and "social sculpture," an apt way to describe the For the Love of Bees concept. A graduate of Elam, her work has been shown throughout Sydney and Auckland, and she has an exhibition opening in December at the Sophie Gannon Gallery in Melbourne.
Sarah says her art practice explores the intersection between the energetic and biological systems that have the potential to amplify and support life. Whether this is through a drawing project, a sculptural intervention or a city wide invitation, Sarah's cross-discplinary investigation holds her practice together as a singular research project. 
This research comes via the universal and symmetrical thermodynamic principles of syntropy and entropy, terms Sarah came to understand through her biodynamic gardening practice. "Put simply, entropy is the dissipation of energy and syntropy is the re-concentration of energy," she explains. Not dissimilar to the principles of Yin and Yang, or falling apart and coming together. By focusing on co-creating systems that have the potential to amplify the thermodynamic principle syntropy, Sarah hopes to increase the qualities that support living systems that come into close proximity with her works.
Recently she worked with another artist to introduce honey bees into Victoria Park, and plant food sources around the city. People loved it, she says, but they were resigned to merely observing. The advantage of OMG is that it's a "co-creation" she says, part of a growing global movement designed to reconnect city-dwellers with food. "For the Love of Bees is a research project at a city scale that tests the capacity of love (a syntropic system) to accelerate behaviours change that supports life on earth," Sarah says. 
She recently spent a month in Japan on a Creative New Zealand research grant. Alongside many fascinating insights gained from visiting Zen gardens, urban farms and art institutes, she visited a rooftop garden in Kyoto that lowered scorching summer temperatures by 20 degrees. She also came away with the realisation that Kiwis aren't just thinking of strategies to save the planet – we're doing it.
"We are the perfect size to model the change," says Sarah. "We're an intelligent community, we have a number 8 wire mentality, we're constantly reinventing."
"Over the years I've really tried to create a life of possibility. I learnt to grow my own garden, I try and meditate daily, I'm interested in systems I can use to increase wellbeing in myself and my local ecosystem. After that, it's a question of, 'is this possible as a social system? Then if it's possible in a city, is it possible in a country? In the world?' That question intrigues me. We're all looking for miraculous leaders to help our wellbeing. Those leaders just ordinary people who stepped up for a period of time. We all need to become the leaders."
This is part of a special Viva and Dilmah Tea editorial series. Watch our video with Sarah at Viva.co.nz/Dilmah. 
Share this:
More Culture & Travel / The Latest