SPONSORED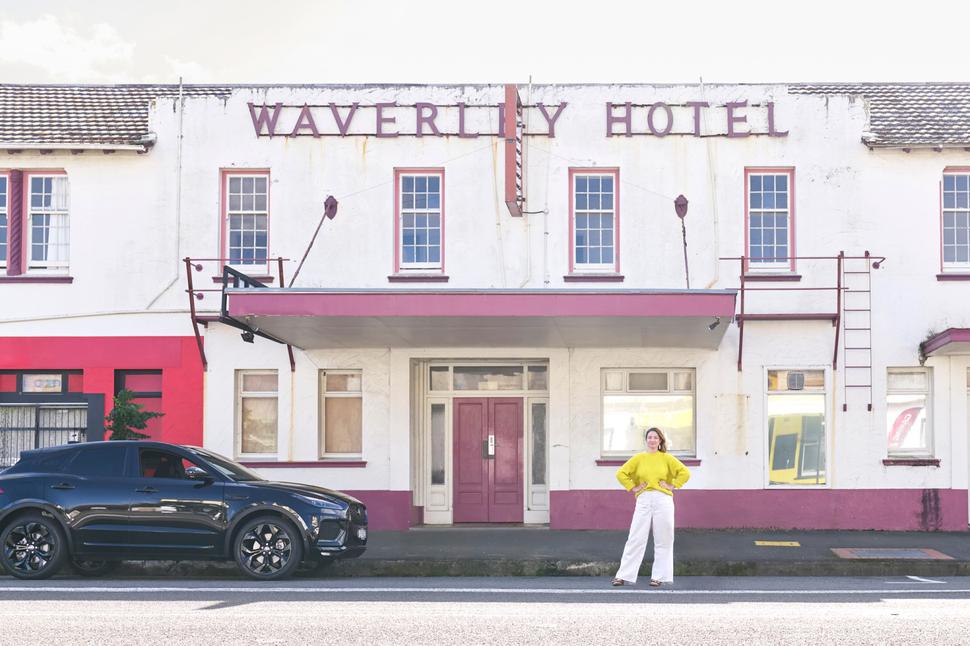 Going Places With Claire Chitham: Waverley
Claire Chitham pays a long overdue visit to Waverley, the small Taranaki town that has been an enduring part of her life
Tuesday May 18, 2021
If Waverley Wilson could have watched me roll into the town she was named for, her jaw would've dropped to the floor, she'd have squealed with delight and then told every single person in Taranaki by the end of day that she'd seen that chick from Shortland Street driving through Waverley in a fancy car.
As we approached the first welcome sign, I did indeed squeal with delight upon arrival. My time in Waverley was very meta.
I was more than a little conspicuous in a stunning brand new 2021 E-PACE Jaguar SUV. I had the pleasure of taking this compact, sexy black cat on a North Island road trip. She purrs as good as she looks and people have been staring at us ever since we started out on our journey. I'd realised that on our way to New Plymouth we would be passing through this special town for, I'm mildly embarrassed to admit, the first time in my life. And I was going to stand out more than just a little.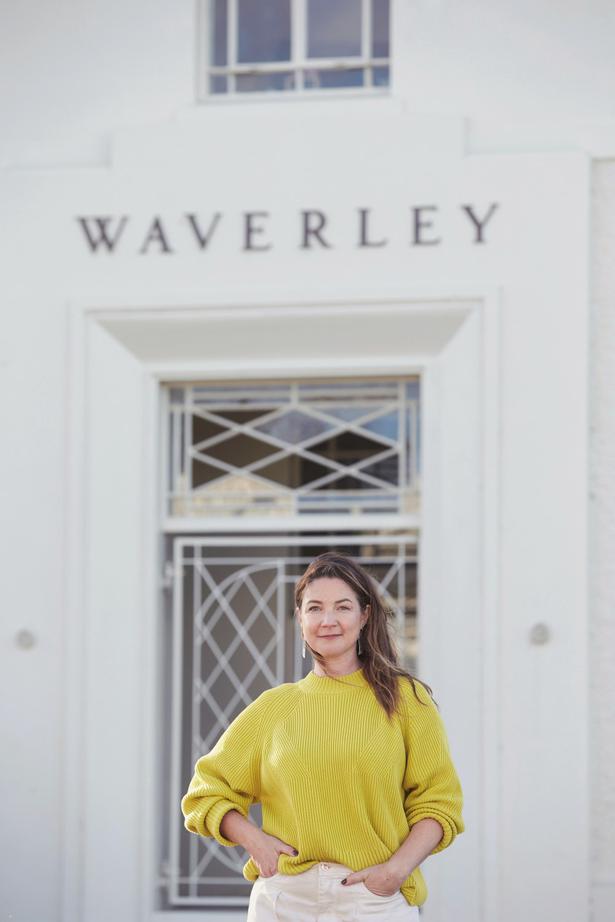 She's a namesake I've been branded with for over 26 years now (yes, I hope that makes you feel old too).
Waverley Wilson was named for the town in Taranaki she was conceived in. As my time on the show stretched on and they introduced more family members, the writers continued this conceit and my brother was called Stratford, my cousin was called Eltham and my sister, Amberley. Look them up.
My own journey with Waverley started when I'd just turned 16. Shortland Street had only graced our screens for a couple of years then, but the impact of the show as a cultural zeitgeist was growing every day.
My very first day on set I had to play rugby with Temuera Morrison (Once Were Warriors had just come out that year) and score a try against Jonah Lomu in one of those storylines where they bring in famous Kiwis to juice up the show. No big deal. My little teenage heart was trying to keep her cool as heart-throb Martin Henderson and Angie 'Kirsty Knight' Dotchin came to greet me and make me feel welcome.
The crew members I met then who were assistant camera operators, trainee ADs and production runners have gone on to become some of New Zealand's top DOPs, directors, production designers, costume and make-up designers, and producers. I know the legacy of Shortland Street for most people in this country is the characters and storylines they've become attached to over the years but for me, it's the people behind the scenes that have peppered my entire life as I've worked and grown up in this television industry.
The question I still get asked the most is "Do people still recognise you?" and the answer is yes, they certainly do. But I'm not usually asking for it.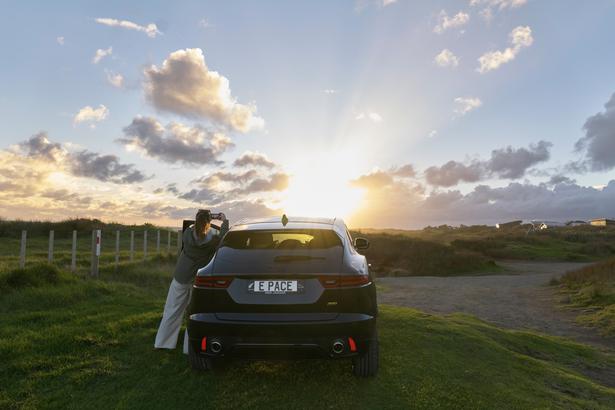 I left the show back in 2004 and definitely tried to shake the shackles of that character and being known for her then. As an actor, I wanted to play other roles and prove my mettle in the world. I did that and I also left the country which is a useful thing to do when you have an identity you'd like to shift. Since returning I care less about what people think of me and more about what I'm creating in the world and when people still recognise me as Waverley they all seem to have a warm, nostalgic glow about them. They smile and kind of go "Aww". This in turn makes me feel warm and nostalgic about her and the place she holds in my heart and life and I simply feel grateful for all that she's given me.
My friend and photographer on this glorious roadie, Renee Bevan, has known me since my 'Waverley Days' and was used to people coming up to me constantly when we were in bars and on dancefloors back in the early noughties. My friends were always very protective and had been known to elbow people gently out of the way if they got too close back then.
This time, I think I would've been hurt if I hadn't been noticed.
I was wearing an obnoxiously loud jumper, with the most conspicuously show-off shiny E-PACE, while Renee stood in the middle of the road pointing her large Leica at me in front of signs screaming 'Waverley' and tried not to get run over.
We got a couple of honks but they were just cautious drivers prodding at Renee's precarious positioning. We thought the greatest irony of this whole story would be that I went to Waverley and nobody ever noticed me, but in that very moment a car did a big U-turn and came swooping back towards us. A mother and daughter leapt out and started squealing at us, while I was laughing and squealing back at them. I honestly don't know who was more excited. I imagine it was a very strange sight.
These delightful ladies took their pics and invited us to visit their clothing store in New Plymouth.
This is what I love about Aotearoa. I stood in front of countless signs, so many signs, with the name Waverley on it but was probably only recognised once or twice. Yet the amount of love I've been shown for this sweet, bumbling character I played over the years is enough to satisfy me for life.
One of the most spectacular views we found in the town was when we turned down Waverley Beach Road, drove past the Waverley Cemetery and Waverley Station to find a stretch of perfectly undulating road through farmland that leads to Waverley Beach and the (now collapsed) Waverley Arch. This was the perfect gift to stretch our Jaguar's legs and see how she performs. The racing history of this British beast is still very present in her new iteration. We roared west to catch the sunset and were greeted by giant wind turbines waving hello at us as we arrived at the end of the day.
Watching the sun go down in Waverley was a truly unique moment in my life. I'm grateful it was captured so beautifully by a friend and that I could share this small journey with you considering the large part she's played in my life. Haere Ra from one Waverley to another.
Claire Chitham can be seen on our screens and has a recipe book of her own on well-being and gut health out now, 'Good For You' available at bookstores and online here.
For more on the Jaguar E-PACE, head to Jaguar.co.nz
Share this:
More Culture & Travel / > Local