Going Places With Claire Chitham & Jaguar E-Pace
Navigating the curves of the capital in a Jaguar E-Pace, Claire Chitham explores Wellington with some of its famous performers, catching up with Joe Lindsay and Miranda Harcourt
SPONSORED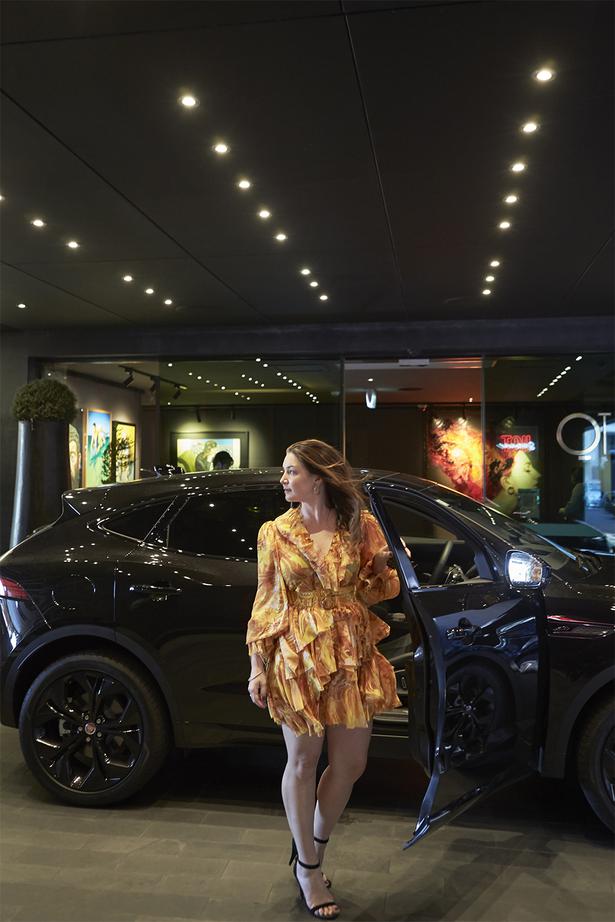 Tuesday June 8, 2021
It's not an imperative that to be a successful musician you also need to be a fashion maven or trend trailblazer, but they do often go hand in hand. If one is going to display oneself in front of the world for one's art, care is taken in sartorial choices, discernment in design. Sometimes it's instinctive. Sometimes it's consciously crafted.
Joe Lindsay ticks all those boxes. You might not recognize him if he passed you in the street, but you'd likely take note of his dapper suits and flare for fashion. However, most Kiwis might only recognise Joe when he's whipped off his silver sequined cloaks and has stripped down into tighty whiteys and 1940s style tennis wear while blasting his trombone or harmonica and shaking his tailfeather on stage as showman 'Hopepa' in one of Aotearoa's most successful bands, Fat Freddy's Drop.
I had the pleasure of touring Tokyo with Joe for a friend's birthday once and even in that fashion mecca he stood out in his fur-edged wooden clogs and custom-made ankle-length tunic made from salmon pink linen. The man constructs outfits worth noticing.
So, when I needed a tour guide with the best fashion, food and cultural advice for my Wellington sojourn and a suitably stylish compadre to go with my brand new, black-on-black 2021 E-PACE, I knew he was the only man for the job (he donned stylishly classic garb for the occasion).
When I picked up the Jaguar she barely had 70kms on the clock. Oh, she was glorious! The smell of new leather and silent hum engine — a mild hybrid electric (MHEV) one at that — made us instant friends, but I'm not ashamed to admit that it was her blatant good looks, curves and sex appeal that had me at "hello".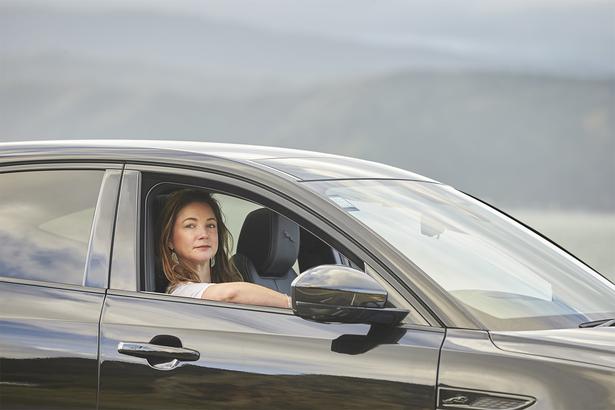 I broke our feline in gently around the equally curvaceous coastline of Wellington's inner harbour. Weaving our way around Oriental Parade, through Seatoun, past beautiful vistas, landing under the planes at Lyall Bay for our morning coffee. The Botanist is an entirely plant-based café and stares at the sea looking cute af and conjuring up memories of a Brighton boardwalk. Owner Lydia Suggate was name-checked multiple times to me for her achievement of opening not one but five plant-based eateries. Kudos. I also had a delicious dinner later that night at one of her CBD locations, Mockingbird.
My debonair passenger Joe directed us to the spectacular cliff faces at Red Rocks, where we could peek at the tip of the South Island. We resisted the urge to blat our AWD SUV on the beach along with all the Mad-Max-esque off-roaders that were braving the perilous route through some rock called Devil's Gate. Gulp. I needed my new pride and joy to stay pretty for its close-ups and our big fashionable night out later on thanks.
I still got my driving thrills as we tackled the tight turns and maze-like hills of Wellywood on our way to the best views of the city. Those famous hills are steep. But our super-light SUV had the power to make quick work of them, plus the agility of a kitten at every turn; light-footed and oh so precise, it was simply a delight to maneuver. We pirouetted our way up to the famous wind turbine on the hill and drank in the 360-degree views from the top.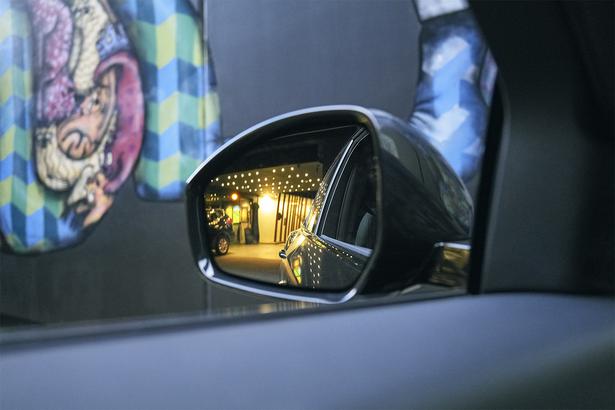 Getting into a brand-new whip with an elite jazz musician requires one obvious test; the sound system. It was like they'd stashed a quartet under our bonnet and a rhythm section under the floor as the music wrapped itself around us. We played it forte to say the least. (Loud that is). We serenaded each other to Petone for lunch at the aptly named Seashore Cabaret. Joe and I blended right in with the carnival theme and didn't spend long at all, ahem, in the hall of mirrors…
Maybe it's the ever-present beating of the wind turbine's wings that create the consciously driven heartbeat of this city, but I was (eye roll pun) blown away by the focus on sustainability and mindful living that was evident everywhere I went. I'm a "jafa" and ashamed to say I hadn't been to Wellington in about ten years, so maybe I was going to be easy to impress.
In keeping with this theme, I spent the rest of the day trawling endless vintage and recycled clothing stores, culminating at the stunning flagship store for Kowtow clothing — an ethical fashion label that is making huge waves here and overseas.
I was already a fan, but being inside their floor to ceiling impeccably and sustainably designed store made me fall even more for their ethos, their mission and their organic, 100 per cent traceable slow fashion brand. I had to be dragged out of there (with my new purchases) in time to make my gig that night.
Our compact SUV made such easy work of this equally compact city with all its one-ways and alleyways. It became a useful and empowering fact to note that the E-PACE is only 4.4m long and most carpark spaces are 4.8m. Genius! When some parking spots are as tight to fit into as zipping yourself into skinny jeans, I could always trust that she was going to fit, even when it seemed impossible!*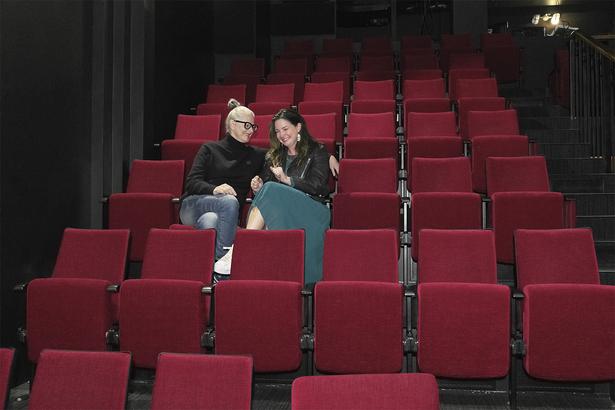 After hosting a night of education on the damage that fast fashion does and hearing about some solutions to the problem that yet more innovative Kiwis are leading the way with, I flounced off (in my recycled dress) to the cultural pinnacle of my trip; a night at the theatre with Miranda Harcourt.
One of my personal mentors, heroines and national treasure, Miranda and her husband Stuart McKenzie set about creating their verbatim show Transmission, about New Zealand's response to Covid-19, only months after the pandemic's edges had started to soften.
It is this type of intuitive foresight that makes these creatives the best in the business. The show is moving, revealing and a cathartic experience that I hadn't realised I'd needed. It's not often you see a play where you have a direct relationship to the topic, but every one of us does with this and its effect cuts deep.
Miranda, also a proud Wellingtonian, took me to a favourite spot of hers for a vino and delicious snacks at local institution The Capitol, where she was recognised by most people in there who had either been to, or were going to, the show at Bats Theatre. (It sold out by the way. If it comes to a town near you soon, SEE IT).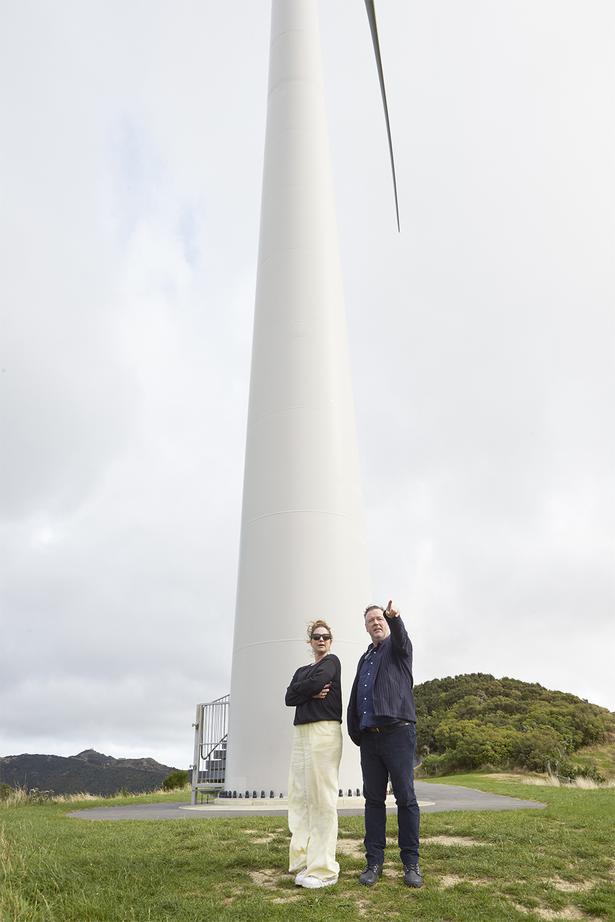 We gesticulated, masticated and pontificated about life, art and politics so much that our photographer couldn't get a single shot where one of us wasn't moving. Actors! Lols. I was a lucky lass to get that much of her; this formidable force is currently coaching and directing some of the world's biggest names in showbiz — her own talented daughter Thomasin the brightest star amongst them.
It was the perfect nightcap to my wonderful day of music, art, food and fashion in our culturally thriving capital. My ride was a show stopper and a head-turner, my company were literal superstars and we were sustainably dressed to kill. No red carpet required unless it's made of biodegradable organic fibre thank you. Wellywood gets my vote over Hollywood any day. Sashay away.
Claire Chitham can be seen on our screens and has a recipe book of her own on well-being and gut health out now, 'Good For You' is available at bookstores and online at Goodforyoutv.co.nz
For more on the Jaguar E-PACE, head to Jaguar.co.nz 
*Ok, the 3D cameras may have helped too and were mind-bogglingly good. It's like watching a CGI movie in real time, and I began to rely on them for entertainment not just spatial awareness.
Share this:
More Culture & Travel / Going Places