Going Places With Claire Chitham: Otautahi Christchurch
Reconnecting with singer Reb Fountain, Claire explores the garden city in the Jaguar E-PACE — and finds a community driven by a resounding tone of resilience
SPONSORED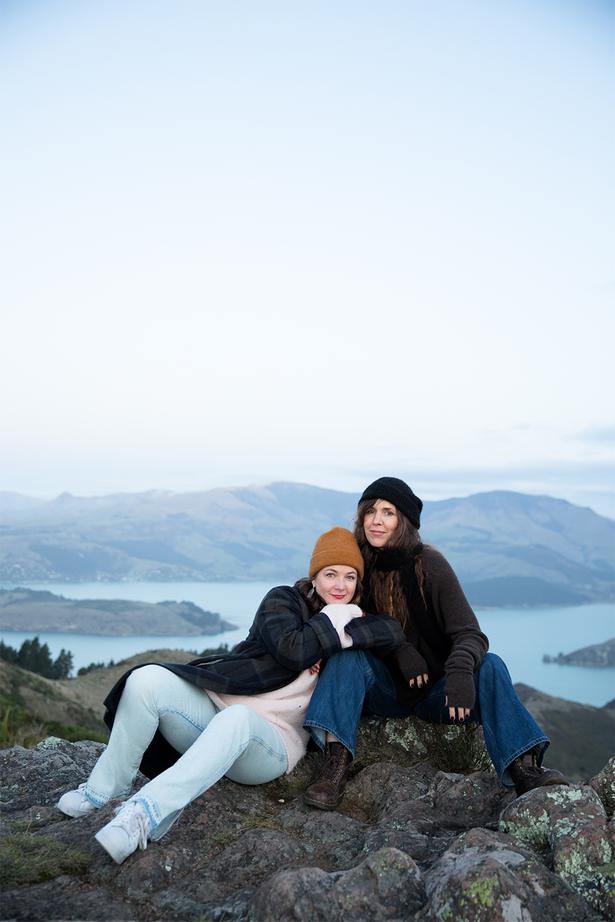 Thursday July 22, 2021
If you haven't heard Reb Fountain's 2020 breakout hit 'Don't You Know Who I Am' yet I suggest you start playing it now while you read, because it's a stunning song worth knowing, and if you're not familiar with the album you won't get any of my lyrical allusions or witty puns. That, and the fact that she won the prestigious Taite Music Prize in April this year, and her song 'Hey Mom' was just nominated for an APRA Silver Scroll Award, means it will no doubt increase your cool factor if you do indeed know who she is.
I first met Reb on a film set as we'd been cast as sisters and as is the way with actor-y types we sought to make a connection. Before action had ever been called Reb had motivated and inspired me with a million new ideas about my life and work, and generously promised to help me with whatever she could in the process. I went home enamoured by this wonderful, open, caring human and then rapidly fell for her as a singer, songwriter, artist, poet, fashion maven and talent.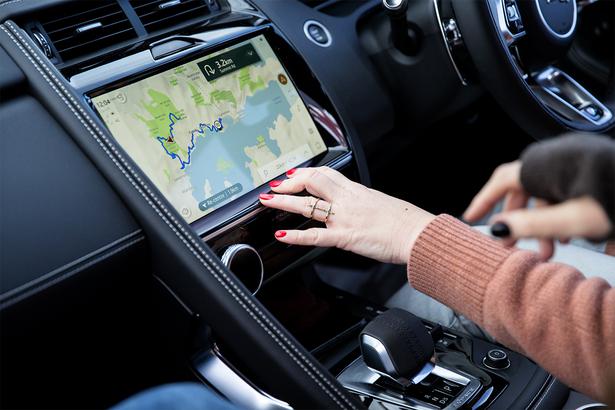 Reb is a true personification of her art. Like her music, she is both soft and tough, quiet and loud, romantic and practical, thoughtful and instinctive, emotional and delightful, soulful, intelligent and humorous. Listening to her self-titled album that dropped in the middle of the pandemic year it's easy to see why her star is on the rise as her music truly transports you the way good music should. Each song feels like you're watching a short film or a piece of theatre. It's a mood, a story or a moment. Yes, I'm a little bit in love with Reb.
It's no surprise then that her origins lie in the bountiful garden state that has given us so many of Aotearoa's brightest musicians already — Lyttelton, Christchurch. I hadn't been to Otautahi since the quakes, and I knew I needed someone with heart and soul to be my tour guide on my next Jaguar E-PACE adventure. Reb kindly offered to show me her world and I promised to chauffeur her in style and style was delivered, as we pulled out of the glossy showroom at Archibald's Christchurch in the newest E-PACE in New Zealand — with just 32km on the clock, we felt honoured to stretch her legs across the sweeping hillsides of Reb's hometown.
Reb's been making music her whole life, but it was nine years ago that she joined the ever-evolving folk group The Eastern, started by songwriting genius Adam McGrath and his musical partner Jess Shanks in Lyttelton. Their spirited country, blues and swing mash-ups and exuberant energy on stage helped make beards, banjos and bluegrass cool again as they toured every nook and cranny of our country — aided by the revolving door of epic musicians who would join the band on tour along the way; Marlon Williams, Delaney Davidson and Aldous Harding to name a few.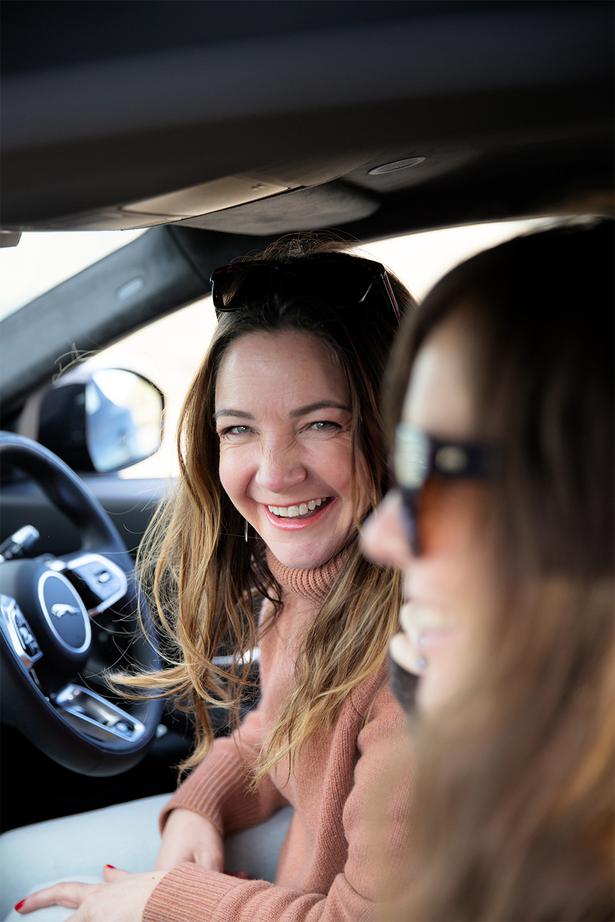 Photo / Jonny Scott

Like the evolution of the band, the whole community here is a family affair and our first stop was the Cassels Brewery Bar and its neighbouring boutique shopping hall, The Tannery. Jess Shanks runs the music venue, her brother Joe runs the brewery and his step-brother Zak runs the restaurant. Well, they would never admit that any of them are the boss of anything, they just, you know, get it all done somehow.

A perfect example of the spirit of rebirth and renewal that Christchurch is currently embodying, the family-owned land was once a swamp and a leather tannery, which was extensively damaged in the quakes of 2011. The Cassels family had intended to start a small brewery before the devastation, so as a small pivot after the quakes, they decided to open the reinforced house at the front of the section as a small music venue and bar, to give the people of Christchurch a place to gather, to sing, to play, to share and to sink a few home-brewed beers.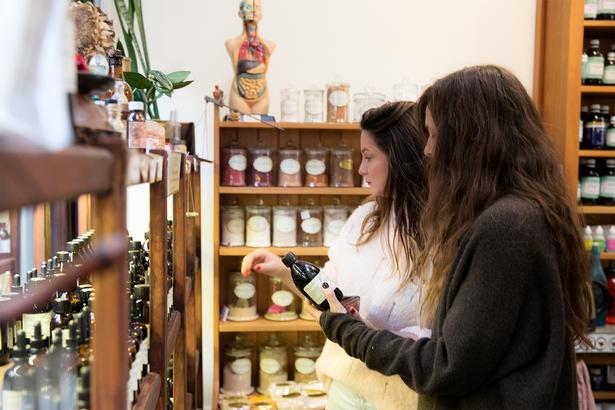 Today that building has become the main restaurant, the swamp has become a large garden bar, there's a music venue called Cassels Blue Smoke, a huge brewing company, and the beautifully restored Tannery which houses a collection of gorgeous artisan stores and boutiques. My favourite was The Apothecary, a health store that produces their own bespoke potions, remedies and tinctures to cure all ailments; including broken hearts and Man Flu! Gold in a jar. We had to be dragged out of there.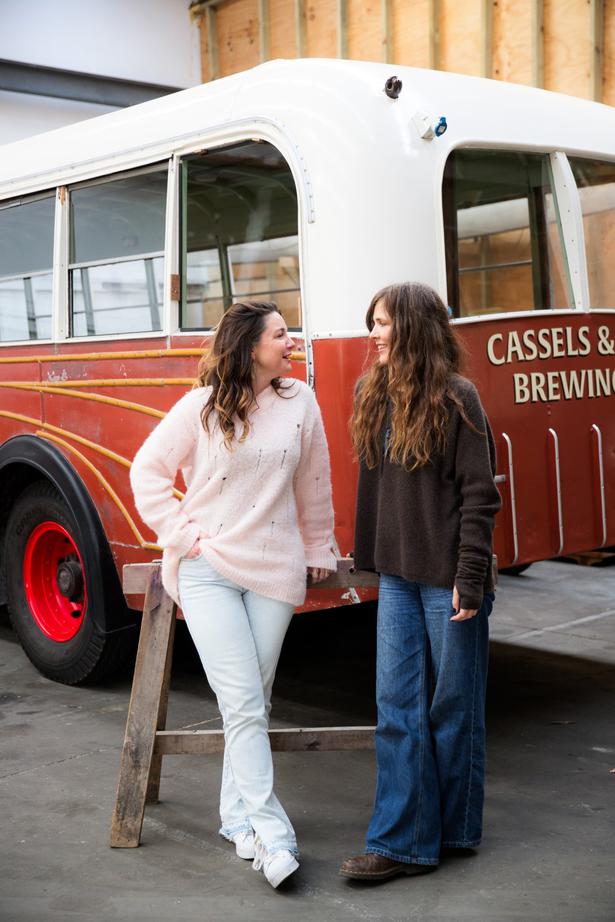 Cassels. Photo / Jonny Scott

The Cassels family was celebrating a milestone 10 years of operating when we visited. Hospitality oozes out of everyone here. Cassels lads Zak and Joe have, in true Kiwi form, 'accidentally' forged a slightly bigger 'backyard brewery' than they first intended. We got a VIP backstage tour of the brewery and revelled in the wheaty smell of hot grains and gigantic vats fermenting their IPAs, APAs, lagers and award-winning World's Best Milk Stout. They recently acquired a canning machine and are now producing some kick-ass bespoke cans, designed by their mate and local artist Scott Jackson; for sale nationwide.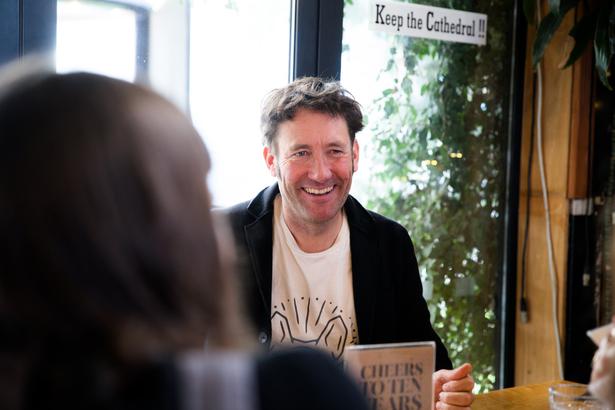 Next, I wanted to see Reb's hometown of Lyttleton, so we took off over the sweeping Port Hills to get there. We needed a good excuse to see what our luxe, compact E-PACE could do. Gratefully this performance car hugs the road like a Jaguar to a tree branch, because some of the curves cut into those hills are so sharp the road seems to fall away right in front of you as we climbed.
Spectacular views greeted us at the top, stretching out in all directions. We were also treated to a glowing pink sunset and a glorious full moon that made the entire experience feel like someone was just asking for us to make a music video. We settled for shooting as many 'album cover' photos as we could before the cold kicked in and the heated leather seats called our names back inside to the comfort of our 'Beastie'.
In the port harbour of Lyttelton we wore our southern-strength Zambesi woollies, found more 'band cover' poses to strike and Reb found the second outdoor piano of our trip. As she gracefully serenaded us, she drew children in like a Pied Piper with her silky tones. We cruised the coastline — she pointed at locations of interest from her youth and houses she used to live in — heading towards the gorgeous Governors Bay. Our ride feels so intuitive I often have to remind myself I'm actually still meant to be in control of the wheel.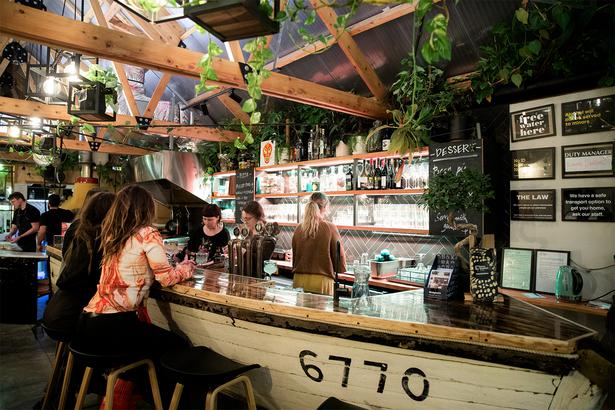 The Arbour Bar. Photo / Jonny Scott

Dashing back to our hotel for a quick costume change ahead of our dinner outing, the intuitiveness of the E-PACE really comes to life, diming her bright lights automatically for oncoming traffic and when you leave the cozy heated seat you won't put a heel wrong with the door spotlighting your step – every moment has been thought of. We continued the theme of 'people who have built something cool out of the rubble' and had mouthwatering woodfired pizzas at The Arbour Bar. Originally intended to be a site for an arborists' garden, Megan and her husband Ra started a pizza pop-up on their land post-covid, and that has evolved into this gorgeous, inviting restaurant replete with an old fishing boat serving as the bar. For a joint that's just getting started, it has all the ingredients you want — warm, friendly staff, a delicious array of botanical gins and local beers on tap, and did I mention the pizzas?! So. Good. We were joined by friends and musicians as we sampled more food and invented new cocktails.

I don't know if it can be put down entirely to the spirit of survival and endurance that Christchurch has been forced to summon within itself or if it's just simply that going through something devastating brings people together, but the most memorable trait of our weekend away was notably tāngata, he tāngata, he tāngata, he tāngata. The people who form this community have a connected and inclusive spirit that is imbued in everything they do. How can we help? How can we take care of you? How can we be of service? Everywhere we went, Reb's whanau wrapped themselves around us, and for that I'm so grateful - though not surprised, having seen that very spirit in Reb the day I met her.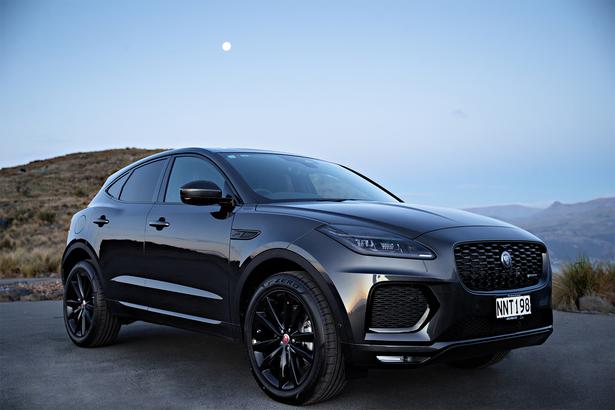 If it's true we are born of our land, it's true we are nothing without the people who populate it. Our team of five million has a unique gem in Reb and her music. I'm a fan, her arrow is loose in my 'Heart', but I'll let her have 'The Last Word'...
"Out of the wasteland we come,
Little girls, little boys and the nameless ones
Rise up o children, won't you dance with me
Rise up little children, come and set me free"

Claire Chitham can be seen on our screens and has a recipe book of her own on wellbeing and gut health out now, Good For You is available at bookstores and online at Goodforyoutv.co.nz
Reb Fountain has a new album Iris dropping October 1, care of Flying Nun Records. You can hear her two new singles from the album here.
For more on the Jaguar E-PACE head to Jaguar.co.nz
Share this:
More Culture & Travel / Going Places