SPONSORED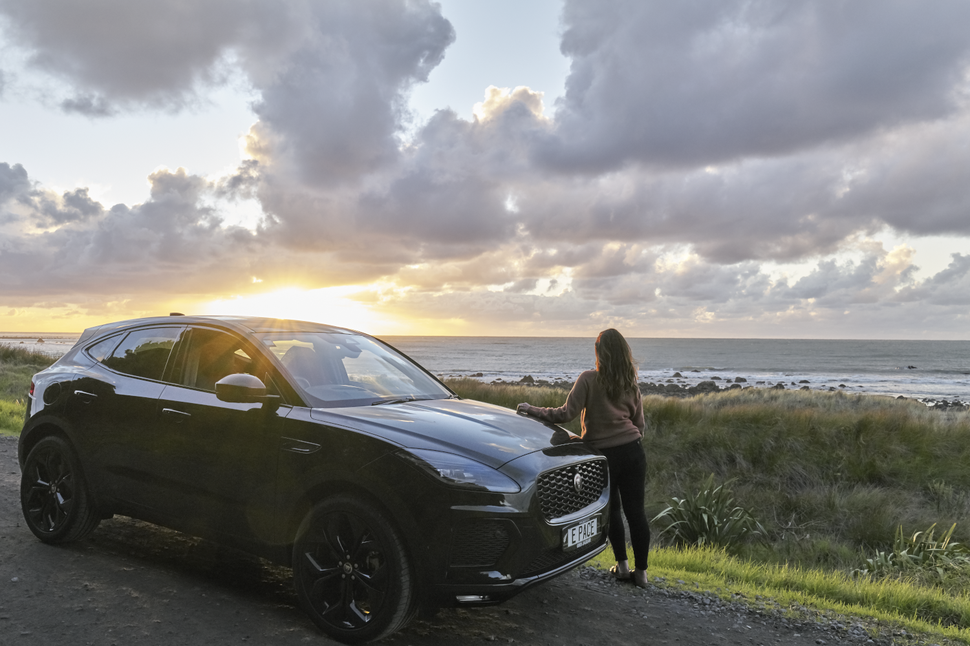 Going Places With Claire Chitham: Taranaki
The photographic talent behind our Wellington and Waverley instalments, Renee Bevan is Claire's focus this week, as the two old friends hit the road and head to Taranaki in a Jaguar E-PACE
Friday June 18, 2021
One of the rare silver linings from the devastation that Covid-19 inflicted on the world is the influx of Kiwi expats flocking home and bringing their globally accrued knowledge, skills and talent back with them. Amongst that flock is a dear friend of mine and talented photographer, Renee Bevan.
Having spent the last 10 years based in NYC shooting fashion and portraits, she is one of the many returnees for whom the call of home was too loud to ignore. We met 20 years ago somewhere on the dark dancefloors of Auckland's Karangahape Rd, but Renee was born in the small, west coast surf town of Ōakura in the Taranaki region.
When I needed a travel buddy prone to adventuring to come road test a brand new 2021 Jaguar E-PACE with me, I coaxed Renee with the promise of a visit to her hometown and the chance to shoot our sexy car against some stunning landscapes and backdrops of Aotearoa that neither of us had seen since we were kids.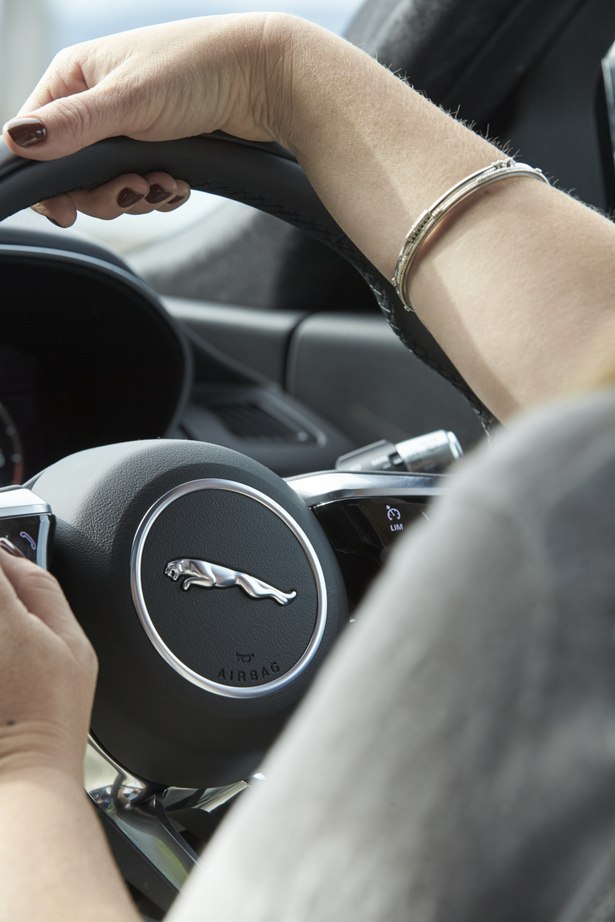 We certainly weren't disappointed as we cruised our way up the coastline from Wellington in our graceful cat, which purrs like a performance car but takes up much less space than you'd think from an SUV with that much power. Our appetites were satiated as the giant maunga with its perfect peak that is Mt Taranaki first became visible. It really is a stunning sight.
It's easy for anyone who's spent time living overseas to tingle with some warm, fuzzy 'Ahh New Zealand' vibes. We lost count of the number of times we'd turn a corner and simultaneously Renee and I would both exclaim 'Awwww!' as a new vista came in to view. Our patriotic gratitude was overflowing.
The weather was much less likeable, with some typical rainy downpours on our travels, but our compact SUV hugged the road so tightly in those slippery conditions we could trust our steed and just enjoy the sights. That kind of weather makes for breathtaking sunsets though and that's what greeted us when we first arrived in Ōakura on a moody Sunday afternoon.
Well, that plus the glorious sunshine of a man that is Dave Marshall, owner and proprietor along with his wife Nuala, of our favourite Taranaki discovery, Ahu Ahu Villas. He immediately whisked us up to their clifftop view, lit us an outdoor fire and poured us a vino as we watched the sun go down.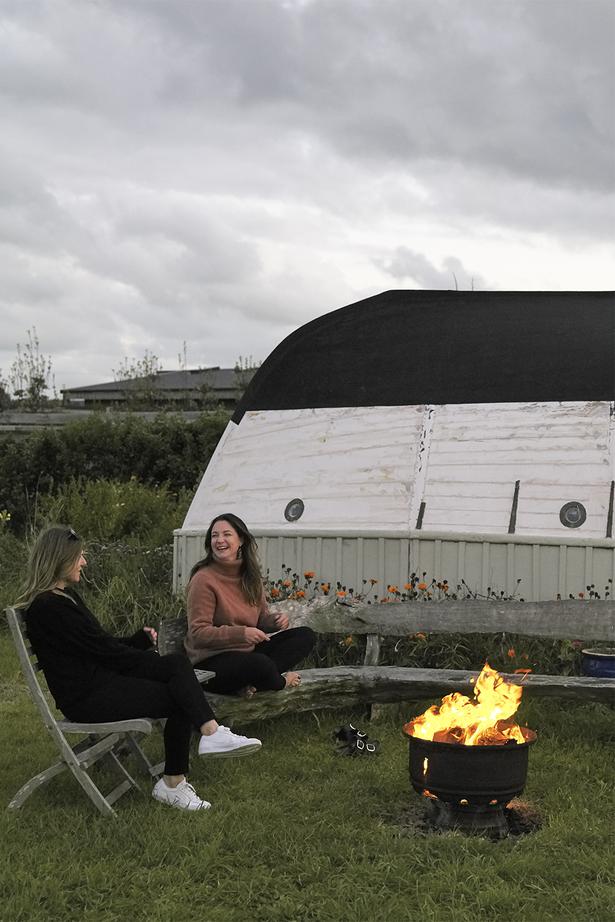 This gorgeous accommodation has a fantastic origin story that is worth saving for when you visit. Created with sustainability and environmental impact in mind the location is magic, the feeling is idyllic and attention to detail perfect. The inherent warmth and love of our hosts is clearly poured into the properties. We came away having made new friends and I highly recommend checking them out if you're looking for an event venue or a unique getaway. But be warned, they turned down Fleetwood Mac in favour of a local's wedding, so you might want to get in early with your booking!
Also benefitting from the recent expat influx is the caffeine-driven, coastal city that is New Plymouth. This town is seriously cool. It has the laid-back vibe of say a Gisborne, with the food and coffee cachet of a Melbourne.
Everywhere we went we were told of a new restaurant that we had to check out, we literally didn't have enough mealtimes built into our trip.
Stories are rife of chefs and business execs who have returned to New Zealand and laid down roots here to live a surf-town lifestyle but also bring their formidable talents with them, opening new businesses peppered all over the city. Top hits were The Social Kitchen, Meat & Liquor and State Bistro. The Westend Precinct has a little bit of everything you want – wine bar, Japanese snack bar, wood-fired pizzas and design stores.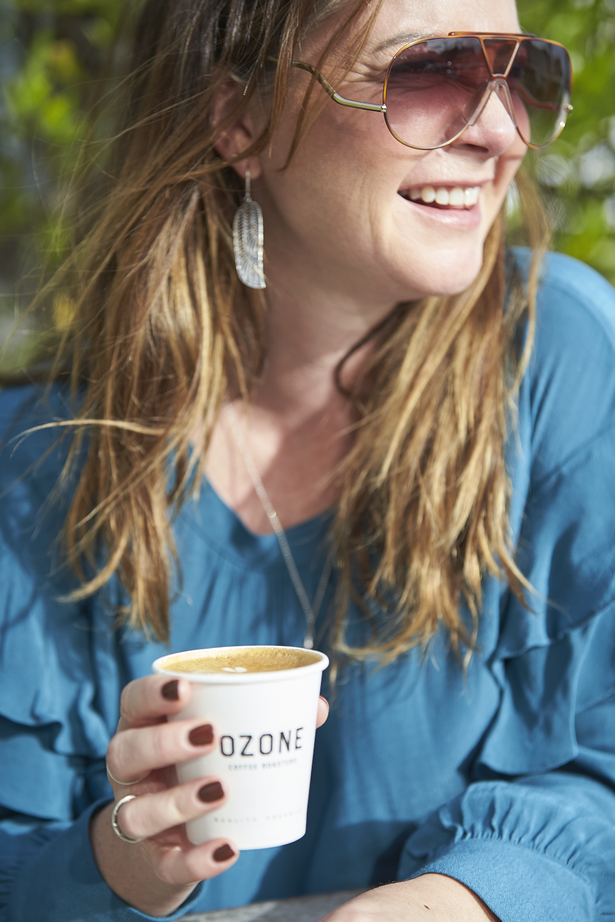 Ozone Coffee in Auckland is a regular 'office' for both Renee and I, so it was a box-tick treat to visit their flagship New Plymouth location that's been roasting for over 20 years. Can we get their glorious bruschetta in Auckland please?! With a worldwide reputation, this is truly a Kiwi success story, and they even managed to open their second London location during 2020.
Again, we'd been inundated with recommendations for the 'best' coffee in town but we ran out of time to try them all. Special mentions to Bleached, High Tide and local garage outfit Proof & Stock.
Art dominates this city. The giant murals that loom over us captured our attention and we didn't have to go far to find out who was behind it all. Street artist and painter Milarky has been quietly covering the walls of this city in both very public and more secret spots for years now. Local Oakura-based artist Linda McFetridge, who exhibits her own beautiful paintings while also managing local gallery Koru on Devon, took us to find the hidden gems that only serious Milarky fans will know about or hunt down.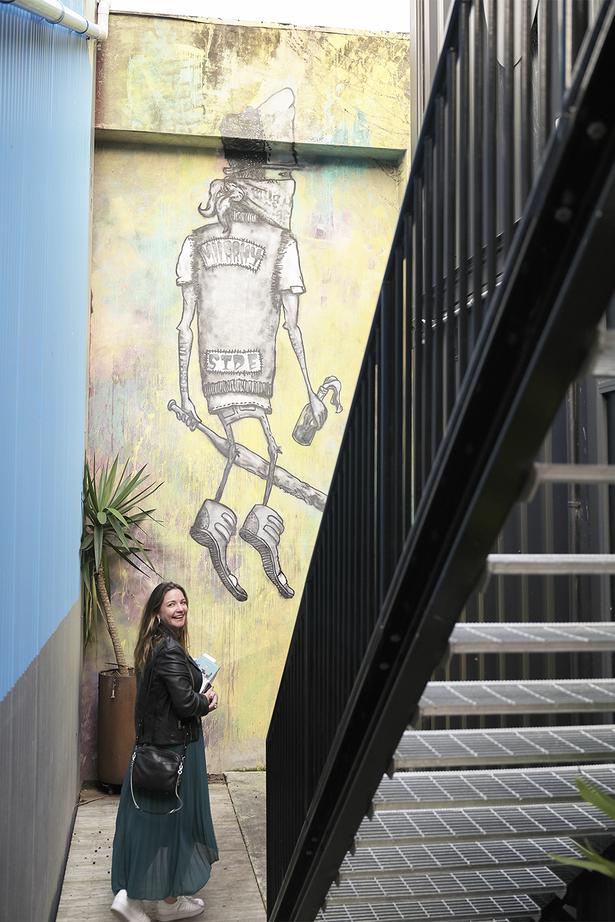 The allure of the curved, mirrored exterior of the famous Govett-Brewster Gallery – New Zealand's only contemporary art museum – when we had an equally curvy car to show off for a photographer and an actor was too magnetic to ignore. Angles darling, angles.
We lunched at Monica's, a must-do in honour of her namesake and founder of the gallery – Monica Brewster – a fascinating figure in feminism and a cultural groundbreaker of her time. What powerful foresight to finance an art museum back in 1962 that would still be a beacon of contemporary art for New Zealand today.
The drive home to Auckland provided us with so many more 'Aww!' moments (plus a fresh whitebait fritter!) and we were left feeling mighty proud of our beautiful country and excited to go back to taste much more of what Taranaki has to offer.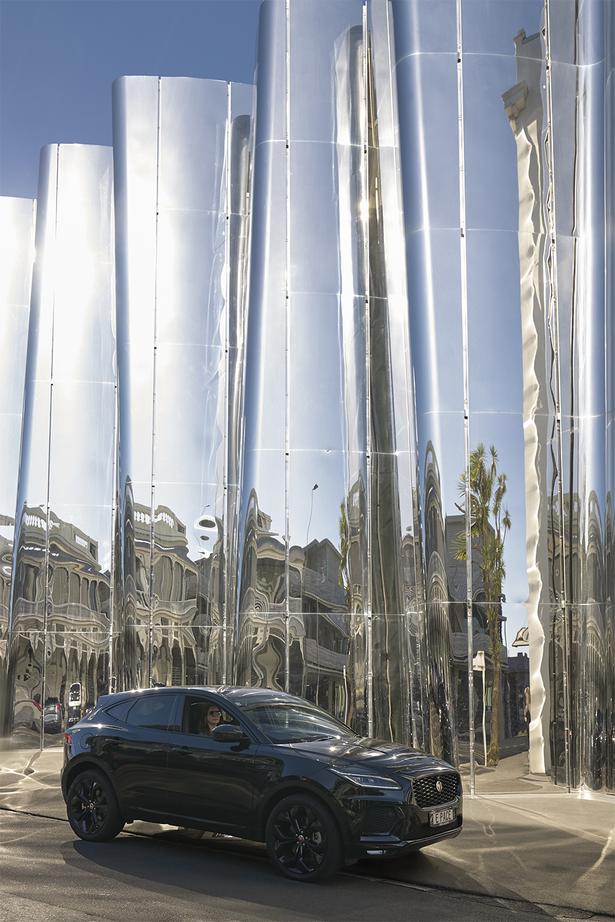 Claire Chitham can be seen on our screens and has a recipe book of her own on well-being and gut health out now, Good For You is available at bookstores and online at Goodforyoutv.co.nz. Discover Renee Bevan's work at Reneebevan.com.
For more on the Jaguar E-PACE head to Jaguar.co.nz
Share this:
More Culture & Travel / Going Places