Check How Busy the Bar is Before You Leave the House
An update to Google Maps shows you how crowded businesses are in real time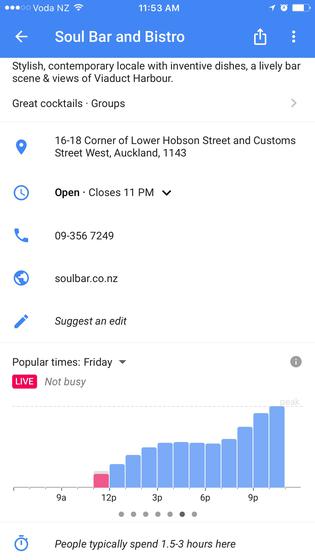 Keen to head to Soul Bar and Bistro for a quiet drink or to Auckland Museum for a new exhibit but don't want to wait or deal with throngs of people? As of today New Zealanders can use their Google Maps app to suss out how crowded a business or attaction is in real time.
The "popular times" graph has been available on the app for the past couple of years using historical data from those who have opted in to Google's "location history" feature on their phones, but this week's update rolled out worldwide (version 4.27.0) adds a pink "Live" badge, reporting back current data. It is overlaid on the existing graph (see left).
The "Live" feature has been available on the web version of Google Maps since November, and is applied to any business and attraction, including supermarkets, bars and museums, that have had enough visits from users who have their location history enabled. 
Another feature of the updated app, now available in 25 metro areas of the US, allows users to see how busy parking is at a destination, so they can work out how much extra time they may have to factor into a journey. 
Share this: