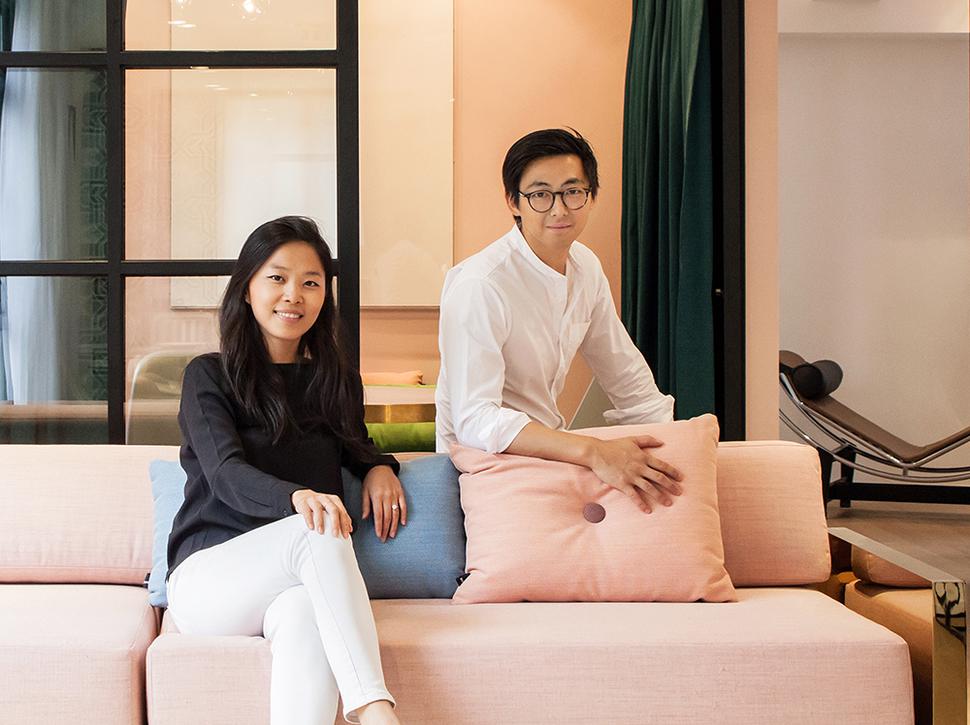 A Hong Kong Design Firm With Bright Ideas for Apartment Living
New Zealanders could learn a thing or two from design firm Lim + Lu
Wednesday June 27, 2018
If you thought Aucklanders were obsessed with property, wait until you go to Hong Kong. The train ride from the airport is a staggering journey past tower after tower after tower of apartments, the windows packed so densely they look pixellated. Cranes populate the skyline, which already wrestles with Manhattan for the highest number of skyscrapers in the world. And yet, it's nowhere near enough.
Last year, Hong Kong was ranked by Demographia as having the least affordable housing market in the world. The island geography of the city constrains land expansion, so the only way to go is up. Most new apartment buildings are built by huge development companies interested in maximising profit by packing as many apartments as possible into their towers. These apartments are typically cookie-cutter in design, leading to the rise of design studios specialising in chic apartment refits with space maximisation as a priority.
Vincent Lim and Elaine Lu lead Lim + Lu, one of Hong Kong's rising-star boutique design practices. Their interiors projects are modern and fresh, blending Eastern and Western design influences. Vincent (born in Hong Kong) and Elaine (born in China) met while studying architecture at Cornell University in New York, and opened their Hong Kong studio in 2015.
The pair work on projects that typically run from 46 to 240 square metres. "Forty-six square metres is not considered small in Hong Kong, whereas 240sqm is considered a mansion," says Elaine. By comparison, the average new home in New Zealand runs to a little over 220sqm — and that is steadily getting bigger. The only exception is in Auckland, where average house sizes are dropping due to an increase in apartment living. It's here that we can learn from studios like Lim + Lu.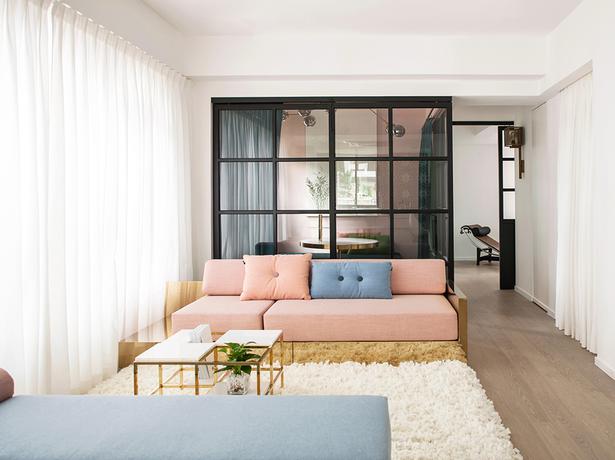 Their Twin Peaks Residence, completed last year, is a perfect example of a compact apartment (just 46sqm) that packs in lots of personality without feeling overcrowded. Located in Tseung Kwan O on Kowloon Island, it was created for a fashion designer from Paris with whimsical tastes and a love of entertaining.
Elaine and Vincent merged the dining room with the living room to create a social space for their client's gatherings. A rich colour and material palette brought personality and brightness into the small apartment, with faded red, turquoise, mustard and soft pink tones working together to differentiate spaces and create an impression of expansiveness. Metallic and mirrored finishes on built-in cabinetry and tables bounce light around and give the illusion of greater space and unexpected depths.
READ: Sydney's Iconic Paramount House Reopens As A Boutique Hotel
By comparison, the furnishings are kept clean and minimal, with warm fabrics to give a sense of luxurious tactility.
The energetic colour palette of the apartment owner was close to Vincent and Elaine's hearts. Their own home, a comparatively spacious 111sqm apartment
in the central suburb of Wan Chai, was one of their first completed apartment projects after opening their studio, and acts as both their home base and a showcase for their interior design aesthetic and their reconfigurable furniture pieces designed for small-space living.
READ: Where to Eat and Drink in Hong Kong
As they do with many projects, removing walls and restructuring the layout of the original apartment was high on the agenda for the redesign.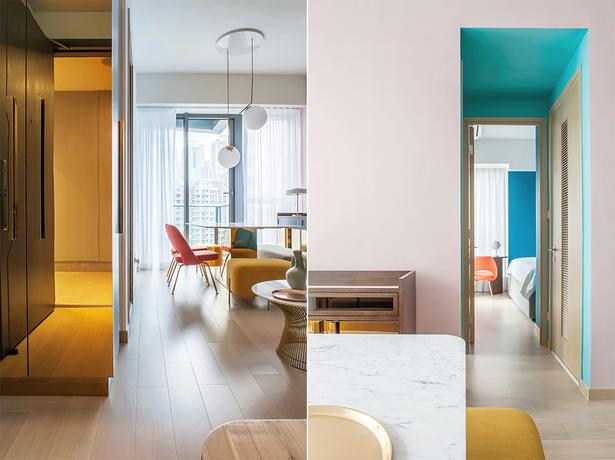 "By replacing the walls that compartmentalised the apartment with glass and steel sliding doors, natural light is able to pass through from room to room," Elaine explains. Frosting the glass in the sliding doors gives privacy to spaces once they are closed off.
Although they were familiar with the open-plan loft typology from their time in New York, Vincent and Elaine didn't want to create a Hong Kong-ified version of the industrial style. Instead, they chose patterns and colours that would bring luxury and warmth into the space and denote different types of activities. That meant white walls with black accents in the living room and bedroom to indicate restful spaces, and jewel tones, rich pastels and patterned ceramic tiles in the kitchen, study, walk-in wardrobe and master bedroom to provide contrast.
READ: What It's Like To Experience A Holy Mountain Retreat In Koyasan, Japan
The key furniture pieces — a sofa, daybed and pull-out bed, upholstered in Kvadrat fabrics and stainless steel with a polished brass finish — were designed by the studio as prototypes for their Mass series collection.
"Smart homes" and "sustainability" are two trends Elaine identifies as becoming important in apartment design in recent years. But the biggest issue remains the same: "Space maximisation is the key challenge in Hong Kong," says Elaine.
"And it will only become more of a challenge as time goes on."
Share this: