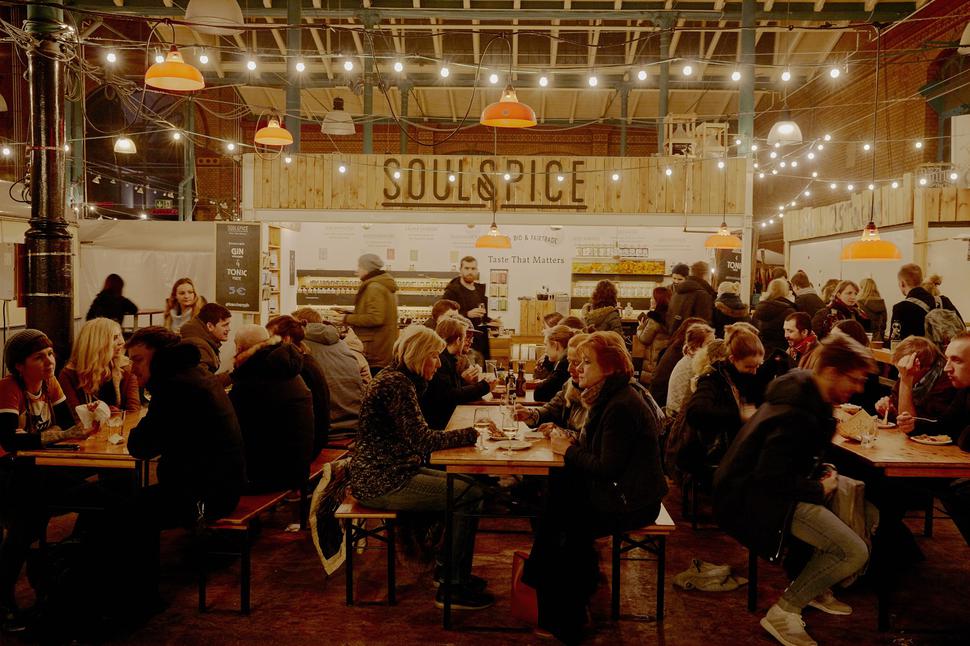 The Under-The-Radar Guide To Berlin: Where To Eat, Shop & Stroll
New Zealand expat Cathrin Schaer reveals the hidden charms of her adopted home
Sunday March 31, 2019
There are plenty of guidebooks about Berlin so there's not too much point in simply rehashing everything these publications will tell you. After all, you can find the Brandenburg Tor and Checkpoint Charlie by yourself. So instead, here are a few things that offer a slightly different view of the city, as well as a short list of what not to do if you're short on time.
READ: Where To Eat & Drink Next Time You're In Berlin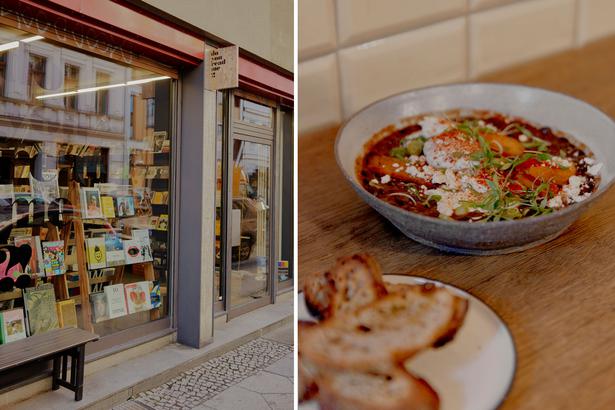 (From left) Do You Read Me?; Father Carpenter. Photos / Supplied

STROLL: THE AUGUST STREET ART QUARTIER
If you prefer your contemporary art with a bit of shopping and lunching — who doesn't, right? — then a stroll down August Street in the district known as Mitte will be right up your alley. Mitte is a maze of smaller streets, filled with East German era apartment blocks — look up! the little old ladies who still live here will be peering at you over their balcony rails — as well as stylish, unique boutiques and smaller dealer galleries. Explore this road, as well as parallel and intersecting lanes, and you'll pass by at least a dozen small art galleries as well as lots of cafes and cool stores selling everything from fashion to footwear to some of the best magazines you've never heard of. Don't be intimidated if something takes your fancy in one of the galleries, it's perfectly acceptable to just wander in to take a closer look, although you may need to ring the doorbell at some establishments.

Do You Read Me?, 28 August St
Common Ground cafe, 1 Rosenthaler St
Father Carpenter, 21 Munz St
KW Institute for Contemporary Art, 69 August St
The Barn, 58 August St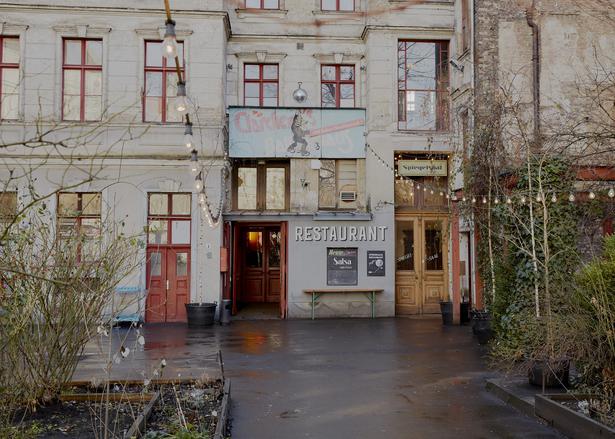 WALTZ: CLARCHEN'S BALLHAUS
If you go all the way down to number 24 August St, you'll find yourself outside a large, somewhat shabby looking building with a big courtyard. In summer, the garden will be filled with wildflowers and tables. In winter, it's a little drab. No matter the season, be sure to peek inside. This is the legendary Clarchen's Ballhaus (or, directly translated, Little Clara's Ballroom). It's a magical dancehall that once dominated Berlin nightlife and that, with its tinsel covered walls, candles on wooden tables and low-level bandstand, looks pretty much the same as it did in the 1940s. Check the schedule and come back in the evening to watch a new generation learn to tango and waltz to a live band.
Clarchens Ballhaus, August St 24, Mitte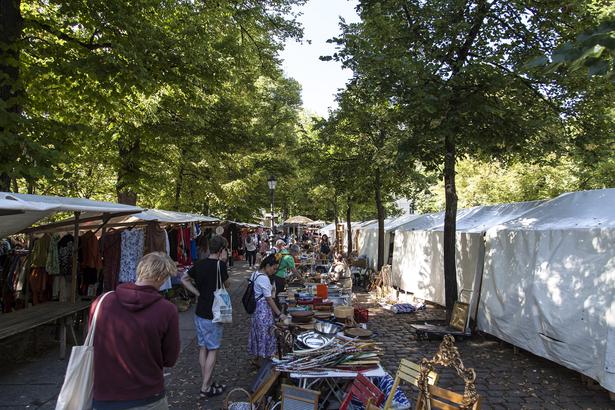 TREASURE HUNTING: EVERY SUNDAY
If you're in Berlin on a Sunday, the city's fleamarkets are not to be missed. In terms of variety, price and the potential to find something pretty amazing, Berlin's fleamarkets are some of the best — possibly even the best — in Europe. There's also a wide variety of fleamarket flavours to choose from. Mauerpark, on the site of the former security strip that separated the two halves of the city, is the best known. But nearby is the much smaller Arkonaplatz market. If you're short of time because you want to get to four more fleamarkets before it gets dark, but you also really want the ultimate pair of 80s boots, this is the place for you. The stands are mostly manned by vintage dealers and you'll pay for the work they've done cleaning up those German ceramics or polishing up that mid-century lampshade. On the other hand, you will definitely find something you can show off, or wear, when the photographer from Viva comes to shoot your villa next week.
The market behind the train station, Ostbahnhof, is the same sort of deal. Here you'll find a street and a small square filled with antique dealers offering genuinely historical wares. Recent temptations: a plaster Madonna in red robes (€40), a hand-painted poster from a 1940s theatre production of A Midsummer Night's Dream (€30) and an incredible set of Bauhaus era cutlery for €80. Sometimes it feels like you're buying things from a museum as you fondle little bits of German history, yet the prices are still lower than any antique store. There's also a section for military memorabilia, if you're into that kind of thing. The traders here tend to be older and often they're more than willing to talk about the provenance of their goods and give you a little history lesson to boot.
For something a little different with even more local flavour, the bi-monthly Nowkoelln Flowmarkt along the canal on the border of two neighbourhoods, Kreuzberg and Neukolln, is best for rummaging while people-watching. Sip on strawberry punch, enjoy paella and watch the buskers, then sift through beautiful young hipsters' cast-offs. You're not guaranteed a piece of East German memorabilia here, the way you are at the other markets mentioned, but you are guaranteed a good time.

Arkonaplatz Troedelmarkt-arkonaplatz.de
Nowkoelln Flohmarkt Nowkoelln.de
Mauerpark Flohmarktimmauerpark.de
Ostbahnhof, 1 Erich-Steinfurth St, Friedrichshain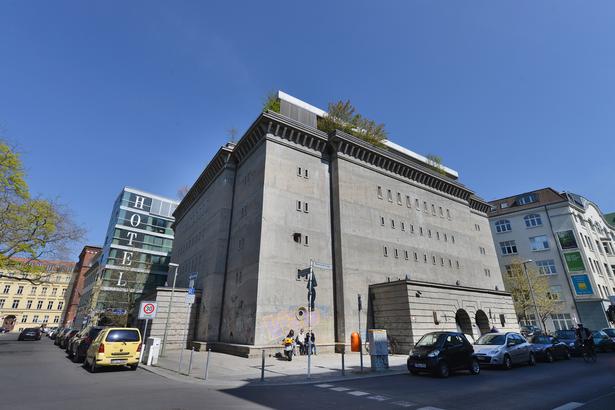 BOOK AHEAD: THE BOROS COLLECTION
At the same time you're paying for your flights to Europe, book a tour at what is known as the Boros Collection. A drab, almost-windowless concrete bunker in the middle of town that was once an air raid shelter, then a vegetable store and then (what else?) a kinky sex club, is now home to an impressive collection of contemporary art belonging to German advertising agency owner, Christian Boros.
They only allow 12 people at a time to visit so you usually need to book at least two months in advance. It's well worth it.
If you've only just read this and you're leaving tomorrow, try the König Gallery in Kreuzberg instead. It's inside a brutalist, grey 1960s church with a similarly experimental vibe. Added extra: If you're looking for souvenirs from your trip to Berlin, the König Gallery has teamed up with local artists to make their own unique versions. They're calling it König Souvenir and, yes, all the cool kids will be jealous (you can also get it online). A great public gallery, the Berlinische Galerie, is also nearby.
Boros Collection, 20 Reinhardt St, Mitte; Sammlung-boros.de
König Gallery, 121 Alexandrinen St, Kreuzberg; Koeniggalerie.com
Berlinische Gallery, 124-128 Alte Jakob St, Kreuzberg; Berlinischegalerie.de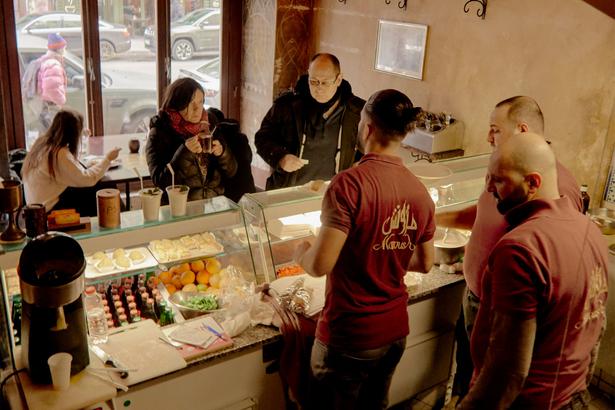 EAT: FROM THE MELTING POT
Of course, when in Germany you'll want to eat German food. This mostly consists of giant hunks of meat, lots of cabbage and potatoes in a variety of forms (highly recommended: spaetzle, a sort of potato pasta, and knoedel, or dumplings). But Berlin is also a city of migrants, and we're not just talking about the ever-growing numbers of New Zealanders and Australians making their way here, keen to teach the Deutschers how to make proper coffee.
For the past few years, young Europeans of all nationalities have been drawn here, lured by cheaper rents and creative opportunities. The German economy is often described as the engine of EU growth and it's been flourishing: This has also meant people have come here looking for jobs, while countries like Greece and Spain have struggled with extremely high youth unemployment.
Markthalle 9 in Kreuzberg offers visitors a wee taste of this. In a restored historic 1891 warehouse where local farmers used to sell their wares every week (there used to be 20 of these warehouses in the city, hence the number), you'll now find French pastries, Japanese curries, Italian mozzarella, truffles and ciabatta, Greek honey, Austrian salami, Turkish tapas and even sausages and pies made by resident New Zealanders. It's a particularly nice, communal kind of place, so take a seat at one of the long tables, select your snack and a glass of red from the wine shop (or some of the Berlin-brewed schnapps also sold here) and make new friends. Markthalle 9 also does special food fairs with themes like breakfast, sweets, coffee or beer.
The other immigrant influx having a big impact on parts of the city involves refugees arriving the way that Germany experienced in 2015. Almost four years later and one stretch of Sonnenallee, in the suburb of Neukoelln, has been nicknamed "Arab Street". There are shisha bars perfuming this stretch of road with apple-flavoured smoke, barbers trimming beards and plucking ear hairs and grocery stores selling vegetables under dangling fluorescent lights, alongside boxes of mate tea, flatbreads and huge jars of olives.
These latest migrants to the city have also brought breakfast, lunch and dinner with them. Azzam is a bustling cafeteria-style establishment in the middle of "Arab Street", that's become a firm favourite with local hipsters and their Arab friends. If you order an Azzam platter, you'll get to taste everything exotic on the menu and be awed by the reasonable price too. Further down the road, Syrian eatery Shaam is also excellent, while even further up the road, try the Turkish versions at Imren Grill and the ever-delicious Gel Gor Kofteci, where they put fresh mint leaves in the kebab sandwiches, 24 hours a day. If you're so inclined, you could even load up on Lebanese breakfast foods like hummus, a tasty bean stew called foul (pronounced "fool") and miniature pizza breads (manakeesh — cheese and thyme, or zaatar, is the best) at City Chicken Breakfast (there's no chicken involved). You may have to lie down again immediately afterwards though.
Markthalle 9, 42 Eisenbahn St, Kreuzberg 10997; Markthalleneun.de
City Chicken Breakfast, 12 Weichsel St, Neukolln
Gel Gor Kofteci, 80 Kottbusser Damm, Kreuzberg
Imren Grill, 10 Bopp St, Kreuzberg;
Shaam, 177 Karl-Marx St, Neukolln Maroush, Adalbert St 93, Kreuzberg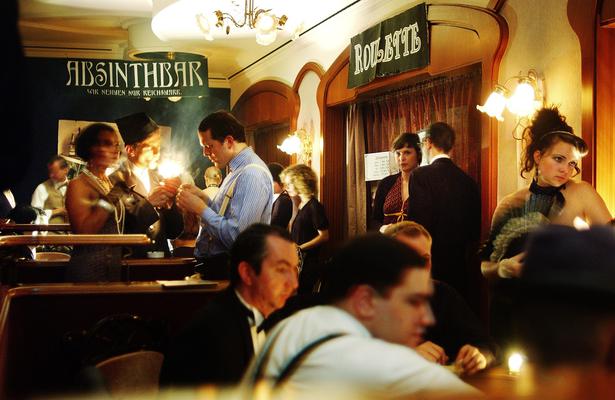 TIME TRAVEL: GO BACK TO BERLIN'S ROARING TWENTIES
The organisers of the regular themed Boheme Sauvage parties describe themselves as mounting "an homage to the nightlife of the 1920s" — and they take that very seriously indeed. So seriously, in fact, that if you try to attend one of these without having dressed the part in intricate detail ("they did not wear leopard print shirts in that era, sir, you'll have to go home and change") they won't let you in — even if you have a ticket.
The venues are often chosen because they're still standing from the early 20th century and the nights usually include live bands, cabaret shows, burlesque dancers, a casino wing and absinthe cocktails. The preparations that both the party organisers and up to 1000 guests make are incredibly detailed and the end result is nothing like a costume party. In fact, it can feel more like stepping into a whole other gilded, beaded world. You'll need to buy tickets beforehand from the website as the nights always sell out. The event organisers, who have been putting the nights together since 2006, also run similar parties, including the Berlin Burlesque Festival, 1920s-styled boating trips and cabaret shows.
Even if this kind of dressed-up nostalgia is not your thing, it is still worth paying a visit to a couple of the stores where the partygoers hire, or buy, their frocks for the night. Walking into Mimi, a clothing store in the Schonberg neighbourhood specialising in antique textiles, is like walking into a starlet's boudoir. It's easy to spend hours in here, perusing inspiring racks of dresses and suits dating from the turn of the 20th century to the 1950s. A collectible frock or coat here, always in mint condition, will cost anything from €80 to well over €200. Spitze, in Charlottenburg, offers similarly alluring wares.
Boheme-sauvage.com
Mimi: 5 Goltz St, Schonberg
Spitze: 53 Suarez St, Charlottenberg; Spitze-berlin.de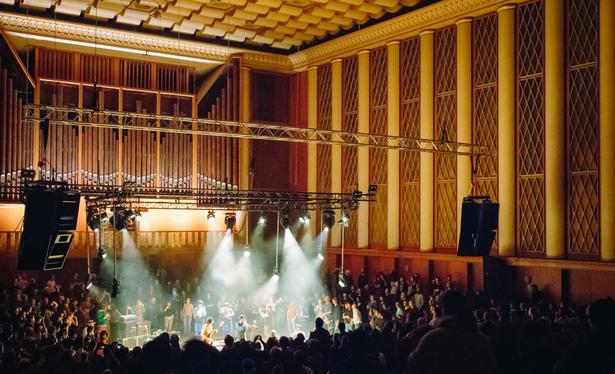 LISTEN: PIANO SALON CHRISTOPHORI
There's so much music going on in Berlin that you should be able to navigate the various gigs easily yourself. Almost every night, you'll find intimate gigs with folk singers at the corner bar as well as large concerts by world-famous acts in some pretty interesting venues. For example, techno club Berghain doesn't just specialise in dancing, techno and drugs, it also hosts concerts. It is also always worth checking what's on at the Funkhaus. In German, "funk" (it's pronounced "foonk") means radio and between 1956 and 1990, this massive concert hall and labyrinthine complex of recording studios, used to be the headquarters of East Germany's national radio station.
Unlike in some other European cities, Berlin has no central area where everybody goes out. It's more like New York here, where the different neighbourhoods all have a different flavour, residents and style. And every neighbourhood will have one (or three) squares or streets, where you'll easily find a selection of bars or restaurants to choose from.
Just to get you started in the central city areas, that includes Simon Dach St in Friedrichshain, Kastanienallee in Prenzlauer Berg, Oranien Stin Kreuzberg and Weser St in Neukoelln. Stroll down any of these and you will certainly find a bar to your liking. Be warned: though it's really easy to get a drink and you can always find somewhere that's open until four or five in the morning, it's a little more difficult to find a dance floor.
And now for something completely different: If you'd like nothing more than to listen to the soft tinkling of a classical piano with a wine in your hand and a sea of appreciative mature listeners all round you, then investigate the shows at the Piano Salon Christophori, a piano repair and restoration workshop by day and a concert venue by night. The organisers line up chairs and pillows, stack glasses and bottles of wine, water and beer at the back of what was once a storage hall for cargo brought to Berlin by canal boats, then invite classical musicians to come and play for a few hours. It's a little shabby and a lot charming. Insider tip: Cafe Pfortner is a small restaurant just outside the Piano Salon in what used to be the guard house for the warehouses and it's delicious, if you want a snack before the show.
Funkhaus Berlin: 18 Nalepa St, Oberschoneweide, Funkhaus-berlin.net
Piano Salon Christophori: Uferhallen, 8 Ufer St, Wedding; Konzertfluegel.com
Cafe Pfortner: 8 Ufer St, Wedding; Pfoertner.co
OVERRATED: WHAT TO LEAVE OFF YOUR LIST 
Hackescher Markt: This is an area that a lot of visitors are directed to, the reason being "the courtyards". When the Berlin Wall first came down in 1989, there was a lot of empty space and many derelict buildings in the middle of Berlin, after East German residents simply left in search of a better life further west. At the same time, a new generation of artists, punks and squatters moved in. The nice thing was that they and the micro-communities here were all joined together by gardens and paths, so you could travel from artist's studio to musicians squat to community kitchen behind the walls. But all of that has long since gone. Now the courtyards are populated mainly by dull shops and overpriced cafes. So, yeah.
Curry 32 and Mustafa's Vegetable Kebabs: These famous roadside stands offer visitors two of the staples of Berlin cuisine. The currywurst (or "curry sausage") is a big, white sausage chopped into bits and smothered with ketchup and curry powder. It's often eaten with chips. It sounds gross but is actually quite delicious. And the street-side doner kebab, your standard late night fare after one too many beers, was imported to Berlin by the Turkish immigrants who came here in 1970s. These two establishments are famous as having some of the best versions of the latter that you can get in the city. That may well be true but you will only find out if you're prepared to wait at least half an hour. Their reputation has preceded them to the extent that, at any time of the day or night, you will find huge queues. It's enough to make you run down the street yelling, "hey guys, listen up, there are so many other kebab shops and currywursts in this town, you're wasting your lives!"
Also worth avoiding: Asian and Indian food in Berlin. In general, Germans prefer potatoes and meat to flavoursome meals, so to be successful most of the local Asian eateries really pull their spicy punches. This is one kind of cuisine that's much better at home.
Coffee: The Germans have only just figured what a flat white is. Which means it is now possible to find a decent one in the more gentrified parts of town. But they are still few and far between, and more often than not, overpriced or a tad too fruity. Most German coffee is either bitter and black (that's a "Kaffee" where you add your own milk) or frothy (that's a cappuccino, which is the closest thing you will get to a flat white at most places. Unless, of course, you'd like a giant, lukewarm coffee milkshake, in which case ask for a latte).
Checkpoint Charlie: This spot, on almost exactly the point where the city was once divided during the Cold War and where the Americans and Russians would cross over, is still a dangerous place. You could be trampled by hordes of rampaging tourists, scammed by some guy dressed as a US soldier who wants you to take his picture or run over by speeding cyclists as they navigate their way around the landmark. What a lot of people forget when they're fighting crowds in the central city, is that the Berlin Wall actually went right around the city and there are other, quieter places you can contemplate the difference this monument to 20th century conflict made. One of these is in the far-flung suburb of Kladow. It's a hike but you'll see another, more suburban side of the city as well as cross Lake Wannsee in a ferry. On a summer's day, your ferry will be accompanied by rich Germans in sail boats. Once you get off the ferry, you can join the locals and snack on beer and sausages at a lake side beer garden, before hiking up through the woods, walking on where the Berlin Wall used to be. Alongside the path, just through the trees there's the army base that used to house the hundreds of soldiers ready to defend West Berlin from the evil Communists. If you make your way down to the next lake, the Sacrower See, you can stop for another meal at Landleben Potsdam, a surprisingly large traditional restaurant, rather romantically hidden away in the woods.
Soho House: This is the member's club, complete with dining and accommodation, that started in London and then spread its exclusive-creepy-yuppie tendrils around the world. But you know, if we'd wanted to go to London, well, heck, we could have gone to London. The expensive labels, great service, cute waiters and middle-aged advertising execs in trendy outfits really epitomise everything that Berlin isn't (and hopefully never will be). In Berlin, your waiter should be scowling and ignoring you, or it's not the real thing. Additionally, while Soho House is central and near Alexanderplatz, it also sits in the middle of what may as well be a highway. There are boutique hotels in charming neighbourhoods. Please find one and stay there instead.
Share this:
More Culture & Travel / Going Places