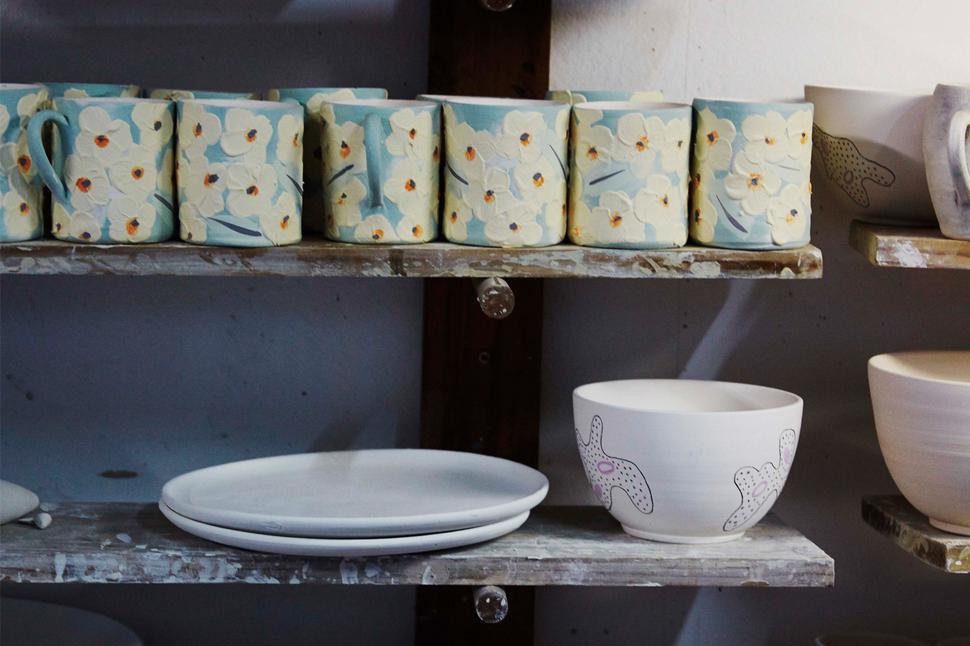 An Expert's Guide To Starting A Ceramic Collection
Keen on ceramics? Here are a few key pointers for aspiring collectors
Monday May 28, 2018
Lisa Wilke, art curator and consultant for Milford Galleries, gives ceramic collectors some solid pointers when purchasing pots.
If you are buying ceramics for investment, what should you look out for?
As with any artwork, I'd always recommend collectors select ceramics they love and the pieces that are challenging on some level. On a more prosaic note, certainly consider whether the artist has developed their own narrative or style. This is one of the most important things to look for when purchasing any artwork. A ceramist may look at old ideas, but if they do so in a way that is distinctively their own, their work will stand out.
Beware of artists who have jumped on a bandwagon. For example, since the growth in collecting vintage Crown Lynn swans, many similar 'retro' works have popped up in the market.
READ: Where To Find: Auckland's Best Art Galleries To Browse
Some clever ceramists explore the historical associations of ceramics in a completely different way, which is a good thing. Perhaps the concepts of the vessel and the figure, both of which have been linked to ceramics for millennia. Others may use their practice to investigate sculptural theories of interior and exterior spaces, volume and surface. Given the traditional craft associations of ceramics, other considerations ceramists may look at include ideas of utility versus aesthetic, or the evidence of the artist's hand versus industrial techniques.
Always ask yourself, 'do the works show skill and innovation?' In ceramics, look for technical innovations in the way materials are used. That includes types of clay, construction techniques, glazes, surface applications and firing methods, along with form and presentation. These could be sculptural pieces with complex construction and gloriously over-the-top decoration, or a simple, perfectly executed vessel that may look effortless, but is testament to the ceramicist's mastery of the practice.
READ: Why Ceramics Are The Next Hot Ticket
Other things to bear in mind include whether the artist's works are held in the collections of public institutions or other significant private collections. Are they exhibiting regularly? Are the works being produced using sound practice, meaning does the work meet suitable conservation standards? And when purchasing always ask for the appropriate provenance documentation.
Who are a few good names in the ceramic world to look out for?
John Parker has been creating eminently collectable pieces for more than 50 years and every collection of New Zealand ceramics should have at least one (or 10) of his pieces. Mark Mitchell has recently shifted from a career in producing ceramics to producing large sculptural vessels with exquisite attention to detail.
READ: How To Build An Art Collection That You Love
Katherine Smyth's figurative vessels reference ancient pieces uncovered in archaeological digs. In complete contrast, Kapiti-raised, American-based Caroline Earley uses her practice to explore issues of interactions of technology and traditional craftwork. Finally, every home needs a Paul Maseyk work, whose painted decorations might include comic strips, sex adverts, or pinkly illustrated body parts.
Are there any awards that place an artist in the top tier?
Within New Zealand, the annual Portage Ceramic Award is definitely one to watch and it regularly attracts entries from the country's top ceramists.
READ: How To Pick The Perfect Pots For Your Houseplants
Do ceramics appreciate in value like paintings?
Firstly, I'd say that not all paintings will appreciate. Artworks, including ceramics, can appreciate in value if collectors do their due diligence and take care with what they acquire. Works will have the best chance of appreciating if they are excellent examples of the artist's primary practice rather than outliers.
You have only to look at the rise in the value of Len Castle works over the past 10 years — whereas his prices have risen overall, it is his 'Volcanic' vessels that are regularly commanding the best prices.
Share this: