Guns N' Roses and PJ Harvey's Influence on Fashion
Designers Tanya Carlson and Kristine Crabb, share how two big-name acts coming to town are a source of inspiration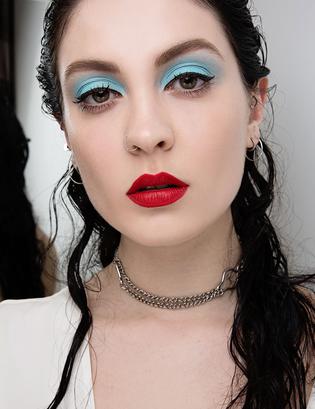 KRISTINE CRABB ON PJ HARVEY
"Discovering PJ Harvey in 1993 was probably the best time of my life. As a burgeoning woman, creative and lil' rebel, PJ Harvey was everything. She had the best 90s style. It's still incredible, but the 90s was the greatest. The long white dresses, the lingerie as outerwear, the short and tight stuff, armpits, and the best shoes ... all too good. Not to mention the incredible hair and makeup. She's next level.
I also had the impression she was self-styled, such cool pre-internet style; a look which is coming back, thanks to the 90s being back in style.
Her albums that year — Rid of Me and 4-Track Demos — were like nothing I'd ever heard before and she was like nothing I'd ever seen before. She was a woman and so much like a man; a duality which kind of turned into pure energy — the coolest kind of subversion. You could say that it was feminism but I think it's straight-up singularity. Her style of music and the way she looked were so beautiful and strong. I just loved it ... really cool and political themes, mystique around being a woman, sex, boys and fashion. Actually, all still relevant.
I remember my mother thought it was a bit disgusting (I can't deny, I loved that as well, ha ha). I'm sure Mum wanted to confiscate my CDs. There was heaps of sex and rock'n' roll, and also pain in the music and artwork — pretty unrelenting — which kinda led to a sense of freedom and made you feel better; discovering the transformative power of music. (#teenagemoments)
PJ Harvey was a prominent artist, and was named as 1992's Rolling Stone Best New Artist and Best Singer Songwriter and 1995's Artist of the Year. I loved how she played with gender stereotypes at a time when being a woman artist was an actual genre. She had this amazing androgyny, then next minute turned it upside down and came out with an exaggerated version of femininity; 50s diva, verging on drag a couple of years later on To Bring You My Love. All pretty mind-blowing for a teen living the sheltered life in Hamilton.
I still reference her work from that 90s era in my own projects: wearing sunglasses inside, photoshoots on beds, inappropriateness, subversive opera singing and just being happy. PJ Harvey's signature 1995 makeup was a direct reference for our catwalk show looks at Las Vegas Club recently. I wanted to channel the nostalgic, exaggerated style of womanliness in the makeup, also echoed in the former-strip-club aesthetic of the Las Vegas Club on K Rd. Emphasising, then subverting, in order to create a new version of beauty and sexuality. It's what we do at Miss Crabb."
• PJ Harvey, January 24 2017, Logan Campbell Centre. Tickets from nztix.co.nz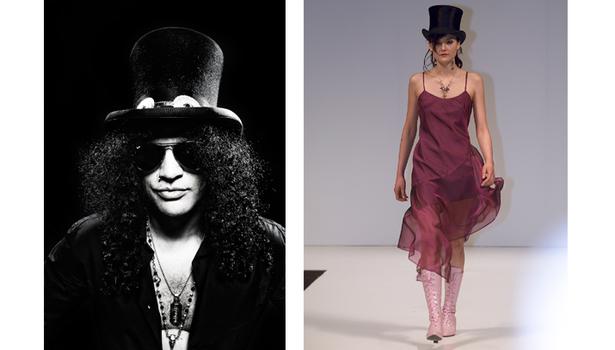 Slash; a look from Carlson's 2002 Guns 'n' Roses inspired collection. Pictures / Supplied

TANYA CARLSON ON GUNS N' ROSES
"Guns N' Roses wasn't what I was listening to in the late 80s. When Appetite for Destruction first came out in '87, I was with the Cure, or that Manchester sound, the Smiths, Stone Roses and Joy Division. It wasn't until I was on a month-long road trip across the US with my best friend Kari in the early 90s that I really listened to the whole album. From San Diego to New York, and back again, we blasted out GN'R on cassette through the windows of our Volkswagen Fox.

After that magnificent trip, Guns N' Roses — and particularly that album — stole a little piece of my musical heart. Fast-forward 10 years and I was exploring the idea of 70s Dandyism for a new collection, and the idea of the sexy male heroic lead singer, looking at David Bowie and Mick Jagger. At the time, I was also intrigued by art nouveau jewellery from the 70s and how so much of that symbolism — the dragonflies, the butterflies — had translated into the dress code of the subculture of the rock 'n' roll bogan. And Axl Rose and Slash were their ultimate style icons.

Beautiful Axl Rose with his red hair and kilts, mixed with baseball jackets and leather, or Slash and his frock coats and top hat, the tatts, the jewellery — it was an absolute feast to draw inspiration from. Sweet Child — the collection — was born. The whole 2002 NZ Fashion Week show was an ode to and celebration of the bogan.

Through the haze of patchouli incense, the music opened with wind chimes and cars revving, and the girls, heavily (fake) tattooed, wore crochet mini skirts, military style jackets mixed with garments in cliche boganesque fabrics: velvet, lace and chiffon. It was quite different to what I had done before and there were people who were slightly horrified, but others loved it. And when Sweet Child o' Mine played, which I had initially meant in a slightly subversive way, it all came together and people were coming up to me telling me how much they loved that song and what it meant to them."

• Guns N' Roses, February 4 2017, Western Springs Stadium. Tickets from ticketmaster.co.nz

Share this: