Musician Gussie Larkin On Stealing A Dance & Suiting Up For The Stage
For the singer and guitarist, clothing is a motivator — and a bright comfort before the crowds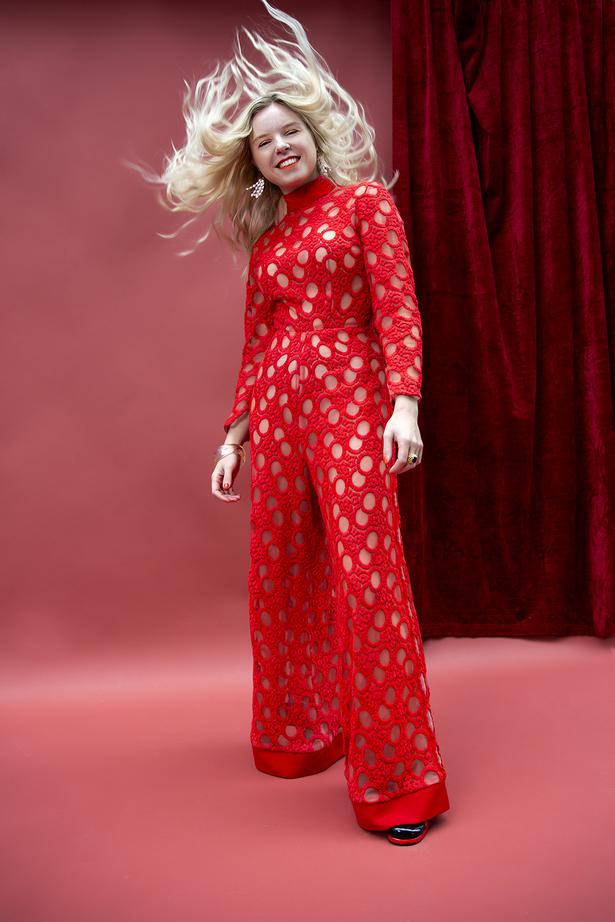 Tuesday Aug. 17, 2021
Nightlife offers a unique reflection of the vibrancy and soul of a city, whether it be nightclubs and the safe space they can provide for queer and trans-BIPOC communities, the buzz of the latest and greatest restaurant or the frenetic energy of a live gig.
But its changing face is usually best represented by the people who were there: the ones who showed up, dressed up, socialised and danced, whether it is DJs, those front-of-house, club night promoters or fashion and art scene 'It Girls'.
For Viva Magazine — Volume Four, we asked a few of today's local party people — each with creativity, personal style, social connections and charm by the bucketload — to share their perspectives on the joy of going out. Here, more from stylish musician Gussie Larkin.
What you 'do' during the day?
Each day is different for me. I do all the things! I play in two bands: Mermaidens and Earth Tongue. I'm a booking agent for some bands on Banished Music, I promote a few events at The Tuning Fork, I'm a curator for the City Gallery's 'Open Late' events, I make music videos, put on my own festival and curate stages at Newtown Festival and CubaDupa.
Why do you go out?
A night out for me is usually built around live music. Whether I'm attending a gig or playing live myself, it's the combination of music and socialising that keeps me engaged. I think the live show is a really important aspect for any band or musician. I love seeing a band play a great show, and then going back to listen to their recordings and appreciating the music even more. I also like going out for a good boogie and appreciating a sweet sound system!
READ: Judith Baragwanath On Life After Dark
How often would you go out?
It's rare for me to spend a weekend at home! I'm often out of town playing shows or attending festivals — which I have no complaints about. Over the first couple of months of this year it got pretty crazy though, so if I do have a weekend at home I like watching movies and being a hermit as much as everyone else.
How would you describe your social circles?
Most of my friends are musicians or people who work in the music industry. That probably creates a bit of an echo chamber but we always have plenty to talk about. I guess I like hanging out with creatives because we're on the same page. They understand the hustle it takes to make a creative lifestyle work.
When did you start going out, and what are your memories of that?
When I was about 14, I saw an all-female rock band called The Tangle play at an all-ages venue called Zeal. The front person was none other than Amelia Murray (Fazerdaze) who I thought was badass. They made a big impression on me and my bandmate Lily, and planted the seed of inspiration for us to start a band ourselves.
I grew up sneaking out to parties in Wellington, discovering bands like The All Seeing Hand and The Boxcar Rattle. Later on I loved going to gigs at Mighty Mighty (R.I.P.) and Puppies, a short-lived venue which was started by Ian Jorgensen of A Low Hum.
READ: DJ Lady Shaka On The Power & Importance Of Nightlife
Nightlife and music are intertwined. Is there almost an expectation when you're in a band to go out, be social, enjoy all the parties?
I don't find myself going to parties very much these days, maybe because I like that there's something to 'do' at gigs. If I feel awkward in a conversation I can just slip into the crowd and have a mosh. I feel there's an expectation for me to engage in my local music scene, but it's not a chore.
What's your approach to nightlife?
My approach to going out is that it's got to be something I'm really excited to see, otherwise I will melt into a ball of tiredness and boredom. Festivals are my ideal way of experiencing nightlife. The ideal festival for me will have a big variety of music and should always end in a dance party.
What part does fashion play in your approach nightlife? Do you dress up? And how do you approach dressing up to 'go out' versus everyday versus being on stage?
Dressing up is actually a huge motivator for me to go out. I know that sounds silly but it's an opportunity for me to wear things that wouldn't work in the daylight. When I'm playing live, I have a different style of dressing for each band. For Earth Tongue, I'm always wearing a jumpsuit from my collection of 1970's one-pieces. The collection is getting out of hand. For Mermaidens I have a few go-to stage outfits. They've all got to be comfortable, brightly coloured and make me feel powerful. More often than not I'll be wearing red. You will never ever catch me wearing black.
READ: Why I Love Wellington: Musician Gussie Larkin
Can you talk a little about how live music and nightlife was impacted over this past year?
Leading up to the pandemic, my whole life was built around live music. I'd been working as the festival coordinator for CubaDupa, I was in the midst of prepping for Mermgrown, a festival that Mermaidens organise, and I was getting ready to tour Europe with Earth Tongue. All that crumbled into cancellations and I was shattered. It was a really hard time. But I think musicians are particularly resilient, so it didn't take long for me to start hatching new plans.
I remember going to the first gig of level one at Whammy Bar just after I'd moved to Auckland, and the energy in the room that night was so cool. I actually shed a little tear when I heard a band thrashing it out at full volume over the PA — it was a sound I'd been wanting to hear for months.
I really enjoyed the summer festival circuit this year as I liked the limitation of only having NZ musicians to choose from. It meant that some bands that might not have otherwise got a look in were included on indie festivals.
What's your party exit strategy?
Get an armful of guitar cases and look like you're off to do something really important.
Share this: