Hana Maihi Is Beautifying Downtown Auckland — One Grand Work At A Time
A new large-scale mural in the CBD celebrates the earth amidst a towering forest of concrete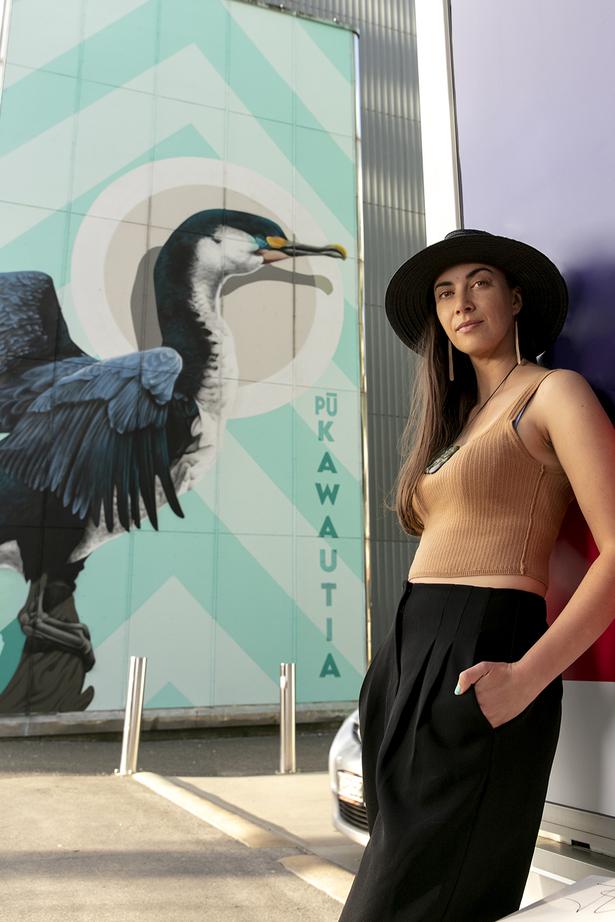 Friday May 14, 2021
Hana is a wahine of Ngā Oho, Te Uringutu, Te Taoū, more commonly known as Ngāti Whātua Ōrākei, of Tāmaki Makaurau, Auckland. When we speak, she's just come back from a karakia to bless the impressive new murals she and Whetū Collective member Poi Ngāwati created in downtown Auckland.
The urban sprawl of modern-day Tāmaki holds the history of Hana's ancestors, and Te Tōangaroa, formerly known as Quay Park, is the site where her new large-scale murals reside. Hana and Poi, of Ngāti Hine, Waikato, completed two of three murals that aim to reinvigorate and bring cultural meaning to the area.
The other mural was undertaken by artist Ross Liew in collaboration with international students, who learned about Māori culture from Hana at a three-day wānanga at Ōrākei Marae.
Before installation of the 12m-high murals, which were commissioned by Ngāti Whātua Ōrākei and Auckland Unlimited, Ngāti Whātua Ōrākei's rich history wouldn't have been apparent to a passer-by: Spark Arena stands tall and high-rises are a common sight. Ports of Auckland is across the way and the atmosphere is generally one of swift development, not collective reflection.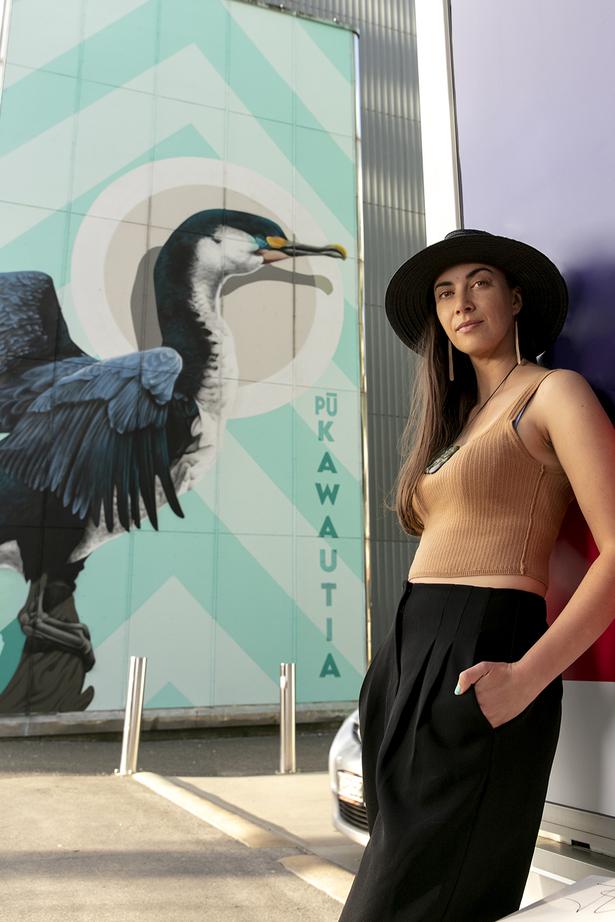 "I'm humbled and blessed to have been able to grow up on my whenua, on the papakāinga (ancestral home) overlooking our heartland, with all the challenges and opportunities it comes with," says Hana, who is motivated by her te ao Māori legacy of protecting papatūānuku, the earth. "Nourished by the waters of the Waitematā, nourished by the waters of Tāmaki, I'm living and breathing pā life," she says.
The two panels Hana and Poi have created for the downtown Auckland precinct depict a waka and a kawau, and were created on-site, using a mix of spray paint with stencils and the artists' freehand expertise.
READ: Meet Ayesha Green, The Artist Unearthing The Language Of Flowers
 They reflect the vibrant history of the nearby harbour and encourage people to stay connected to their whakapapa, or genealogy. Te Tōangaroa was once a foreshore, and although it's now a concrete jungle, the murals remind us of the abundance of the land, yet how precious and vulnerable it is.
Originally a rich area for wildlife, Hana says the Waitematā Harbour, like the Hauraki Gulf, is now "nearly at a point of collapse. It starts with us, it starts with looking inward at our relationship with the taiao (environment)," she says.
"It's going to take us doing our part to honour Te Tiriti and honour the taonga or treasures that we're still fortunate to have in Tāmaki, but if we're not careful, we're going to lose those."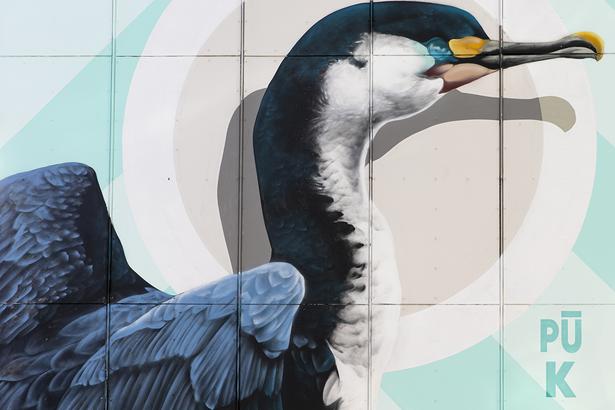 The murals aren't the first large-scale artworks Hana and Poi have completed together. In Hamilton, Aotearoa's biggest mural was unveiled in 2019, stretching 248m long in the city's CBD. The pair completed it in a joint effort with artist Te Haunui Tuna, and the imagery used acknowledges the history of the site, alluding to the hill that once stood there before a road cut through it.
The Waikato River, three tūī and a portrait of a woman depict Matariki and tell pūrākau Māori (legends) and stories of the renowned māra kai (food gardens) that once flourished there.
Hana's work always begins with storytelling, learning and listening. The concept for the Te Tōangaroa murals began through kōrero, listening to the whenua and whānau.
READ: Conceptual Artist Zac Langdon-Pole On Belonging & Identity
"I grew up living and breathing and observing the beauty and history within our mahi toi, our carvings, our weaving, our tukutuku panels, the kōwhaiwhai panels that form the rafters or ribs of our whare tūpuna," says Hana. "That has been a core source of inspiration. The more I grow to appreciate Māori creativity and the storytelling and science, the knowledge behind what we visibly see, the more I understand how much it acknowledges and pays homage to the whakapapa, beauty and vitality and life essence of our environment."
With the large waka and kawau now looking down upon the CBD precinct, Ngāti Whātua's presence and stories can certainly be felt. With the murals just the first of many cultural projects to come in the area, the hapū's stories will only grow louder and stronger.
Share this: