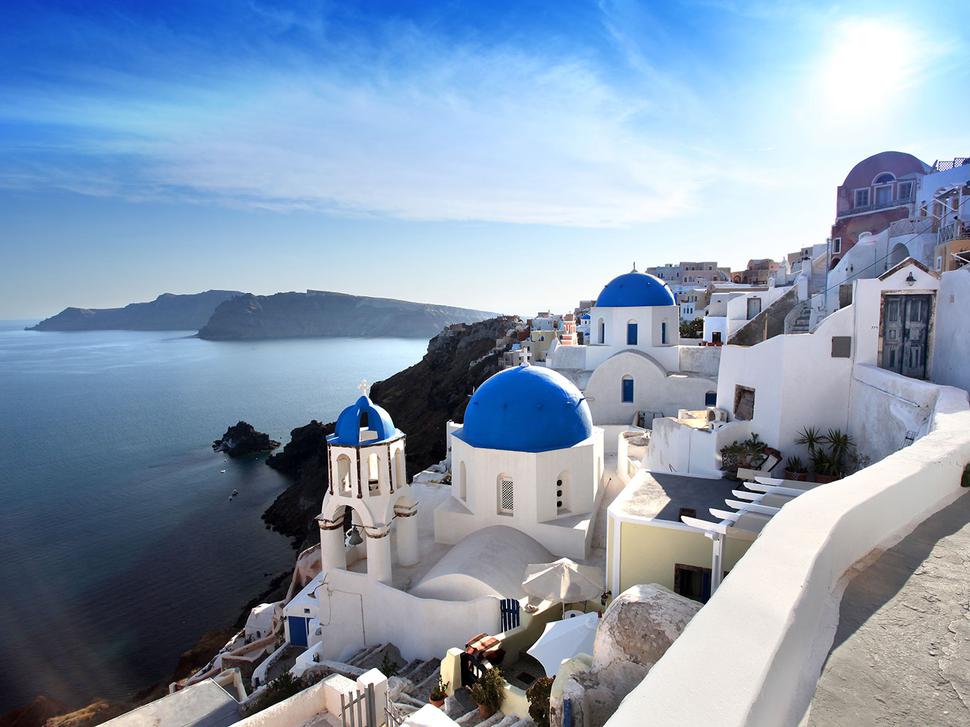 Disappointed By Your Summer Break?
Alain de Botton says his 'psychological atlas' could help you pick the perfect holiday next year
Friday Jan. 8, 2016
It's that time of summer when those who haven't yet been on holiday feel hard done by, and those who have been away feel ... not much better. When we go shopping for new jeans, what we really want are new legs. And when we book a holiday, what we're hoping to buy is a positive new mindset, a healthier lifestyle, an improved relationship.
Post-holiday blues aren't caused by plummeting vitamin D levels, but by the sad recognition that we've returned home a little bit sunkissed, perhaps, but ultimately unchanged. It's buyer's remorse.
In 2002, Alain de Botton published The Art of Travel, boldly asserting that if we don't enjoy our summer holidays, it's all our fault. We fail to ask ourselves what we really want from a journey, and are therefore easy prey for the glossy brochures ushering us to a destination, and didactic guidebooks that guilt-trip us into traipsing joylessly around museums when we're there. "We are inundated with advice on where to travel to; we hear little of why and how we should go," de Botton wrote.
Fourteen years later sees a revised edition, The New Art of Travel, because, although much has changed — with an explosion in travel apps and online reviews and recommendations — one thing hasn't: we are still terrible at working out what we want from a holiday.
"The past decade has seen great logistical leaps in how we plan our holidays, from vetting hotels on TripAdvisor, choosing properties on Airbnb and booking cheap flights ourselves," de Botton says. You would imagine that this would result in perfectly-tailored, fulfilling experiences.
"But it hasn't," he insists. "The definition of a holiday has remained static: two weeks in the sun, an 'escape' from everyday life, and a chance to rest." There's nothing wrong with this; it sounds perfectly nice. "But it's striking that our definition of travel remains so very limited," he observes.
De Botton's answer, as ever, is that more thought is needed. We've all experienced travel that goes wrong, "where the beach holiday doesn't entirely deliver on its underlying promise of calm, where we get a little bored at the museum, where our relationship isn't revived by the apparently romantic coastline". De Botton observes that we need to consider the sort of personal journey we want to embark upon, too.
The ideal scenario would be a string of "psychotherapeutic travel agencies", but in their absence he handily provides a "psychological atlas": sample holiday prescriptions that address specific wants and needs in our daily lives.
"There are some places that could help with shyness and others with anxiety," he says. "Some might be good for reducing egoism and others for helping us to think more clearly about our careers."
It's an intoxicating concept, so I volunteered to be a test subject for this "psychological atlas". Together we assessed my potential ailments, running a swift check-up on my levels of anxiety and stress and the status of my relationship.
Eventually we came to a diagnosis: I'm worried about what the future holds. My husband's ongoing job-hunt as a second-career gardener could take us anywhere, we're between homes, my beloved immediate family are living in places as far-flung as Vanuatu, Zambia and California, and at this point in my 30s, I feel I should be "building" something, but I don't know what.
Alain's prescription: an Airbnb stay in Detroit. According to de Botton, Airbnb "accidentally brings us closer to what we really crave from travel, and that's closeness to a culture, closeness to new people, full immersion in a new way of life". But why Detroit? An industrial boomtown that became an economic disaster zone and lost a quarter of its population in a decade doesn't seem like a good place for a holiday.
On the contrary, says de Botton, where better to ponder the concept of impermanence, to come to terms with the fact that I have no idea what the next five years will bring? "The overwhelming tone of the world is upbeat, cheerful, optimistic — yet there can be something comforting about a sight or experience that confirms our most morbid, innermost thoughts," he says.
In fact, several weeks later, as I cycle through its semi-deserted streets in front of derelict mansions and theatres, Detroit does a lot more for my soul than this. The city is on the up. Entrepreneurs, artists, musicians and cash-strapped young people are converting neglected buildings into studios, co-working spaces, social enterprises and cafes.
In the big, shiny, successful cities such as London, Paris, New York and LA, young people and new businesses are being suffocated by high rent and financial woes. In Detroit, they can afford their dreams. I return home after a week feeling as if I've been bathed in bright-eyed optimism. It really was just what I needed.
Not all the destinations within Alain's "psychological atlas" are as far from a conventional summer holiday as Detroit. For anxiety, he prescribes a traditional beach holiday in Rhodes. More interesting is his cure for shyness: an awkward encounter at a corner-shop in Yokohama. Travel, says de Botton, "has the power to make us a touch braver".
He admits that this is intended more to guide us into a new way of thinking about our holidays than to be taken literally; the destinations are representative of experiences that have proved transformative to him and his friends. In The New Art of Travel he simply tries to get us to understand why we may be less moved by the Colosseum than the bookshelf in our Airbnb apartment.
If you're feeling underwhelmed by your summer, the consolations of de Botton's philosophy will last longer than your tan
— The Sunday Telegraph

WHERE TO HOLIDAY
Alain de Botton's "psychological atlas" has a destination cure for every modern malaise:
For anxiety
Pefkos Beach, Rhodes, Greece.
For dissatasfaction
Comuna 13, San Javier, Medellin, Colombia.
For inhibition
Corner Shop, Yokohama, Kanagawa-Ken, Japan.
For thinking
Capri Hotel, Changi Airport, Singapore.
For relationships
Cafe de Zaak, Utrecht, the Netherlands.
For stress
The Western Desert, Australia.
Share this:
More Culture & Travel / Going Places