Holiday Records Is Bringing Vinyl Pressing Back To NZ After 30 Years
Sarah Downs meets the duo bringing modern vinyl production and a new record store to Auckland city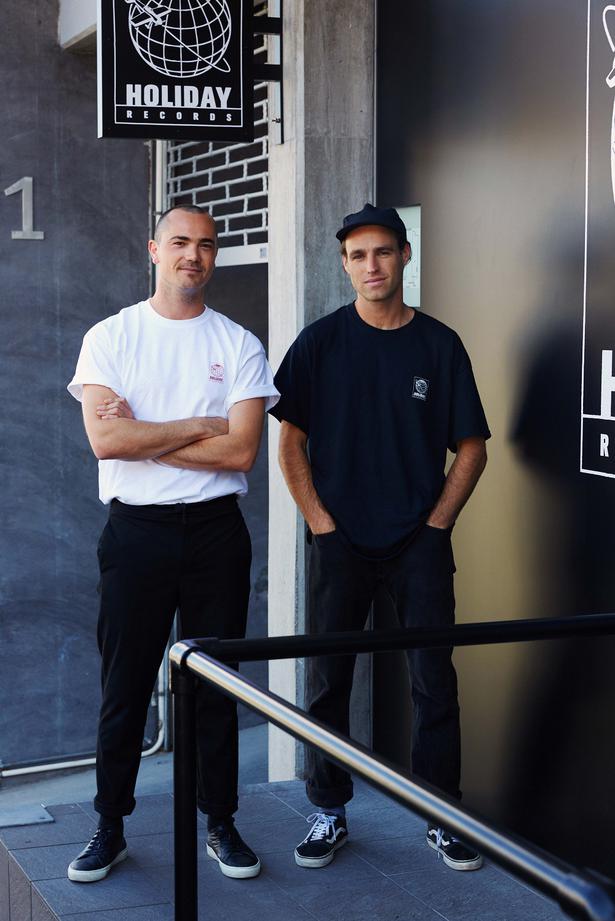 Friday Nov. 23, 2018
Two enterprising Aucklanders are about to open New Zealand's first record press in more than 30 years. Music fans are in for a whole new way of browsing for their favourite album, in a boutique record store in the central city where they can also watch the latest band's album being placed on vinyl.
Holiday Records will open its flagship retail space this week in Wellesley St and start record production in February next year.
The business had its beginnings two years ago when Ben Wallace went to find a vinyl press locally for his own band but came up short. The closure of the country's only pressing plant (EMI) in 1987 had resulted in artists having to send their tapes overseas to be pressed at a higher cost and with a time delay.
READ: Why Record Collecting Is Making A Comeback
"I was gutted," says Ben. "It was assumed that it could be done here. I've had mates' bands trying to press vinyl overseas and still haven't got it back six months later. As a New Zealand artist, you're often at the bottom of the pile."
With friend Joel Woods, who has a background in commerce, the pair researched to find several record plants using modern presses across North America. They took off on a whirlwind trip at the start of the year. "We saw places full of orders that couldn't keep up with the demand. There is a huge lack of presses in the industry overseas," says Joel.
Their main contact was Toronto's Viryl Technologies, a company which in 2015 released a fully automated vinyl press that promises to be more efficient, have minimal defect rates, and be eco-friendly. Although the pressing process remains relatively the same, software takes the guesswork out of things like water and steam temperature and the record is produced mostly hands-free. It can knock out a record in 24 seconds and is the smallest press available world-wide.
With old and unused presses now almost impossible to find and expensive to maintain, a fast and compact model like this is designed to meet the demand of a global resurgence in vinyl.
Ben and Joel returned in February, excited at the prospect of making record production available again in New Zealand.
READ: Vinyl Starter Kit: An Expert's Guide To Collecting Records
With a custom-built machine ordered and since returning to Toronto for three weeks of extensive training, Holiday Records now needed a destination spot.
Joel says the central location was chosen to open up the accessibility of vinyl.
"Usually pressing plants are in giant warehouses out in industrial areas. We wanted to bring the press into the city,  so people can see the process from start to finish."
Artists in New Zealand and abroad can watch their record come straight off the press and a large glass window means retail customers can also see the action while browsing and listening to some great tunes. The retail store will stock a restricted 1000 records as a way to change what can be an overwhelming experience of record stores, says Ben.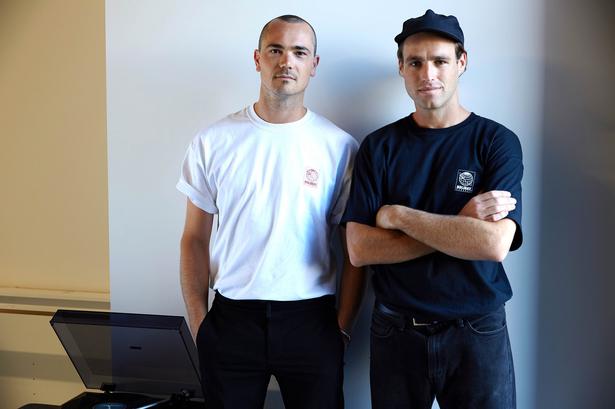 Ben and Joel embarked on a whirlwind trip across North America to find the perfect press. Photo / Rebecca Zephyr Thomas

The range promises something for every collection and will cover "1950s Ella Fitzgerald to heavy metal, folk, hip-hop and everything in between", he says. If you can't decide, a subscription service can leave it up to Joel and Ben, delivering one record per month to your door based on supplied music tastes. If you don't like it you can send it back to be swapped for another.

The store will also stock turntables, amps and speakers, and Ben and Joel will be onsite to help with introductions. "We want to open it up to people to ask dumb questions, like 'How do you put a needle in a groove?' We didn't know at some stage. We want to create a welcoming experience," says Ben.

READ: TBT: The Cassette Tape Is Having a Revival

The pair can't wait to see who comes in but are confident in a local market after seeing the large and diverse crowds at Auckland's iconic record store Real Groovy over the years and at the annual Freemans' Bay Record Fair.

"Sales are climbing all over the world. Most people thought vinyl was a fad, but it's been tapes and CDs which came, spiked and then faded away. Vinyl has stuck around. As well as long-time collectors, there's a new generation of listeners who are re-embracing vinyl," says Joel.

They say the experience of vinyl is unbeatable. "There's not only the warmer sound and tactile nature but the process of collecting and listening to records. From going into the store and digging through crates, to taking it home to listen to it in its entirety just as the artist intended. We want to build on that immersive community right here in Auckland," says Ben.

• Holiday Records opens on Wednesday November 28, 111 Wellesley St West
Share this:
More Culture & Travel / Features & Profiles