Hong Kong Local Davena Mok Shares What's Good In Her City
The director of events and digital agency A-Vibe has called Hong Kong home for more than 20 years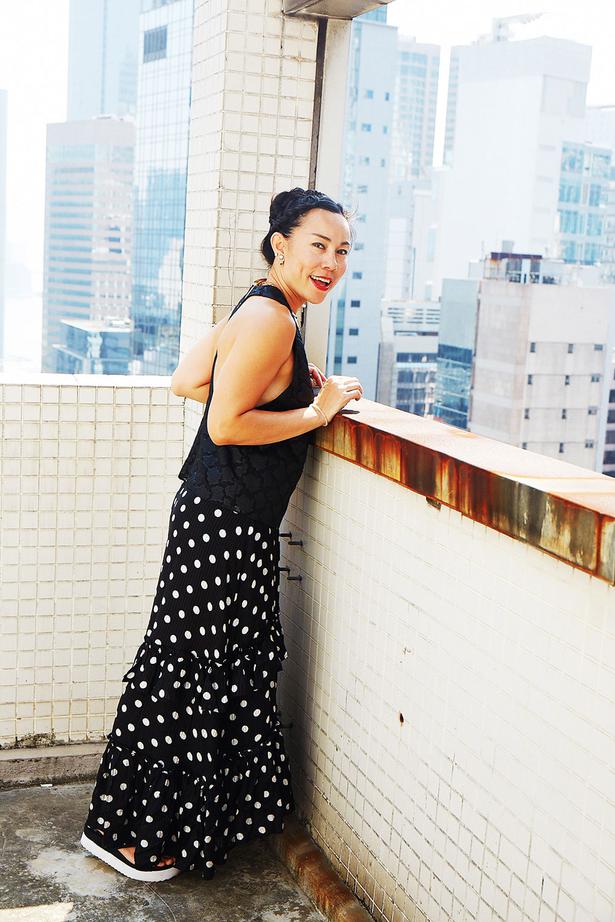 Saturday June 30, 2018
Davena Mok is full of great shopping, dining and sightseeing recommendations in Hong Kong. As the director of events and digital agency A-Vibe, she knows exactly what's good in her city.
Previously a journalist for Time Asia, she realised her passion was youth and pop culture and founded her own creative agency in 2002 to ensure she woke up every day loving her job.
She's amassed some powerhouse clients in that time, including some of Hong Kong's biggest fashion brands like Lane Crawford, Joyce and I.T., as well as Beats by Dr. Dre, Converse and Monki. "We have the best team, best clients, best projects and the best work/life balance," she says, which includes daily yoga or gym workouts with her team.
READ: Where to Eat and Drink in Hong Kong
Davena moved to Hong Kong from Perth in mid-1996 after studying journalism at Curtin University in Western Australia.
"I thought it would be great to start my career covering the 1997 handover of a then-colonial Hong Kong back to China. It's been 22 years now ... I'm no longer a journalist, but I'm still here!" Davena and her husband, a studio director for Nike, live with their two children Lovella (7) and Dante (6) in the mid-levels district.
"I have lived all over Hong Kong in the past 22 years and my favourite is still where I live. I'm a walk up a hill away from the Bowen Rd jogging path or a hike up to the Peak; then I can head down the hill to the cool Star Street area. This actually summarises what I love about Hong Kong: its convenience, whether it's due to its 24-hour life or geographical compactness."
READ: Why We Love Hong Kong: Shiz Scott & Scott Andrews
I love Hong Kong's exciting electricity ... and how it thrives on its iconic juxtapositions: of East/West, old/new, tradition/modern, city/jungle, fast/slow. They call Hong Kong the "New York of Asia", but they also say "a New York minute is a Hong Kong second." It's all very true!
There are plenty of pockets of local creativity in this city ... that can easily get lost in the heavily commercial art scene, with high-end galleries and mega-events like Art Basel/Art Central. From cool local rockabilly gangs, to street-art groups, bands and musicians, tattoo artists, anime illustrators and even barbershop cliques — if you know where to look, or search on Instagram, you can certainly find a stack of great young creatives in Hong Kong.
READ: A Hong Kong Design Firm With Bright Ideas for Apartment Living
A typical weekend is ... usually a mix of our kids' classes (soccer, jazz, swim), a birthday party, and then us hosting/eating with folks visiting from out of town. We sometimes feel like our lives are non-stop as everyone visits Hong Kong.
An activity that defines the city for me is… a day out on a junk boat. You literally cruise through Victoria Harbour and the amazing skyline, then head out to the crystal-clean waters of Southside or Sai Kung countryside, swim and lunch for the day, then head back in to the city at sunset. Anyone who leaves this city will definitely say they miss "junk parties".
Something that visitors should experience is ... the public transport system, which is amazing. You can jump on the MTR, which is the best train system in the world. Or ride the gorgeous iconic Star Ferry across the harbour. You can opt for a crazy speedy experience on a minibus or a fun bus ride on top of a double-decker or an antiquated yet quaint tram ride. And, most amazingly, all these options are just for a few HK dollars!
READ: The Hottest Shopping Spots in Hong Kong
The best shopping to be had is ... folks from my industry (retail, design, brands) always love checking out four main areas: Central and Causeway Bay on HK Island, and Mong Kok and Tsim Sha Tsui on Kowloon side. Unfortunately, due to globalisation and the boom of online shopping, the same brands are found everywhere these days. So I think the smaller boutiques, local artisans, pop-up shops, and even the curations of cool Japanese and Korean products offer the best finds right now.
Five Highlights From My City:
1. A dinner-date at Ronin for modern Japanese Izakaya
2. Lunch fun at yum cha
3. A foot massage either at Gao's or Ten Feet Tall
4. A drink with a view at Ce La Vi rooftop or La Rambla terrace
5. A family walk on Bowen Rd or up Hatton Path to The Peak
Share this:
More Culture & Travel / Going Places