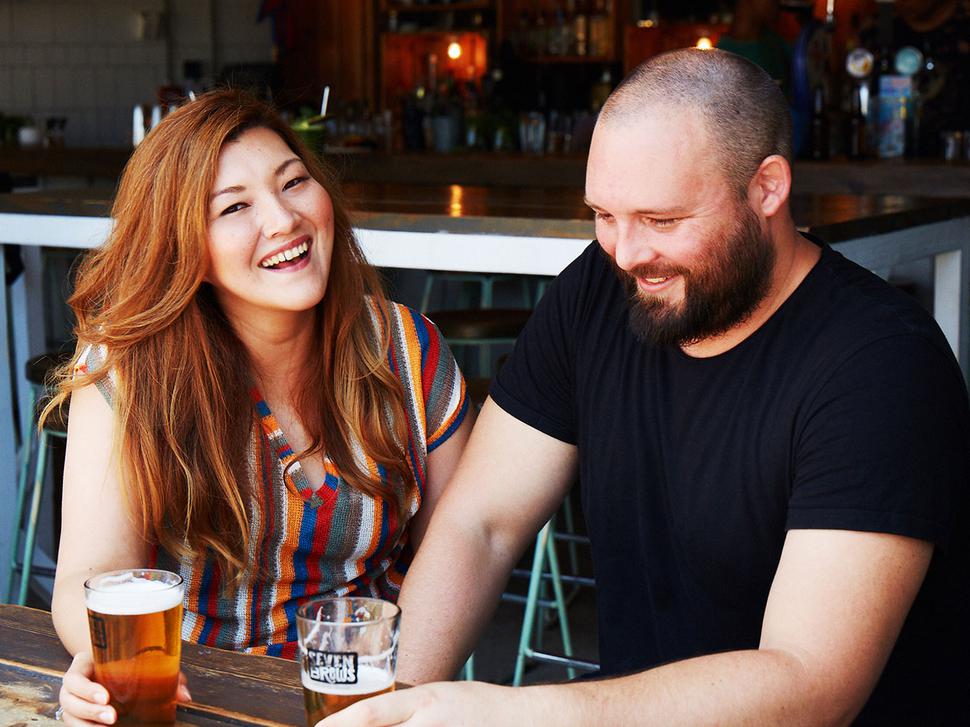 Why We Love Hong Kong: Shiz Scott & Scott Andrews
There is never a dull moment for this hospitality power couple
Wednesday June 27, 2018
Shiz Scott and Scott Andrews know the meaning of good hospitality. As the DNA Director for Maximal Concepts, Shiz is in charge of the look and feel of some of Hong Kong's best restaurants and bars, with her current focus the global expansion of award-winning Mott 32.
Scott is the founder of Seven Brews, a craft brewery that's making waves in Hong Kong's burgeoning craft scene. Between them they have food and booze covered, and their jobs mean work and play sometimes blur, with Shiz also working on the branding aspects of Seven Brews — but they wouldn't have it any other way. "There's never a dull moment," says Scott, "but that's what we like."
Scott's interest in wine saw him move to China eight years ago to learn about its import market, but when the craft beer scene hit Asia, his focus shifted to beer. "Importing craft beer from the US gave me the itch to create my own," says Scott, who named Seven Brews after his seventh successful home brew.
Seven Brews has recently relocated its brewery from San Francisco to Hawke's Bay, creating a base to work more closely with the New Zealand market, where he hopes to introduce his brews. "It's a simple product yet can be very complex, which so many people are discovering — seeing the enjoyment that craft beer brings and the people you meet is where the passion comes from," says Scott.
The couple, who live in Big Wave Bay, grew up in New Zealand, with Scott hailing from Auckland and Shiz spending part of her childhood in Christchurch. They both now happily call Hong Kong home.
Scott: The best thing about this city is ... the people. Hong Kong is such a diverse city, you can meet people from all walks of life who are involved in interesting and crazy projects. There is never a dull moment.
My favourite pastime is ... surfing, believe it or not. The waves generally aren't great but typhoon season can get interesting. Hong Kong isn't known for beaches or surf but it's a great way to escape.
The best part of the city is ... where we live in Big Wave Bay. I love taking friends who are travelling through Hong Kong and showing them the hustle and bustle of the city followed by a 30-minute drive to Shek O country park. The hiking trails, hills and beaches is unique and I can't think of another major super-city where you have this amazing contrast.
A must-try experience in Hong Kong is ... a stroll through the outdoor wet food markets with a beer in hand (you can drink on the street in Hong Kong) followed by dim sum. Lots of dim sum.
An activity that defines Hong Kong life is ...  it's hard to put my finger on one event, but for me it's Beertopia, Asia's biggest craft beer festival. Shiz: As for me I love Clockenflap, Hong Kong's largest music festival and Taste Hong Kong, where culinary extraordinaires gather to showcase their signature dishes in the central harbourfront. It's one of my favourite food festivals.
Shiz: My connection to the city is ... the people for me too. I have never met so many legends as I have in this city! Also, Hong Kong is perceived as a concrete jungle, it's cosmopolitan and very crowded but there are pockets of tropical paradise with plenty of nature reserves and stunning beaches... who would have thought I would be living two minutes from a surf beach?
READ: Where to Eat and Drink in Hong Kong
Scott and Shiz's five highlights from Hong Kong:
1. Stockton cocktail bar in Central
2. The Globe, styled on a British gastro pub
3. Limewood restaurant in Repulse Bay
4. Elevated Chinese restaurant Mott32
5. Big Wave Bay, where we live
Share this:
More Culture & Travel / Going Places